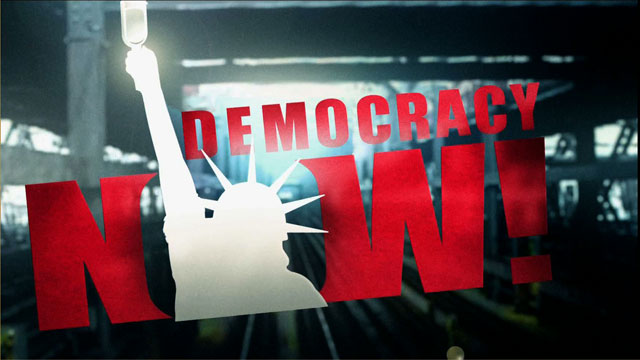 Media Options
For over 40 years, the FBI waged a campaign against Puerto Rico's independence movement. Last month, FBI Director Louis Freeh admitted at a congressional budget hearing that his department had been involved in "egregious illegal action, maybe criminal action" by violating the civil rights of Puerto Ricans. Recently, Freeh notified Congressman Jose Serrano that virtually all files on the FBI campaign would be declassified and made public. Newspaper columnist and Democracy Now! co-host Juan Gonzalez wrote on the story in yesterday's New York Daily News. [includes rush transcript]
Guest:
Juan Gonzalez, columnist, New York Daily News and co-host of Democracy Now!
Related link:
---
Transcript
This is a rush transcript. Copy may not be in its final form.
AMY GOODMAN:
Ten years ago today, on May 24th, 1990, a bomb went off under the driver seat of Earth First activist Judi Bari's car in Oakland, California. She was nearly killed by the bomb, and the person who was in the car with her, Darryl Cherney, was also wounded. In a few minutes, we're going to go to a special today on that bombing that was produced by Noelle Hanrahan of the Prison Radio Project and Redwood Summer Project.

But before we do that we are going to look at the FBI in another context. At the time of the bombing, the FBI blamed the late Judi Bari herself. Today in the news, not extensively covered, but covered by my co-host Juan Gonzalez, is another story about the FBI. And yesterday in the New York Daily News, he had a piece called "Feds' Files Reveal Dirty War." Welcome to Democracy Now!, Juan.
JUAN GONZALEZ:
Thank you, Amy, and to all of our listeners of Democracy Now!
AMY GOODMAN:
Tell us about this piece.
JUAN GONZALEZ:
Well, it's a piece basically that begins to delve into the enormous FBI file that is now being released by FBI Director Louis Freeh, into the involvement of the FBI for more than forty years in a campaign of surveillance, disruption and repression against the Puerto Rican independence movement.
A lot of these files have just been declassified within the last two months by the FBI, and it was at the initiative really of Bronx Congressman Jose Serrano, who — back in March, Louis Freeh was before a House subcommittee, an Appropriations Subcommittee that handles the FBI budget. And Serrano is now the ranking Democrat on that House subcommittee, and so in the process of discussing the FBI budget, Serrano raised some important questions to Louis Freeh that have been raised by political leaders of all persuasions in Puerto Rico — specifically, what was the role of the FBI in Puerto Rico in the past? Was it involved, for instance, in the torture and secret radiation treatments against Pedro Albizu Campos, the famous Nationalist Party leader in the early 1950s, as many people in Campos's family and his supporters have alleged over the years? And was the FBI involved in any kind of illegal activity?


And to everyone's surprise, at the hearing Freeh actually said that he conceded that, quote, "there had been egregious illegal action, maybe criminal action, by the FBI in Puerto Rico." And he said that, quote, "Particularly in the 1960s, the FBI did operate a program that did tremendous destruction to many people, to the country, and certainly to the FBI." Freeh, of course, was referring to the infamous COINTELPRO program of the FBI that's been much reported, in terms of what it did to damage and destroy individuals and dissidents in this country, but very little has surfaced about what it did in Puerto Rico. And Freeh then promised Serrano that he would begin to make available, publicly available, the records, the internal documents and the classified documents of the FBI in relationship to this campaign.


Last Wednesday morning, two FBI agents arrived and produced four boxes of the first 8,000 documents of what Freeh promises will be 1.8 million documents, which is the entire story of the FBI's involvement in Puerto Rico. And among the revelations in that document, in the first documents, is not only the consistent campaign of the FBI beginning in 1936 against the Nationalist Party, but also that the agency conducted more than two decades of surveillance and gathering of information against the most well-known and most popular politician in Puerto Rican history, Governor Luis Munoz Marin, including gathering information about his mistresses, the debts that he owed, anything that could be damaging to him.


And included in the files are dozens of memos from FBI Director J. Edgar Hoover, including giving the green light to a campaign of disruption against key independence leaders, many of whom were involved in legal activity. There was nothing illegal about the things that they were doing, even by US law. And so, it is a fascinating look at the inner workings of a four-decade campaign, a secret campaign of our government's main law enforcement agency to repress the Puerto Rican independence movement.


AMY GOODMAN:
Juan, you've long known about the FBI's campaign. What most surprised you about the documents you got to review?
JUAN GONZALEZ:
Well, I think part of it was, one, that even very peaceful activists within Puerto Rico were under surveillance and were being followed consistently, and just the degree of involvement, direct involvement, of J. Edgar Hoover in a lot of this stuff, where he was constantly sending memos back and forth. For instance, there's one memo where an FBI agent writes to Hoover that military intelligence in Puerto Rico wants some information on some local politicians. And Hoover sends back a memo to his agents, saying, "Well, you know, you should remind that captain in the military that spying by the military on US civilians is illegal," that we're supposed to be doing that. But then Hoover goes on to say, "But since we have such a good relationship with the military, why don't you handle it at the field level and take care of it?" basically winking at the violation of federal law in terms of the military spying on civilians.
AMY GOODMAN:
If people want to read your piece, Juan, "Feds' Files Reveal Dirty War," where can they go on the web, the New York Daily News piece of yesterday?
JUAN GONZALEZ:
Well, they can go to the Daily News homepage, which is www.mostnewyork.com and pull up Tuesday's paper, yesterday's paper.
AMY GOODMAN:
Well, thanks very much, Juan.