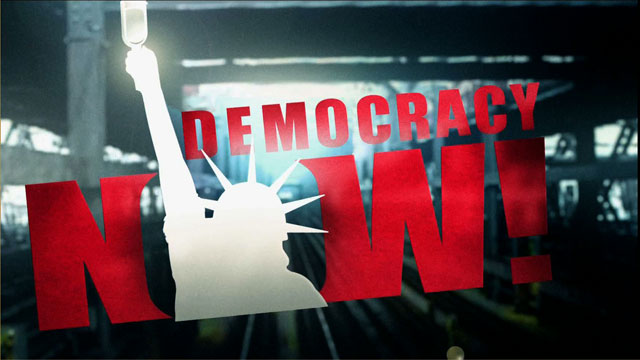 Media Options
Should a drug offender be put in prison or in treatment? Since 1989, there has been an eleven-fold increase in the number of drug offenders who are in prison. The number of violent criminals incarcerated has just doubled. Representative John Conyers today announced a "Drug Treatment Alternative to Incarceration Bill." [includes rush transcript]
Guests:
Representative John Conyers, Democratic Congressman from Michigan.
Vinnie Schiraldi, Director of the Justice Policy Institute
Related Link:
---
Transcript
This is a rush transcript. Copy may not be in its final form.
AMY GOODMAN:
Should a drug offender be put in prison or in treatment? Since 1989, there's been an eleven-fold increase in the number of drug offenders who are in prison. The number of violent criminals incarcerated has just doubled in that time.

Today, Congressmember John Conyers will announce a Drug Treatment Alternatives to Incarceration bill as a report from the Justice Policy Institute is being put out. Congressmember Conyers, can you talk about your bill?
REP. JOHN CONYERS:
Yes. Good morning, Amy Goodman. Thanks for being on the case for so long. Great to talk with you again.
AMY GOODMAN:
I think you've been there a little longer.
REP. JOHN CONYERS:
Well, in seniority terms, I suppose I sit further toward the chair than you do. Let me tell you about this wonderful amendment that I got on which tracks the bill I'm proposing on the Methamphetamine Anti-Proliferation Act just two days ago. The House Judiciary Committee has in this bill HR 2987, which was voted out without vote, a recorded vote, a provision that I had introduced, an amendment that would allow for the very first time federal diversion of minor drug offenses out of the federal system. And we were very pleased with that, because alternative sentencing and treatment programs have been going on in several states, ironically Arizona, a pretty conservative state, but also in California, and a number of experts attribute these alternative sentencing opportunities to declines in their prison population. But just last month, New York, under a reform judge, have announced an effort that would divert 10,000 nonviolent drug offenders in New York into treatment instead of incarceration. All a promising recognition increasingly that this so-called drug war, which is mostly consisting of incarcerations and punishment, may be — we may be able to bend it into a more constructive channel.
AMY GOODMAN:
Congressman John Conyers is a Democrat from Michigan. Let's take a look at the numbers. Now, usually, when the rest of the media says that, they go to the Dow Jones and celebrate its going up each day. But Vince Schiraldi's also with us, director of the Justice Policy Institute, who's just put out the report on who's in prison today. Let's take a look at the numbers, Vince Schiraldi.
VINCE SCHIRALDI:
Hi. Good morning.
AMY GOODMAN:
Hi.
VINCE SCHIRALDI:
Well, it's — you know, in a field in which it's sometimes hard to top the incredible numbers you've seen before, I mean, I think that some of the numbers coming out of this report that we put out today are just absolutely insane. As you mentioned earlier, you know, eleven-fold increase in the number of people being locked up for drugs.

And I think that, you know, we're often sold prisons and sold tough on crime policies on the specter of like Willie Horton and Charlie Manson, these hyper-violent criminals that bleed out of the evening news at us. But then, when we come into the store, what we're seeing is, you know, a huge increase in the number of nonviolent drug offenders going to prison. And I don't think that's what the public wants.

Congressman Conyers mentioned the California initiative that would divert 37,000 people from prison in California at a savings of $150 million a year, and the initial field poll on that initiative showed 64 percent support versus 20 percent opposition and 16 percent undecided, an incredible set of numbers that any politician running for president or any other office would love to have in their tally.
AMY GOODMAN:
Can you talk about the money, since we're in an election year, that the prison industry brings in in this country and the level of money that goes into prisons?
VINCE SCHIRALDI:
Yeah. Each year, we're spending about $40 billion to lock up the nearly two million people we have locked up in America. Just the drug offenders now, one out of every four prisoners in state federal prisons and county jails are incarcerated for drug-only offenses. Now, this isn't drug-related: "I stole a can of beer, because I had a drug problem." This is just drug possession and other drug offenses. And that alone costs $9.4 billion a year.

And we took a look at some specific states, and for example, in California since 1980, there's been a twenty-five-fold increase in the number of people locked up for drugs to the point where now there are twice as many people locked up in California just for drug offenses than the entire California prison population of 1980, and that costs a billion dollars a year. So again, it's a study full of negative superlatives. It's beyond astonishing to think.
AMY GOODMAN:
Vince Schiraldi, your group, the Justice Policy Institute, put out the figures that California was spending more money on prison building, right, than university building? Actually, the whole country.
VINCE SCHIRALDI:
Yeah. The whole country was. And in California in the mid-'90s, and New York, by the way, in the mid-'90s, their prison budgets topped their higher education budgets for the first times in those states' histories. They're states where their university systems were jewels of their state government, by the way.
AMY GOODMAN:
Congressmember John Conyers, what is the power of the prison lobby in Congress?
REP. JOHN CONYERS:
Well, you can't quite see them. They don't have a name like NRA, but it's there because it ties in —
AMY GOODMAN:
How about Wackenhut and Corrections Corporation of America and prison guard lobbies?
REP. JOHN CONYERS:
Well, they're all there, but they don't have the huge presence, so that there's a tendency not to think of there being any lobby behind this. I mean, they don't go knocking on doors, at least they don't mine. But it's there because it ties in with federal requirements that now reward states who impose mandatory minimums with more money for prison construction from the federal government. So it's been carefully built in by these lobbies and by this predisposition that to politicize crime by showing how draconian you can be on it, it still carries some clout and potency among the members of Congress. Nobody wants to be accused by their opposition as being soft on crime.

And so, what the Justice Policy Institute has done — I want to just commend them, Mr. Schiraldi and his people here, who have just done a great thing. They've broken out of Michigan, which just like everybody else there, astonishing statistics. Here, we have seven times the rate of incarceration for African Americans into state prisons for drug offenses as whites, and the statistics keep going on and on. They're mind-boggling. But they're giving us a call to action, because the Leadership Conference on Civil Rights here and others are looking at the racial disparities in the criminal justice system, because this is not a war on drugs, it's a war on people, and very clearly the people are mostly people of color.
AMY GOODMAN:
And let me ask you something, Congressmember Conyers. We're coming into the two conventions, the Republican Convention and then the Democratic Convention in mid-August, and that's going to be in Los Angeles. Yesterday, six more officers from the LAPD were charged with misconduct by the LAPD for allegedly shooting and then framing unarmed suspects, the latest sign that the massive corruption and brutality scandal that has erupted in Los Angeles continues to get worse. Are you concerned with the protests that are expected to be in Philadelphia and in Los Angeles, that in Los Angeles those protesters will be met by the very same Los Angeles Police Department?
REP. JOHN CONYERS:
Well, yes. We're — of course, we just got a court order that the judge struck down the distance that those that wanted to demonstrate could be near the convention site, and so they're a lot closer. But we're expecting quite a bit of outside activity. As a matter of fact, there may be more activity and alternative conferences going on in LA outside the convention than inside the convention. I've been invited to participate in some, and I know that there are a lot of people gearing up to be there.
AMY GOODMAN:
What do you think of Ralph Nader's candidacy, who raises a lot of the issues that will be raised in the Shadow Convention and by the protesters?
REP. JOHN CONYERS:
Well, Ralph Nader and I are good friends. We've worked on a number of issues together. But Ralph is great on the issues, but terrible on the politics, because what is being done now is clearly going to challenge whether or not we can get and continue a Democratic administration, as opposed to what we've got coming up is a serious conservative proposal between two nominees, respective nominees, on the Republican side.
AMY GOODMAN:
A former oil man and an oil executive.
REP. JOHN CONYERS:
Well, and a former oil — yeah.
AMY GOODMAN:
What we're calling an oiligarchy. Well, let me ask you the same question I asked Senator Paul Wellstone. Do you really consider Al Gore a Democrat?
REP. JOHN CONYERS:
Well, yes. We haven't gone around challenging —- of course I consider him a Democrat, just as I consider Paul Wellstone a Democrat. It's a little too late in his career to question whether he's a Democrat, because we have -—
AMY GOODMAN:
Well, does he represent the traditional democratic values that you went into office around?
REP. JOHN CONYERS:
Well, not as much as I do, but yes, he's for jobs, justice and peace, but it doesn't spill out the same way. What I'm trying to say, though, is that the problem that I have with the Nader candidacy is for him to assert that there is no difference between the parties means that all of us who have been fighting for these issues of universal healthcare and justice in our system and the end of racism have been wasting our time, apparently, because everybody is in agreement between the two parties. There's huge disagreements, even though there are agreements on some international issues and some local issues. But to paste both parties over with the same brush and say there is no difference, therefore you can vote for me, is to miss the point of probably the most important election that's going to really determine where we'll be going for quite a few years in this new century.
AMY GOODMAN:
What do you think is the major difference between Gore and Bush?
REP. JOHN CONYERS:
Well, the major difference is Gore is far more progressive than Bush.
AMY GOODMAN:
On what issue?
REP. JOHN CONYERS:
On almost every issue — healthcare, education, driving while black. They're very — I know they agree on China, but the fact of the matter is there is a very clear difference about where we can go and who's going to be running the government. For me to assume that they're going to both do about the same thing would mean that I don't know the difference between Gore and Bush. There's a huge, huge difference.
AMY GOODMAN:
Well, Congressmember Conyers, we have to wrap up the show. I want to thank you very much for being with us, the Michigan Democrat. Also, Vince Schiraldi, and your website, if people want to get a hold of your report on drug offenders in prison?
VINCE SCHIRALDI:
It's www.cjcj.org, and it probably won't be up on the website for another hour or so, so people might want to just hold off on trying.
AMY GOODMAN:
Well, thanks very much for being with us.