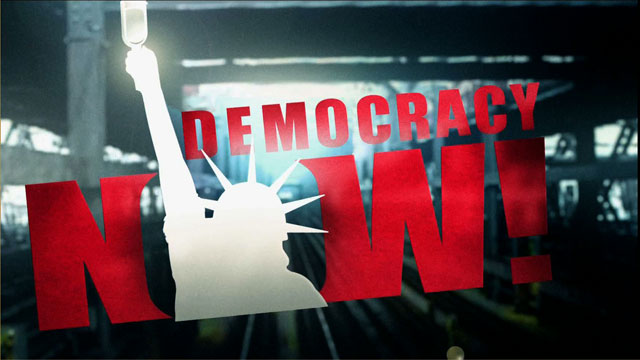 Media Options
The media coverage of the protests at the Democratic Convention in Los Angeles last week was nothing new. We saw it, or didn't see it — in Philadelphia as well. Demonstrators are shown, but seldom heard. The diversity of issues is largely ignored. From the demonstrations against police brutality and the prison industrial complex, against globalization and anti-immigrant policies and the protests against the huge flow of money in politics. We now turn to a speech by Lori Wallach of Public Citizens Global Trade Watch on why people were protesting. [includes rush transcript]
Tape:
Lori Wallach, with Public Citizens Global Trade Watch.
---
Transcript
This is a rush transcript. Copy may not be in its final form.
AMY GOODMAN: At that Nation forum, one of the last people to speak was Lori Wallach. As the media coverage of the protests at the Democratic Convention, Los Angeles, was nothing new, we saw it or didn't see it in Philadelphia, as well. Demonstrators are shown, but seldom heard. Lori Wallach gives voice to some of those voices. She's with Public Citizen's Global Trade Watch.
LORI WALLACH: What is energizing the street protesters here in LA, and has in other major cities? Globalization and corporate rule. And around the world? Globalization and corporate rule.
What is the common denominator building the most diverse coalition of progressive activism in this country and around the world in decades? What puts together small businesses, workers, environmentalists, consumer activists, environmentalists? It's fighting corporate rule.
What links our current Democratic and Republican presidential candidates and the Wall Street branch of the Republicans, and the DLC Republocrat branch — I use that advisedly — the Democratic Party? It's fealty to that corporate rule.
And there is an array of issues on which these parties have been grabbed by the corporations. And globalization is the one that, in its enormity, stands to undermine the issues that actually make for real differences between the Democratic and Republican parties, on healthcare, on education, on the environment.
But it's a back-door corporate power grab, this globalization. And there's been a lot of bluster and myth on what's globalization. We need to cut to the chase. It's not about free trade versus protectionism. It's about who, where and how the decisions will be made that will affect our food safety, our jobs, our quality of life, the environment and our communities, whether our kids have good schools, whether we have healthcare.
Current corporate globalization is just one design on how to organize the world, and it's being pushed by one set of rules. And the reason I always carry around the NAFTA and the World Trade Organization agreement is to make the point. The current rules of corporate globalization, this is not free trade. This is also, despite the public relations campaigns of the special interests benefiting from this version of the rules, is not inevitable. This certainly did not come with Moses down from Mount Sinai. This is one set of rules created by one set of people. And, ladies and gentlemen, in the US, which pushed these rules, imposed them on the rest of the world negotiations, it was 500 officially credentialed corporate advisors to the US negotiators. At that time, there were ten labor advisers, zero environments, zero health, zero for food safety, zero for human rights. Them that writes the rules rules. And these here are the rules, the engines of this current corporate globalization.
And it's not about old questions. What's being fought about here is whether there is a role for government to regulate the market to ensure the public interest. That's the bottom line of it.
So when we start out this panel talking about, as Katrina did, the changes in language, we have an entire corporate deregulation power grab democracy cancer agenda wrapped up under a name we all like. Who's not for "free trade"? But, ladies and gentlemen, Adam Smith and David Ricardo are rolling in their graves. This ain't free trade. That would be one page, right? This is 900 pages of corporate protectionism.
In these agreements, for instance, is a twenty-year monopoly worldwide for any corporation that owns a patent on a pharmaceutical. So US drug prices are the highest in the world. Guess what we're going to do? We're going to protect the US pharmaceutical industry to do that to the rest of the world.
Meanwhile, liberalization includes cutting totally legitimate environmental, labor rights, human rights laws that for fifty years people in the US and around the world, in the labor movement, in the environmental movement, in the human rights movement, have struggled and died to win.
So when we talk about globalization, what we're really talking about is democracy and control and, through the NAFTA and WTO, constraints, new constraints that none of us ever voted for, and would not, were imposed on our governments. Governments under these rules who are members — that, for WTO, is 140 governments, for instance — are in the future forbidden from distinguishing how things are made. Who here knows that under the WTO it's an illegal trade barrier to ban a child labor product from coming into your country? You are not allowed to distinguish how something is made. A shoe is a shoe as long as it's physically a shoe. It does not matter if it was made by a kid chained to a machine or it was made in a union shop that's a co-op. All of our environmental laws, our human rights laws, our labor rights laws, are based on how things are made. Who came and imposed a new rule on us that we can't have our governments look at that? Welcome to corporate rule and corporate globalization.
People have heard about the famous WTO and NAFTA cases. Well, these cases have to do with a basic WTO and NAFTA rule. You know how under our current policies now, companies have to prove a product is safe before it gets in the market? Under the WTO and NAFTA, the government has to prove it's dangerous by absolute scientific certainty. So when they don't know if something is safe, they can't keep it off the market. Like genetically modified foods, under WTO rules, the burden of proof is on people trying to stay safe and the governments. The companies, free ride. It's new protectionism for the companies.
Now, someone tell me what that has to do with trade, 'cause I'm a trade lawyer, right? That's supposed to be about tariffs, quotas, and also treating domestic and foreign goods the same. That is not what these things are about. These are backdoor deregulatory power grabs by corporations. And next time you hear the word "globalization", think slow-moving coup d'etat on democracy everywhere, because that's what really is at stake.
AMY GOODMAN: Lori Wallach with the Public Citizen's Global Trade Watch in Washington, D.C., speaking at the Leo Baeck Theater in Los Angeles.