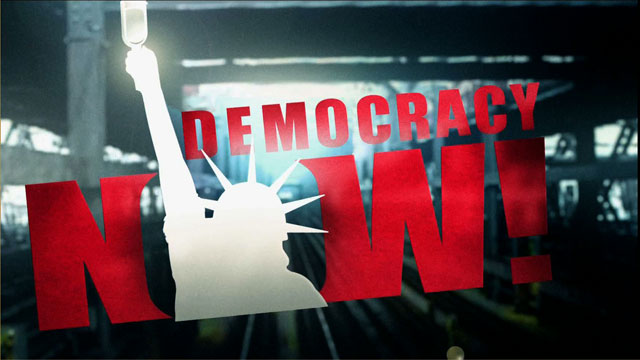 Media Options
This weekend hundreds of people protested the 50th anniversary of the Aspen Institute in Colorado. James Wolfensohn head of the World Bank was there. Henry Kissinger was scheduled to speak, but was replaced by New York Times columnist Thomas Friedman. The Aspen Institute has been deeply involved in US foreign policy for decades. [includes rush transcript]
Guest:
Nell Geiser, was an intern at Democracy Now!
---
Transcript
This is a rush transcript. Copy may not be in its final form.
AMY GOODMAN: Before we move on with the main body of our show, a letter that Gore Vidal reads to the next President of the United States and a speech given by Lani Guinier on proportional representation, we are going out to Boulder, Colorado. This weekend hundreds of people protested the fiftieth anniversary of the Aspen Institute. James Wolfensohn, head of the World Bank, was there. Henry Kissinger was scheduled to speak but was replaced by New York Times columnist, Thomas Friedman. The Aspen Institute has been deeply involved in US foreign policy issues for decades.
We go now to Nell Geiser, who was an intern at Democracy Now!, with us at both the Republican and Democratic Conventions, then took a caravan back from Los Angeles and went to this protest. Welcome to Democracy Now!, Nell.
NELL GEISER: Thanks, Amy.
AMY GOODMAN: Nell, by the way, is one of the many thousands of young people who have participated in protest, from Washington, D.C., the World Bank/IMF protests, as well as organized her own zine in Boulder, Colorado, in her high school called Co-Motion. So, Nell, tell us what happened this weekend.
NELL GEISER: Well, there were protests both Saturday and Sunday outside of the fiftieth anniversary summit that the Aspen Institute put together. It was looking at globalization and the human condition. It brought together a whole host of luminaries in various fields, policymakers, Nobel Peace Prize winners, journalists, various kinds of people to discuss these issues.
But the problem was that protesters had with this summit was that, for one thing, it cost $750 to get in to be an audience member, and for another, these high-level policymakers and leaders, world leaders, were not discussing the many problems that we, as a grassroots movement and as people affected by corporate globalization around the world, have with the direction that corporate globalization is taking right now.
So what happened this past weekend was very, very successful and definitely declared a victory for activist forces. It should be a victory for activist forces everywhere. A new local organizing group in the mountains, calling themselves Mountain Folks for Global Justice, created an alternative people's summit on globalization, Alternatives to a Corporate Vision, and they organized a teach-in and march on Saturday in the spirit of the anti-corporate globalization protests of Seattle, Washington, D.C., in April, and also the protests at the Democratic and Republican Conventions this summer. In fact, as you mentioned, the protests did draw activists returning from LA in caravans, as well as from Denver and the Front Range. About 250 people marched Saturday along with Kevin Danaher from Global Exchange, who spoke at the teach-in, Peter Hart from FAIR, Njoki Njehu from 50 Years Is Enough, various other folks who came to look at the many issues involved in this process of wealth distribution to the top end in corporate globalization.
So these — this action involved marching through the town and to the Aspen Institute, actually getting close to the Aspen Institute, marching. About fifty of us marched through the parking lot and got closer to the tents. So James Wolfensohn, the president of the World Bank, was speaking at that point, giving the keynote on the first night, could hear us loud and clear, talking about the protesters who were talking about the problems with the World Bank, and then we had a fair amount of media attention and the next day came back to the next summit, the next workshop called "Globalization and its Discontents," and made sure that they raised the discontents.
AMY GOODMAN: Is it true that participants in the Aspen Institute's fiftieth anniversary event wear togas?
NELL GEISER: Well, I don't think they were wearing togas this week, Amy, but the business executives who come up for weeklong workshops at this venerable Aspen Institution do continue to wear togas for a couple days of their stay. They don them to remind them, I guess, of the times of Socrates that they're studying, looking at the great masters, as well as the issues of the day. And I'm not sure if Wolfensohn and Friedman were wearing togas, but it's possible.
AMY GOODMAN: Well, Nell, we have to wrap up, as we move on to Lani Guinier, but any final words about this protest, and were there others who were your age? I mean, we're talking about protests all over the country that are increasingly drawing young people, not only from college, but like you, from high school.
NELL GEISER: Yes, there were quite a few high school students and many college students. It was a very multi-generational experience, and it was quite ironic that it was held in the city of Aspen with some of the greatest beneficiaries of globalization, where they spend their leisure time. The average house there costs three-and-a-half million dollars. Workers in Aspen can't afford to live there. So, we really wanted to bring out the fact that the beneficiaries of globalization and those speaking at this summit were not paying attention to the grassroots voices and to the voices that are not listened to in this process, and so we of the Mountain Folks for Global Justice charged $7.50 to get into their people's summit, 'cause they couldn't afford to pay $750.
AMY GOODMAN: Well, I want to thank you for being with us, Nell Geiser — her zine is called Co-Motion — speaking to us from Boulder, Colorado.