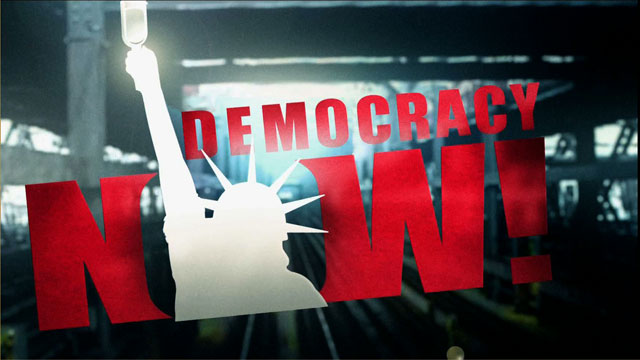 Media Options
When a U.S. Olympic athlete agreed to have her personal diary of the Sydney 2000 games published in a local newspaper in Kansas City, the IOC stepped in and said no. They also said no to athletes involved in online chats and no again to internet live streaming of footage filmed of any Olympic event. The reason? The IOC effectively owns the intellectual property rights in sporting events and also of those seeking to cover sporting events. And only recently have the IOC begun to crack down, the ever-expanding universe of the internet representing a new threat for the IOC. [includes rush transcript]
Guests:
Michael Persinger, the sports editor of the Charlotte Observer. He was involved in challenging a similar case with NASCAR in North Carolina.
Siva Vaidhyanathan, a professor of communications at NYU. His book, Copyrights and Copy Wrongs: The Rise of Intellectual Property and How It Threatens Creativity, will be published in the spring.
---
Transcript
This is a rush transcript. Copy may not be in its final form.
AMY GOODMAN: We turn now to another international issue. It is the Olympics. When a U.S. Olympic athlete agreed to have her personal diary of the Sydney 2000 Games published in a local newspaper in Kansas City, the International Olympic Committee stepped in and said no. They also said no to athletes involved in online chats, no again to internet live streaming of footage filmed of any Olympic event. The reason? The IOC effectively owns the intellectual property rights in sporting events and also of those seeking to cover sporting events. And only recently has the Olympic Committee begun to crack down, the ever-expanding universe of the internet representing a new threat for the property of the Olympics.
We're going to talk about this right now with two people. Siva Vaidhyanathan is a professor of communications at New York University, and he has a book coming out called Copyrights and Copywrongs: The Rise of Intellectual Property and How It Threatens Creativity. Michael Persinger is also with us. He's sports editor of the Charlotte Observer in North Carolina.
Well, let's talk about this, an interesting piece in the New York Times earlier this week by Felicity Barringer, "Leery of the Web, Olympic Officials Set Limits on the News." These athletes, who used to, you know, keep hometown journals for their local papers, are being told no. Why?
SIVA VAIDHYANATHAN: Well, this is one example of a whole series of rights that athletes are signing away in the process of assuming the privilege of participating in this event. And I mean, athletes are, in one sense, under duress. They dream of participating in this event their entire lives. They dream of representing their towns and their states and their countries. And then, once they reach that point, the Olympic Committee finds all sorts of ways of restricting their behavior. Now, this isn't obviously the only right they sign away. They also sort of sign away the rights to their urine, for instance, and that becomes a major factor in the Olympics. But it's — what you have here is not an obvious threat to free speech, because in some way they willingly do sign away their rights, but in other ways it's not very willing. I mean, they don't want have to back out of the Games in exchange for having the rights to describe their experiences firsthand during the course of the Games. Of course, later, they can write the accounts of their experiences after the Games are over.
AMY GOODMAN: And then, of course, you also have NBC not allowing the video images of the events to be aired by other networks, because they've got the exclusive rights. And at the same time, NBC is tanking in the Arbitron ratings and, you know, viewership around this country. And you can't help but wonder, when CNN has just a photograph of someone winning a swimming team event, if NBC is really doing itself in, and that part of the reason for this ratings slump is that they're not allowing others to build the buzz, and so that we all watch the other networks and we see we want to watch this race at night and we'll tune in to NBC.
SIVA VAIDHYANATHAN: Well, a couple of interesting things are happening. With the rise of digital technology, the digitization of just about every form of content and culture, simultaneously with the network effect, all of these companies that rely on concentrating information or monopolizing expression are panicking. They're afraid of a spillover, of a leaky system, and so they're trying any way they can to close leaks of information and expression.
And there are three major strategies for closing leaks, for creating a closed system of information. There's copyright law, that's our longest and deepest, our most familiar way, and actually almost democratic way, of regulating the distribution of information and expression. Then there's contract, and that seems to be what we're getting at here. NBC and the IOC are relying on very heavy exclusive contracts to make sure that they are the primary providers of images, especially live moving images. So, as a result, the IOC has denied press passes to web journalists. They have allowed what you might call, you know, standard or mainstream journalists, who work for institutions that also have websites — ABC, for instance, CNN, for instance, ESPN, for instance. But they are heavily restricting the distribution of images. So they're allowing the distribution of still images after the fact, but not moving images during it.
And I think that, yes, I think you're right, people are sensing that there's such a high level of control here that they're willing to sort of help break down the system. It's sort of the same reason that people get a big kick out of using Napster, because it pokes a hole in the system that media companies are trying to create around all forms of culture and expression.
AMY GOODMAN: In the New York Times piece about the limits being set on news, it talks about Siri Mullinix who is the North Carolina-born goalkeeper of the women's soccer team, stopped her online chats with the Greensboro News and Record and said she couldn't contribute a diary during the games. The Hartford Current got the same message from Karen Scavotto, the 18-year-old archer from Enfield, Connecticut. The 27th Olympic Games may be remembered for many things — world records, peacetime logistical planning — but it will surely be a benchmark in the struggle between those who hold intellectual property rights in sporting events and those seeking to cover sports, especially for the ever-expanding universe of the news outlets on the web.
And it goes on to say that the gradual fencing off of information and imagery by sports franchises was well underway before the Olympics. In the last few years, debates have been joined over whether game developments can be distributed instantly by pager. They can, a federal appeals court has ruled. Earlier this year NASCAR, the stock car racing league, backed off an attempt to make reporters agree that NASCAR was sole owner of images, sounds and data arising from and during any NASCAR event, including the racing times and scoring information.
Michael Persinger, that's where you come in, sports editor of the Charlotte Observer in North Carolina, the epicenter of the NASCAR universe. Can you explain what — how you challenged this?
MICHAEL PERSINGER: Well, what we did was we went back at NASCAR and tried to negotiate some ways around what they wanted to do. I mean, they're like the Olympics and like the NFL, in that they're trying to protect the people who have their TV contracts. I mean, that is an exclusive contract, and they're trying to protect those folks who are paying a whole lot of money for the information. They don't want instant information out there in any other form that they can't control.
So what we did was — they had tried to protect all the intellectual rights. Anything that happened at a racetrack — interviews, pictures taken, anything — could not be used, you know, that NASCAR was saying they kept the copyright to it. And as a newspaper, we couldn't agree to that, and, you know, that's pretty much basic to what we do. We wanted the ability to use the information we gathered in any way we saw fit. So we went back to NASCAR and talked to John Griffin, who's their director of communications worldwide, and negotiated with him kind of an addendum to the credential letter that they asked us to sign, and it protected the rights that we wanted to protect as far as copyright, as far as being able to promote our product, as far being able to be known as a paper that was — had strong NASCAR coverage and to promote that fact. So, we did — we used a contractual remedy to maintain the rights that we felt we deserved anyway.
AMY GOODMAN: Siva Vaidhyanathan?
SIVA VAIDHYANATHAN: Yeah, this is a really fascinating case. You have a situation where copyright law has always allowed for the free flow of information — facts, data, ideas — but it's only restricted specific expression that's sort of fixed, either fixed on paper or fixed on video, fixed on sound recording and so forth. So, obviously, a newspaper does its job by being able to take advantage of this democratic safeguard in copyright law. Well, the democratic safeguard in copyright law does NASCAR no good, it does the NFL no good, and it certainly does the IOC no good. So they're using very strong — strong-arm tactics to extract contractual terms from a newspaper like the Charlotte Observer, and it's something that people should be very aware of.
There is no way that they could protect, for instance, race times or the list of finishers in order, unless they can get the newspapers to sign away the rights to distribute that information freely. How do they do that? They don't allow them access to the arena, to the track in the first place. That press pass is a contract. By accepting the press pass, you're agreeing to certain behaviors. Most of them are reasonable. You know, you're not supposed to run naked through the stands. You're not supposed to beat up fans, etc. You're not supposed to — I'm sure there are very few content-related restrictions. I've used press passes before, and there haven't been. But the restrictions they're starting to introduce are these sorts of things, so that they can extract monopoly benefits from each bit of information.
AMY GOODMAN: Michael Persinger, as a reporter at the Charlotte Observer, are you concerned about all these hometown Olympic people who cannot share their views as they go along, because it's considered proprietary information — not their property, but of the IOC and their relationship with NBC?
MICHAEL PERSINGER: Right. I think, as a journalist, you have to be concerned with anything that restricts the flow of information. I mean, sports is one thing, and if — you know, if information starts being restricted in other — in political arenas and other areas like that, that's a very serious thing. And sports, because of the money involved, because of the TV contracts involved and the amount of money that people are paying for the right to televise stuff, they're trying to protect that. NASCAR has a new TV contract coming in next year with NBC and FOX, the main two people, the main two groups that are doing that. And they're trying — they were, this season. in the last season with the old TV contracts, trying to start to put in some of these restrictions so that the information wouldn't get out in ways that they didn't want it to.
AMY GOODMAN: You know, we can go beyond sports. I remember two years ago — and we just excerpted it just a few days ago here — when the U.S. government was trying to build a drumbeat for a continued bombing of Iraq. CNN had the exclusive rights to a Sandy Berger, Madeleine Albright, William Cohen event at Ohio State in Columbus, Ohio. So here you had them confronting — U.S population, did not expect the kind of protest that they got from this — from an arena filled with people, and when we wanted to play many minutes of this, because it was truly a news event, CNN is saying you can't play more than a certain number of seconds.
MICHAEL PERSINGER: Yeah, you know, CNN can demand that, and you have a fair use right to reasonably take from it, but there's no firm line in there. So it's something that originally you could negotiate with CNN, if you wanted to, but, I mean, they have so much power to deny you and then drag you through court for years. And this is one thing every journalist is afraid of. Everything a journalist does is time-sensitive. Journalists can't afford to drag things through court, or they lose it.
Now, it's really interesting this — I mean, we don't need to make a distinction between sports and politics. Look at how the IOC handled the politics of Salt Lake City and the state of Utah. I mean, there was a crossover between a political situation and a sports situation, and it's a situation that required, ultimately, maximum exposure to every step of the process. If the IOC is in the business of restricting people looking at it, in all its different somewhat sleazy activities, we're in real danger.
AMY GOODMAN: Well, I want to thank you both for being with us. Siva Vaidhyanathan, who is the professor of communications at New York University, I'm looking forward to your book, Copyrights and Copy Wrongs: The Rise of Intellectual Property and How It Threatens Creativity. Michael Persinger, joining us from Charlotte, sports editor of the Charlotte Observer, involved in the challenging case with NASCAR in North Carolina. When we come back, we're going to Washington and Hollywood. Stay with us.