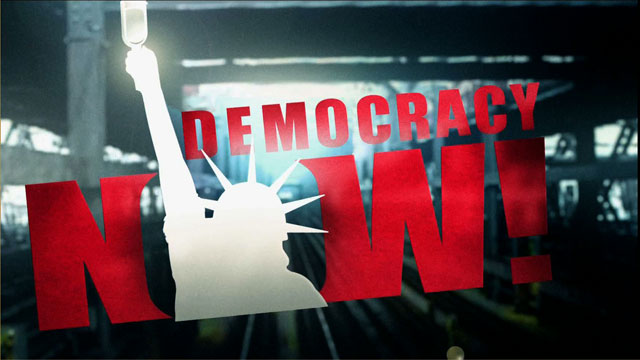 Media Options
In a series of horrific and coordinated actions, two hijacked commercial airliners on Tuesday morning crashed into the Twin Towers of the World Trade Center, causing them to collapse into rubble minutes later. A third hijacked airliner slammed into the Pentagon, and a fourth crashed in rural Pennsylvania 80 miles from Pittsburgh. Up to 800 people are feared dead in the attack on the Pentagon, while thousands more are likely dead in the area surrounding what used to be the World Trade Center. [includes rush transcript]
The Federal Aviation Administration canceled all flights around the country for the first time in history. Much of Washington, D.C., and New York shut down, and U.S. officials effectively sealed the U.S.-Mexico and U.S.-Canada borders.
In New York City, much of downtown Manhattan was effectively sealed off to traffic. Road and bridges were also closed to permit the movement of hundreds of emergency vehicles and thousands of rescue workers, police, firemen, and National Guard reserves desperately searching for survivors and trying to remove tens of thousands of tons of debris from the area.
In Washington, Chairman of the Joint Chiefs of Staff Henry Shelton spoke at a press conference. At 8:30 p.m., President Bush addressed the nation.
Tape:
General Hugh Shelton, chair of the Joint Chiefs of Staff, and President George Bush.
Award-winning journalist and filmmaker Jon Alpert managed to reach the area of the World Trade Center during the afternoon and was there through much of the night interviewing rescue workers as they searched for survivors.
Guest:
Jon Alpert, an Emmy Award-winning filmmaker and founder of Downtown Community Television, who was at Ground Zero for much of the night.
Related link:
---
Transcript
This is a rush transcript. Copy may not be in its final form.
EYEWITNESS 1: I was just standing here watching the World Trade Center after the first—after the first plane hit. I just saw a second plane come in from the south and hit the South Tower halfway between the bottom and the top of the tower. It's got to be a terrorist attack. I can't tell you anything more than that. I saw the plane hit the building.
EYEWITNESS 2: When the big explosion happened, some guy came out, and his skin was all off. I helped him out. This is him all over. There's people jumping out of windows. I've seen at least 14 people jumping out of windows. It's horrific. I can't believe this is happening.
EYEWITNESS 3: We had our stretchers out, and we were waiting. And what you saw there was—I don't even have the words. You looked at the towers, and you saw, every 30 seconds, people were jumping out, all over. It was—it was devastating. And then, must have been about five minutes later, that you heard like you hear in a movie theater in surround sound, and you saw this building just blow up, the first Trade Center, and we all ran. And I ran under a overpass, and we just laid down. And you saw two cars fly over us, with boulders. And, I mean, we basically said, shamayim, we were dead. There's no word how many—how many—how many tens and tens of thousands of people are dead here. It's like not to be believed. I was just in touch with one of our ambulances there. We were just running in and back. We must have 500 members on the scene, and just running in and back to the hospitals with people who are totally, 80, 90 percent with burns on their body. I mean, whoever did something like—whatever did something like this, it's just not to be believed.
EYEWITNESS 4: I couldn't see the very base of the building, but it definitely blew up from under the flames. The flames were on the first maybe 20 floors, the top 20 floors. The explosion started underneath.
MIRANDA KENNEDY: And what happened to your building? Were you evacuated?
EYEWITNESS 4: Yes, we were.
EYEWITNESS 5: This building, which is part of the World Trade Tower complex, the—I was told by the policeman when I was down there that the—the south side of this building is completely gone, and it looks exactly like the building that got blown up at Oklahoma City. And there—the firefighters and all the police can't do anything until this building either burns out or falls down, so there's nothing that can be done. And, you know, this side of the building looks fine, but the other side of the building is gone. And so, I'm waiting here to watch the building fall down.
EYEWITNESS 6: Yeah, across the street. Just felt—the second one, I just felt the whole building shake, and just lot of smoke and soot, and a lot of people very, very nervous and scared. It was just like—it was—it was—you know, when the second—and then, when the second building fell, you actually heard a rumbling, and it sounded like another plane coming overhead, because it came right off the top of our building, so it went right into the World Trade Center. So it was really pretty scary.
MIRANDA KENNEDY: Which building were you in?
EYEWITNESS 6: Right on Broadway, 115, 111.
MIRANDA KENNEDY: Did you know anyone inside the World Trade Center?
EYEWITNESS 6: We know a bunch of people. That's what we're trying to find out. We're in—we're in the building business, and we have a lot of friends who are over there, so we're trying to find out now.
EYEWITNESS 7: I saw a building on fire, just kind of to the left of where I'm standing now. I saw that fall. All of a sudden, this building unrelated to it just collapsed, just—I'm standing here looking right at it. It just collapsed, just—just—and then, all you saw was just a big puff of black, grey and white smoke. Everybody's running. I just didn't know how to move, because it's just amazing just seeing this right before your eyes. You just can't believe it. I mean, I saw the first one fall from my office in midtown, and I just had to come out here to help do something. But it's—it's just gone.
EYEWITNESS 8: The building shook a couple of times, and we were in the security area. We posed the cameras on the outside, and we just started seeing like a lot of debris, and bodies started falling from all over everywhere. When it hit, three floors above us, it locked us in. So it took a while for them to dig us out. Once they did, we was on our way down, and then that's when we saw the whole 22nd floor and everything else come down.
COMMUNITY RESIDENT 1: Taking apart these plywoods over here, basically putting together stretchers for the bodies, you know, and hopefully we'll find, you know, more alive ones than dead ones, basically. You know, God bless everybody. We're getting out of work, because everybody's basically volunteering.
COMMUNITY RESIDENT 2: Don't get hurt, guys. Take it easy.
COMMUNITY RESIDENT 1: The city of New York is coming together here.
IRON WORKER: We're iron workers from Local 40. We're here to help with the cleanup, get the people out, whatever has to be done. And we're here to remove the steel and help out in any way we can. All the locals have sent over volunteers, Local 40, Local 361 and 580.
MIRANDA KENNEDY: So you're going into the building now?
IRON WORKER: What's left of it. Eh! You still alive?
WORKER: Hey, how you doing?
AMY GOODMAN: The sounds of the streets of Manhattan after the largest terrorist attack in U.S. history, the collapse of the World Trade Center towers after two commercial airliners that were hijacked slammed into them. You are listening to Democracy Now! in Exile, Resistance Radio, broadcasting blacks—blocks from Ground Zero. I'm Amy Goodman. And I do believe that this broadcast that you're hearing is the closest to the attack site of any broadcast medium in this country right now. We're broadcasting from Downtown Community Television in Chinatown.
Just walking down the street last night, just a block or two away, were community residents hammering two-by-fours, as you just heard in that mix put together by reporter Miranda Kennedy. Community residents hammering two-by-fours into pallets, as the search-and-rescue operation began last night. The mayor has called for an evacuation of this entire area. The Democracy Now! staff stayed at DCTV last night so that we would be able to bring you this broadcast.
And we're joined now Jon Alpert. He runs DCTV at Engine Company 31 here in Chinatown, and he is also an award-winning journalist, whose footage, as he snuck in last night beyond the police and fire barriers, has appeared on the networks over the last 12 hours.
Welcome to Democracy Now!, Jon.
JON ALPERT: Good morning.
AMY GOODMAN: Well, it's great to have you with us. You were able to get in last night to, well, Ground Zero. Tell us what you saw.
JON ALPERT: Well, I managed to ride in last night in a sanitation police car. They were delivering these stretchers further into the—basically into the war zone area. And we managed to go in with a sergeant. And once we got inside, we were able to attach ourselves to different groups of police as they marched closer and closer to the Trade Center. On the way there, the wind was really blowing, and the dust was kicking up. And I've never been at the scene of an atomic attack, but that's what it felt like—people just sitting on the sides of the street, basically their heads buried in their hands, the dust whipping through the air. It was like a moonscape.
As we got closer, you began to see things that were even more disturbing. There were body parts lying underneath those traffic cones. The people didn't have time to do anything with the body parts; they just put the cone on top of it sort of as a—sort of a temporary gravestone. We saw the wheel of the airplane that had hit one of the buildings. It was lying in the curb. And then we made our way to the actual Trade Center.
AMY GOODMAN: The ash that is covering the whole area, as if a volcano has just erupted, gets denser, of course, as you come to the main area. How high, at this point, is the area of the World Trade Center? Is there any of the buildings left?
JON ALPERT: There's a pile of rubble that probably extends—right at the outskirts of the Trade Center, it's flat, and there's nothing left there. There's a little bit left of the structure that probably reaches a crumbled height of about eight or nine stories.
AMY GOODMAN: We have to say, a lot of the broadcasting outlets are down, because their antennae were on top of the World Trade Center. Jon, in your footage, we see ambulances that are open, that are crushed. A lot of aid workers, a lot of the emergency workers, police, fire, ambulance, EMT people, were killed as they tried to help people after the tower hadn't yet collapsed but was on fire, and people were jumping from the top stories of the twin 110-story towers.
JON ALPERT: Right, and ironically, Mayor Giuliani's command and control emergency center is located not in the two trade towers, but in the smaller tower next to them. I actually know the man that's the head of that, John Odermatt, and we don't know where he is. And there were many people that were called into that particular area to respond, and many of them are missing.
AMY GOODMAN: And as we read in the news headlines, the fire chief, the deputy chief, they have all been killed, as they were coordinating the rescue efforts.
JON ALPERT: Yeah, the firemen were stunned, actually. They were standing around. The rescue effort last night was proceeding quite slowly, and many of the firemen were both dumbstruck with what had happened to them, but also a little bit frustrated, because they could not go into action. I think that actually on the outskirts of the whole zone, you see more movement, vehicles being lined up. You can see the marshalling of the resources that are going to be necessary to clean and investigate and recover from this. But at the actual site, it was going very, very slowly. At one time, there was one or two iron workers. The iron workers were great. They were doing most of the actual work. They were running the cranes. They were doing the welding, cutting the pieces of steel so that they could be lifted away. But until they got the really big cranes in there, there were really one or two workers and thousands and thousands of firemen just standing around in silence watching this.
AMY GOODMAN: We have seen a lot of firemen on the side holding their heads in their hands, very much in shock, like everyone else yesterday. And I should let stations know, throughout the day we broadcast, and people were coming up. I want to thank you, Jon, for allowing us to broadcast from your site, from Downtown Community Television, again, the closest site to this area. This whole area, NYC, WNYC, the NPR station, WBAI, they're all off the air, from down in the Wall Street and City Hall area. I believe NPR, just AM, is broadcasting from uptown from their studios. But to be here in the evacuated zone, it's also a time of concern, when people are being stopped everywhere, prevented from moving. It takes a lot of agility to get around.
JON ALPERT: Yeah, we actually started yesterday by bringing our telephones down to the street. And as people wandered up in a daze, they wanted to notify their families that they were OK. The first person that came into our building to use our phone was a fellow who worked on the floor of the New York Stock Exchange. They have TV sets there on the floor, and he saw the first impact and went rushing over to the trade tower where his wife worked. And he was standing there. He managed to call his wife's phone, and he was able to get through, but all he heard was screaming. And he waited as they evacuated the building. His wife worked on the hundredth floor. And they were evacuating people up to the 80th, when the building collapsed. And he was just wandering around here. He didn't know what to do. He has a two-year-old kid. He was trying to call home to tell them that he was OK, but he didn't know what happened to mommy.
AMY GOODMAN: Jon Alpert, Emmy Award-winning filmmaker, journalist, who has been, through the night, at the World Trade zone—at the World Trade Center.
JON ALPERT: Yeah, you know what was—was actually quite moving, the firemen know who's missing.
AMY GOODMAN: More than 280 of them.
JON ALPERT: And they find pieces of gear that belong to these men—their helmet, their coat with their names on it—and they're collecting these in a pile. And they're just sort of standing around watching this and not knowing what to do. They all know somebody who was buried in there someplace.
AMY GOODMAN: And as for the number of people who are buried in the rubble right now, as the slow search and rescue operation begins, the numbers are only being guessed at and feared that the numbers are very high.
JON ALPERT: Yeah, I was—I was standing there at the Trade Center yesterday for I guess about 12 hours, and during that time only one body was brought out. And this was early. From around 6:00 at night to 2:00 in the morning, they were not able to dig deep enough into the pile to bring anybody out.
AMY GOODMAN: But there are a number of wounded who are filling the hospitals, and they're very desperate, the medical workers, for people to contribute blood. And I know that's happening around the country and around the city.
JON ALPERT: Yeah.
AMY GOODMAN: Thanks, Jon.
JON ALPERT: OK, the doctor who was on the scene there actually said, "I feel helpless. I don't know what to do."
AMY GOODMAN: You're listening to Democracy Now! in Exile, as we broadcast blocks away from what was the World Trade Center. When we come back, we'll be joined by Ali Abunimah—he is in Chicago, his family right in the shadow of the World Trade Center—and Norman Solomon. And we'll be talking about media coverage. We'll also hear from President Bush and his men. And then we'll look at the stereotypes and the blame, the fingers being pointed, and the concerns of whole populations, when it is discovered who does—who was responsible for these acts. Stay with us.
[break]
AMY GOODMAN: You are listening to Democracy Now! in Exile, broadcasting blocks from what were the towers of the World Trade Center. Just a block to the south of us, people last night hammering away building pallets out of two-by-fours and pieces of plywood that are now going to be used in the search-and-rescue operation. As one of the residents said, who was hammering away—they sounded like drums, I have to say—as he was hammering away, he said, "I hope these are used to bring out more people who are alive than dead."
At 5:30 Eastern Standard Time, or rather 8:30 Eastern Standard Time, President Bush addressed the nation.
PRESIDENT GEORGE W. BUSH: Good evening. Today, our fellow citizens, our way of life, our very freedom, came under attack in a series of deliberate and deadly terrorist acts. The victims were in airplanes or in their offices—secretaries, businessmen and women, military and federal workers, moms and dads, friends and neighbors. Thousands of lives were suddenly ended by evil, despicable acts of terror.
The pictures of airplanes flying into buildings, fires burning, huge, huge structures collapsing, have filled us with disbelief, terrible sadness and a quiet, unyielding anger. These acts of mass murder were intended to frighten our nation into chaos and retreat, but they have failed. Our country is strong. A great people has been moved to defend a great nation. Terrorist attacks can shake the foundations of our biggest buildings, but they cannot touch the foundation of America. These acts shattered steel, but they cannot dent the steel of American resolve.
America was targeted for attack because we're the brightest beacon for freedom and opportunity in the world, and no one will keep that light from shining. Today our nation saw evil, the very worst of human nature, and we responded with the best of America, with the daring of our rescue workers, with the caring for strangers and neighbors who came to give blood and help in any way they could.
Immediately following the first attack, I implemented our government's emergency response plans. Our military is powerful, and it's prepared. Our emergency teams are working in New York City and Washington, D.C., to help with local rescue efforts. Our first priority is to get help to those who have been injured and to take every precaution to protect our citizens at home and around the world from further attack.
AMY GOODMAN: President Bush, addressing the nation last night at 8:30. He was in Florida when the planes slammed into the World Trade Center as well as the Pentagon. He then flew on to a base in Louisiana, his top security people not wanting him to return to Washington, then flew on to Nebraska, and then eventually came back to Washington, D.C. First to hold a news conference was not the President, who flew in just after this period, but the Secretary of Defense, Donald Rumsfeld, as well as Hugh Shelton, the chair of the Joint Chiefs of Staff.
GEN. HUGH SHELTON: Ladies and gentlemen, as the Secretary just said, today we have watched the tragedy of an outrageous act of barbaric terrorism carried out by fanatics against both civilians and military people, acts that have killed and maimed many innocent and decent citizens of our country. I extend my condolences to the entire Department of Defense families, military and civilian, and to the families of all those throughout our nation who lost loved ones. I think this is indeed a reminder of the tragic—the tragedy and the tragic dangers that we face both day in and day out, both here at home as well as abroad. I will tell you up front, I have no intentions of discussing today what comes next. But make no mistake about it, your armed forces are ready.
AMY GOODMAN: General Hugh Shelton, speaking at the Pentagon yesterday afternoon.