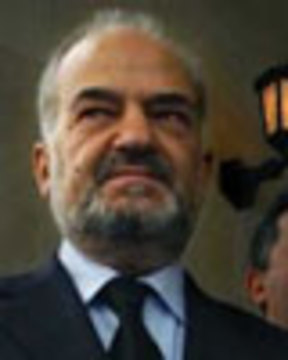 Media Options
Iraq's leading Shiite political slate has nominated physician and former exile Ibrahim al-Jaafari to be the nation's next prime minister. The United Iraqi Alliance selected Jafari after the other main contender–Ahmad Chalabi–withdrew from the race. [includes rush transcript]
The Shiite coalition carried last month's elections, winning 140 of the 274 seats in the national assembly and Jafari is widely expected to be confirmed as the country's next prime minister, replacing U.S.-backed Iyad Allawi.
Jafari worked as a doctor in Iraq where he was a member of the Dawa–Iraq's oldest Islamic party. In 1980, he fled to Iran after a crackdown on the party by Saddam Hussein. He stayed there for 10 years before moving to London, where he lived until the March 2003 US invasion of Iraq. He has served as interim vice president in Iraq since June.
Late yesterday, we reached Juan Cole — He is Professor of History at the University of Michigan. He runs an analytical website called "Informed Comment" where he provides a daily round-up of news and events in Iraq and elsewhere in the Arab world. His site is www.juancole.com. I began by asking him about Ibrahim al Jaafari.
Juan Cole, University of Michigan professor
---
Transcript
This is a rush transcript. Copy may not be in its final form.
AMY GOODMAN: Late yesterday, we reached Juan Cole. He is Professor of History at the University of Michigan, runs an analytical website called Informed Comment where he provides a daily roundup of news and events in Iraq and elsewhere in the Arab world. His site is www.juancole.com. I began by asking Juan Cole about Ibrahim al-Jaafari.
JUAN COLE: Ibrahim al-Jaafari is an old-time member of the Dawa Party. He was born in Karbala in 1947, went to medical school in Mosul in the north, and in the late 60s joined the Dawa Party as a young man. And the Dawa Party was set up in the late 50s to be a kind of modern Shiite answer to communism, that they would work for a Shiite state, a kind of Shiite utopia, the same way the Communist party worked for a worker's utopia.
AMY GOODMAN: Can you talk about what Jaafari stands for now?
JUAN COLE: Well, Jaafari is an old-time Muslim fundamentalist. He will want as much Islamic law to be implemented in Iraq as possible. The Dawa tends to view civil law in Iraq as a British colonial heritage so they want to get rid of it. And he was part of a group that attempted to implement Islamic law, even when there was an American administration. So, they would like, you know, personal status, marriage, divorce, alimony, inheritance, all those things to be governed by Islamic law.
AMY GOODMAN: What about the whole competition with Ahmed Chalabi. Did he ever have a chance? And where does he stand now? Some are saying he might be the deputy.
JUAN COLE: Oh, no. I would be surprised if Chalabi were given a very high post. He might get a cabinet post. He had some support, Chalabi did, among the United Iraqi Alliance group which was the Shiite and more fundamentalist parties, although it was a big tent and some secular groups like Chalabi's Iraqi National Congress were in it. It has been reported by AP that some of the women in the list — about a third of the list are women — were a little afraid of Jaafari's Islamism and that they were — they were the ones who were supporting Chalabi. So I think Chalabi will get something, but I don't expect him to have any kind of executive post.
AMY GOODMAN: University of Michigan Professor Juan Cole. I then asked him about Adil Abdul Mahdi, the current finance minister, who many believed would be the new leader of the Iraqi government. Columnist Naomi Klein wrote in The Nation that al-Mahdi was the Bush Administration's Trojan horse in the United Iraqi Alliance. Klein wrote, quote, "In October, he told a gathering of the American Enterprise Institute that he planned to restructure and privatize Iraq's state-owned enterprises, and in December, he made another trip to Washington to unveil plans for a new oil law, quote, 'very promising to American investors.' It was al-Mahdi himself who oversaw the signing of a flurry of deals with Shell, BP, and ChevronTexaco in the weeks before the elections and it is he who negotiated the recent austerity deal with the IMF." That from Naomi Klein's piece in The Nation magazine. So, I asked Professor Cole about the man who was almost king.
JUAN COLE: Adil Abdul Mahdi is the Finance Minister. He is a member of the Supreme Council for Islamic Revolution in Iraq, which is one of the two main constituents of the victorious United Iraqi Alliance, and had been in the running for Prime Minister. He withdrew, saying that he didn't want to cause a split in the Alliance, and he will almost certainly be rewarded with some high post, but we don't know yet which.
AMY GOODMAN: And the significance of what he was pushing for, the privatization of oil, being seen too close to the United States?
JUAN COLE: Yeah. Abdul Mahdi was a favorite of the United States because he was in favor of a kind of shock therapy for the Iraqi economy and the complete abolition of Iraqi socialism in favor of laissez-faire, free market policies. He may yet be in a position to push for those things, especially were, for instance, he to remain Finance Minister. But I think the United Iraqi Alliance, the party of which he is a part, on the whole will go much more slowly with those things. Polls show that 80% of Iraqis felt that the government was there to take care of them and they have a very socialistic outlook. So, I think shock therapy is not on the horizon.
AMY GOODMAN: Jaafari's relationship with Iran?
JUAN COLE: Jaafari has a very good relationship with Iran — has very warm relations with Tehran.
AMY GOODMAN: What does this mean?
JUAN COLE: Well, I think, you know, on a whole range of issues, there's likely to be some friction between Jaafari and the US government. Jaafari was opposed to the Fallujah campaign. He felt that peaceful means could have been used to resolve those issues. He was opposed to the Najaf campaigns of the US military. He has good relations with Iran and I think would not react well to a US attack on Iran. And so on a whole range of issues from Islamic law to domestic security policy to foreign policy, he is not on the same page with the US Embassy.
AMY GOODMAN: And how has the US responded that you can ascertain?
JUAN COLE: I haven't seen any US response to this prospect. It was reported over the weekend by the pan-Arab daily Alhayat that even the United Iraqi Alliance recognized that its prime ministerial candidate would have to get a green light from the Americans. And so I assume that if Mr. Jaafari is being announced as he was today as the prime ministerial candidate, that back-channel negotiations did take place with Mr. Negroponte and that the Americans didn't make a strong stand against this development.
AMY GOODMAN: Professor Cole, what about the women of Iraq? Where do they stand in terms of both the election, as representatives, and where they would stand with Jaafari?
JUAN COLE: Well, I think it is a mixed picture with regard to the situation of women in Iraq. On the one hand, Mr. Jaafari will almost certainly push for as much Islamic law as he can and personal status, and depending on how that is interpreted, it can be bad for women. In some countries — Muslim countries where Islamic law has been implemented, women's testimony in court has been reduced to half that of a man in its value, which has made rape almost impossible to prosecute. Women have been denied the ability to initiate divorce. They've been denied alimony. Their inheritance rights are less than those of their brothers and so on and so forth. So, a more rigid and medieval interpretation of Islamic law could take a lot of rights away from Iraqi women. Mr. Jaafari may not be able to get through so much of this program, in part because he will need groups like the Kurds to govern in a coalition and they are opposed to the implementation of Islamic law. On the other hand, a lot of what women face in Iraq these days are security issues. They're afraid of being kidnapped, they're afraid their children will be kidnapped, they're open to be burglarized and so forth. The roads are not safe. So, if Jaafari is able to reach out, as he says he wants to and make peace in the country, that would certainly be a benefit for the Iraqi women.
AMY GOODMAN: You mention the Kurds. A lot of speculation about Jalal Talabani being the president. Can you comment on that?
JUAN COLE: Well it seems almost certain that Mr. Talabani will be president. The parliament requires a two-thirds majority to form a government. Mr. Jaafari will have only 51%, possibly 54%. And so he needs a coalition partner in order to form a government, and since the Kurds did so well, they have 27% of the seats in Parliament, it seems very likely that he will reach out to them as his coalition partner, which would require that the Kurds be given inducements to join this largely Shiite government, and the presidency of Mr. Talabani is their initial demand. I think they'll get it.
AMY GOODMAN: What about these back door negotiations that Time magazine reported on this week between the resistance and the United States?
JUAN COLE: Well, those back-door negotiations were denounced by Ahmad Chalabi, who was Mr. Jaafari's rival for the prime minister post more recently. On the other hand, they are precisely the kind of thing that Jaafari himself has called for. So, I think that Jaafari will look with some encouragement on those kinds of negotiations and I think he'll initiate his own back-channel negotiations. He said that he thought it would be a big mistake to attack Fallujah frontally in the way that it was done, that it would be possible to bring those people in. He may be wrong about that, but his instincts will be to negotiate rather than to fight.
AMY GOODMAN: And the whole issue of a timetable for the withdrawal of US troops? Where does Jaafari stand?
JUAN COLE: Well, initially the United Iraqi Alliance did have as part of its platform a demand for a timetable. That has been taken out on reconsideration and Mr. Jaafari has spoken against a timetable. I think we have to realize that the Baathist guerillas are determined to overthrow this government, which they see as a puppet of the United States, despite, you know, I think that argument is actually pretty hard to make because I don't think the United States anticipated this particular government coming into power. But that's the way the Baathists see it and they will try to kill Mr. Jaafari if they can. So, I think he and others view — he has said that he views any timetable or any precipitate withdrawal of US troops from Iraq as unhelpful.
AMY GOODMAN: And the whole issue of Jaafari, the occupation being — where he stood originally with the occupation and whether the election was actually a referendum on the occupation, given the UIA stance?
JUAN COLE: Well, I think, you know, Jaafari led the London branch of the Dawa Party in exile, and the Dawa Party in London decided that it was better to cooperate with the Americans and get Saddam out than to remain in exile. And they all long, of course, had serious differences with the Americans over things like the implementation of Islamic law or Iran policy or security inside the country. But they — Jaafari's branch of the party has felt that they get more out of cooperating with the US than they lose. And, of course, in some ways he has ridden this process to power now. On the other hand, you know, the question is now the future and I think it is certainly the case that most of the Iraqis who came out to vote in the south and among the Shiites felt that what they were doing was putting in place a Iraqi indigenous government that would have the legitimacy ultimately to run the country, to restore security, and to ask the Americans to leave. I think in the long-term, certainly the Supreme Council for Islamic Revolution in Iraq, the Dawa Party, and other major Shiite groups will want the US out of their country.
AMY GOODMAN: And what about the Sunnis who didn't participate? I think — what was the percentage — something like 2%. Where do they fit in?
JUAN COLE: Yeah. The Sunni Arabs on the whole did not participate in the election, either because they boycotted it or because security in their region did not permit them to come out. As you say, in Anbar province, only 2% participated and some of the other provinces, it was somewhat higher. But still, they only got about six seats out of the 275 in Parliament. By their proportion of the population they should have gotten 55 or 60. They will have to be incorporated in other ways into the process. I think they will be given some high cabinet posts, they will be given a vice-presidency, they will be appointed to the constituent assembly that's going to craft the constitution. So, attempts will be made to draw them into the government process and Jaafari is already associated with such attempts.
AMY GOODMAN: And two figures. What happens with Muqtada al-Sadr, and what happens with Iyad Allawi?
JUAN COLE: Jaafari wants a big tent. So, he has already said he will reach out to Muqtada al-Sadr, he will try to bring him into the government. Jaafari already depends to some extent on pro-Sadr figures within the United Iraqi Alliance's party. About 18, I think, of their delegates are pro-Sadr, and then there were three who were elected as independents. So I think they will be a channel to Sadr from Jaafari, and he says he wants to try to incorporate them. It is being reported in some sources that Allawi will be given a cabinet post, possibly even the Defense Ministry. And so, again, I think Jaafari wants to work with all the major groups in Iraq to his left, to his right, other ethnicities. He is, like Lyndon Johnson, you know, he wants the big tent.
AMY GOODMAN: Where do you see Iraq in the next six months?
JUAN COLE: Well, the guerilla insurgency seems to me will continue for a long time to come, and I don't think the elections were really relevant to it. So, we will see these reports of things being blown up and people being blown up and US troops attacked I think for a good long time to come. In the meantime, the big challenges facing Mr. Jaafari are to come to an accommodation with the Kurds on issues like autonomy, provincial autonomy, the sharing of oil resources, the sharing of the city of Kirkuk, redrawing of the provincial map of the country. Many, many issues now face Iraq, any one of which could tear the country apart and all will have to be addressed at the same time in the drafting of a new constitution. I think it is a little unfortunate the Americans have set things up so that this newly-elected parliament must now craft a permanent constitution for the country and it has to open all the cans of worms in the country simultaneously.
AMY GOODMAN: Professor Juan Cole of the University of Michigan. His website, juancole.com.