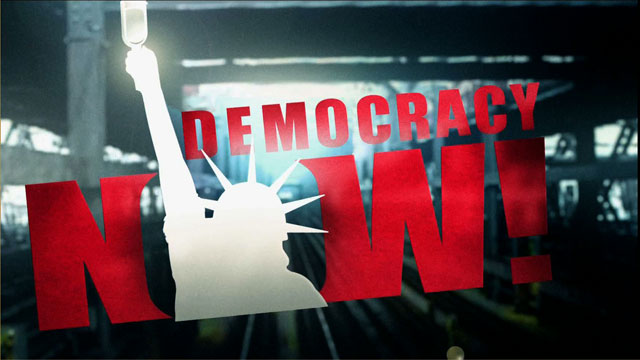 David Shuster of MSNBC's 1600 Pennsylvania Avenue interviews Amy Goodman on February 27, 2009 about President Obama's plans to delay troop withdrawal in Iraq and escalate the war in Afghanistan.
Complete transcript from MSNBC:
(BEGIN VIDEO CLIP)
BARACK OBAMA, (D) PRESIDENT OF THE UNITED STATES: Let me say this as plainly as I can. By August 31st, 2010, our combat mission in Iraq will end.
(END VIDEO CLIP)
SHUSTER: Welcome back. That was President Obama, today, announcing a new timetable for the end of the Iraq war. A date certain is what many Americans have been waiting to hear, especially those Americans who believe, as President Obama did, that the war should have never been fought in the first place.
Still, the president's timetable is slower than what he proposed during the campaign. Amy Goodman is a host of "Democracy Now", radio and T show. And she's blogging at democracynow.org. She's also the author of the book "Standing Up To Madness: Ordinary Heroes in Extraordinary Times."
Amy, the Pulitzer-prize winning reporter Thomas Ricks, from "The Washington Post" said today on MSNBC, "I was struck by how similar President Obama was in discussing military affairs to President Bush."
Your reaction?
AMY GOODMAN, DEMOCRACY NOW.ORG: Well, I think that's very interesting, David. Because, yes, when President Obama was speaking at Camp Lejeune he told the soldiers they had gone to do what their mission was, to take out Saddam Hussein. That was not what they were originally sent to do. Of course, it wasn't their fault. But President Bush floated the idea, convinced the American people Saddam Hussein had weapons of mass destruction. It didn't happen to be the truth. It was a lie.
And President Obama would have had the backing of the American people, most people opposed to this war, to simply tell the truth. So that didn't bode too well. I think Thomas Ricks was right there.
SHUSTER: Does it bode poorly for you that the timeline is essentially a little slower than he said during the campaign? What do you make of it?
GOODMAN: It's not just the three months, from 16 to 19 months. What we're really talking about here is an army that remains. When we're talking about 50,000 soldiers, saying, well, they won't be engaged in combat, of course, these are soldiers. They're there. They're trained in that way. This is what is a grave concern to people, why the United States is continuing to occupy Iraq.
And, of course, with the SOFA, the Status of Forces Agreement, they could go on for years and years to come. Not to mention, I've been speaking with some of the engineers who built the largest embassy on earth, the U.S. embassy, it's right there in Baghdad. What's it going to take to protect this embassy? Is it something like four square miles in downtown Baghdad? I questioned Senator Obama, when he was running for president, when he came here to New York and asked him, for example, about the mercenary forces, the para-militaries. You know, the Black Waters -well, now it's called Z, XZ. But these companies, would he support a ban on them in places like Iraq? He said no. That's another question that hasn't been answered today in president's speeches. What's going to happen with these mercenary forces? How many of them are going to be there?
SHUSTER: What would you like Congress to do? I mean, we just had Congressman Chris Van Hollen talking about the hearings coming up. If you had the ear of a congressman, what would you tell him or her to say? And what would you demand to know from the Obama administration? Would you essentially argue some Democrats should take a stronger position against this plan?
GOODMAN: Well, you know, I question Congress members all the time on Democracy Now, and ask them. I mean, our job as journalists is to hold those in power accountable. It's about Iraq and it's also about Afghanistan; about a surge in Afghanistan, promising thousands more soldiers and a greater war in Afghanistan. These are very serious issues.
I think the global economic meltdown, for one thing, is an indication we cannot afford war. I was just interviewing the Nobel economist, the Nobel-prize winning economist Joe Stiglitz, who wrote the book "The $3 Trillion War." Yes, Iraq, $3 trillion over time, and also in paying for the veterans' health benefits as they come back and their care for a lifetime. We cannot afford these wars.
Separate the morality just from the economics of it, both Iraq, and we can't forget the whole issue of Afghanistan. There has to be a greater debate in the media about greater war in Afghanistan. Barack Obama came out early opposed to the war in Iraq. And, yet, we don't hear that same kind of opposition or discussion around Afghanistan now.
SHUSTER: Amy Goodman from Democracy Now.
Amy, good of you to join us. We appreciate it.
GOODMAN: Thanks, David.
---