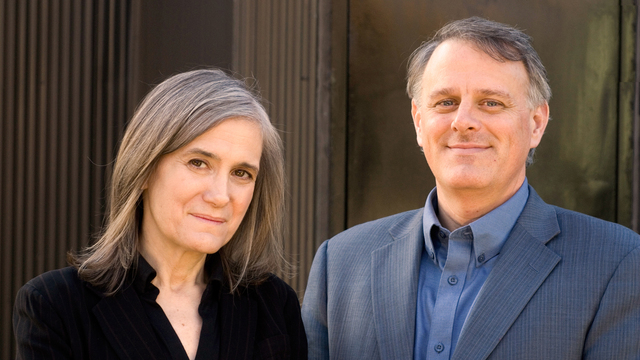 Media Options
By Amy Goodman with Denis Moynihan
The Glock 19 semiautomatic pistol that Jared Loughner is accused of using in his rampage in Tucson, Ariz., is, according to Glock's website, "ideal for versatile use through reduced dimensions" and is "suitable for concealed carry." The site continues, "Compact and subcompact Glock pistol model magazines can be loaded with a convincing number of rounds," from the standard 15 up to 33. The shooter was able to kill and wound to the extent that he did, with six dead and 13 injured, because he had a semiautomatic, concealed weapon, along with the "extended magazine." He was attempting to reload the weapon with another extended magazine when a brave, unarmed woman knocked his next clip from his hand.
Jared Loughner confirmed Glock's claim that 33 is a "convincing" number of rounds. Rep. Carolyn McCarthy, D-N.Y., doesn't need convincing, though. Her husband, Dennis McCarthy, was gunned down on the Long Island Rail Road on Dec. 7, 1993, when Colin Ferguson pulled a semiautomatic pistol out of his bag and methodically made his way along the afternoon commuter train, randomly shooting passengers. He too killed six people and wounded 19, including McCarthy's son, Kevin. Ferguson was tackled, as was Loughner, while reloading his weapon. In both cases, the act of reloading the gun created a pause in the shooting that allowed unarmed citizens to take action.
Carolyn McCarthy mourned the loss of her husband and nursed her critically injured son back to health. He had been shot in the head. Carolyn McCarthy then decided to go further, to try to heal the nation. She lobbied her Long Island member of Congress, Republican Daniel Frisa, to support the 1994 Federal Assault Weapons Ban. He refused. McCarthy had been a nurse for 30 years, and a lifelong Republican. Turning her anger into action, she switched to the Democratic Party, ran for Congress against Frisa and defeated him in 1996. She has been in Congress ever since, and is one of the staunchest supporters there of common sense gun laws.
The 1994 law prohibited a number of weapons outright, as well as extended-capacity magazines like Loughner used. The law expired in 2004 under President George W. Bush. In response to the Tucson shooting, McCarthy is introducing the Large Capacity Ammunition Feeding Devices Act. In a letter to other members of Congress seeking co-sponsors, she says the bill "will prohibit the transfer, importation, or possession of high-capacity magazines manufactured after the bill is enacted," and, thus, "the increased difficulty in obtaining these devices will reduce their use and ultimately save lives."
The ban on these bullet clips is a start. But ultimately, the guns themselves—semiautomatic weapons—are the personal weapons of mass destruction that are designed not to hunt animals, but to kill people. These guns need to be controlled. By controlling them, we will reduce violence not only in the United States, but across the border in Mexico as well.
In Ciudad Juarez, just 300 miles from Tucson, directly across the border from El Paso, Texas, Mexican officials say more than 3,100 people were killed in drug violence last year, the bloodiest year to date. In May 2010, President Felipe Calderon spoke before a joint session of the U.S. Congress and called for a reinstatement of the assault weapons ban. According to law enforcement officials, 90 percent of the guns picked up in Mexico from criminal activity are purchased in the United States.
Susana Chavez was a poet and activist in Ciudad Juarez. She popularized the phrase "Not one more dead." She was buried last week in Mexico, just as the bodies of Tucson's youngest victim, 9-year-old Christina Greene, and federal Judge John Roll were being prepared for burial in Arizona. A month earlier, anti-violence campaigner Marisela Escobedo Ortiz was shot in the head while maintaining a vigil to demand that the government take action in pursuit of the killers of her 17-year-old daughter, Rubi Frayre Escobedo.
The U.S. group Mayors Against Illegal Guns has just released the results of a bipartisan survey, which found that 86 percent of Americans and 81 percent of gun owners support background checks on all gun sales. The group maintains a website, Close the Loophole.org. Gun shows, the ready access to semiautomatic weapons and the additional availability of extended-capacity magazines are a recipe for the massacres that occur every few years in the U.S., and every few weeks in Mexico.
In the wake of the Tucson shooting, amidst calls for bipartisanship and civility, now is the time for Democrats and Republicans to join together to pass a permanent ban on assault weapons, and make us all safer.
Denis Moynihan contributed to this column.
Amy Goodman is the host of "Democracy Now!," an independent, daily global TV/radio news hour airing on more than 950 stations in the United States and around the world. She is the author of "Breaking the Sound Barrier," recently released in paperback and now a New York Times best-seller.
© 2011 Amy Goodman
---