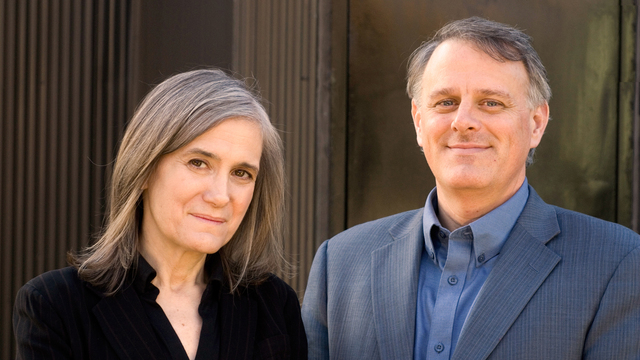 Media Options
By Amy Goodman with Denis Moynihan
"People holding a sign 'To: America. From: the Egyptian People. Stop supporting Mubarak. It's over!" so tweeted my brave colleague, "Democracy Now!" senior producer Sharif Abdel Kouddous, from the streets of Cairo.
More than 2 million people rallied throughout Egypt on Tuesday, most of them crowded into Cairo's Tahrir Square. Tahrir, which means liberation in Arabic, has become the epicenter of what appears to be a largely spontaneous, leaderless and peaceful revolution in this, the most populous nation in the Middle East. Defying a military curfew, this incredible uprising has been driven by young Egyptians, who compose a majority of the 80 million citizens. Twitter and Facebook, and SMS text messaging on cell phones, have helped this new generation to link up and organize, despite living under a U.S.-supported dictatorship for the past three decades. In response, the Mubarak regime, with the help of U.S. and European corporations, has shut down the Internet and curtailed cellular service, plunging Egypt into digital darkness. Despite the shutdown, as media activist and professor of communications C.W. Anderson told me, "people make revolutions, not technology."
The demands are chanted through the streets for democracy, for self-determination. Sharif headed to Egypt Friday night, into uncertain terrain. The hated Interior Ministry security forces, the black-shirted police loyal to President Hosni Mubarak, were beating and killing people, arresting journalists, and smashing and confiscating cameras.
On Saturday morning, Sharif went to Tahrir Square. Despite the SMS and Internet blackout, Sharif, a talented journalist and technical whiz, figured out a workaround, and was soon tweeting out of Tahrir: "Amazing scene: three tanks roll by with a crowd of people riding atop each one. Chanting 'Hosni Mubarak out!' "
Egypt has been the second-largest recipient of U.S. foreign aid for decades, after Israel (not counting the funds expended on the wars and occupations of Iraq and Afghanistan). Mubarak's regime has received roughly $2 billion per year since coming to power, overwhelmingly for the military.
Where has the money gone? Mostly to U.S. corporations. I asked William Hartung of the New America Foundation to explain:
"It's a form of corporate welfare for companies like Lockheed Martin and General Dynamics, because it goes to Egypt, then it comes back for F-16 aircraft, for M-1 tanks, for aircraft engines, for all kinds of missiles, for guns, for tear-gas canisters [from] a company called Combined Systems International, which actually has its name on the side of the canisters that have been found on the streets there."
Hartung just published a book, "Prophets of War: Lockheed Martin and the Making of the Military-Industrial Complex." He went on: "Lockheed Martin has been the leader in deals worth $3.8 billion over that period of the last 10 years; General Dynamics, $2.5 billion for tanks; Boeing, $1.7 billion for missiles, for helicopters; Raytheon for all manner of missiles for the armed forces. So, basically, this is a key element in propping up the regime, but a lot of the money is basically recycled. Taxpayers could just as easily be giving it directly to Lockheed Martin or General Dynamics."
Likewise, Egypt's Internet and cell phone "kill switch" was enabled only through collaboration with corporations. U.K.-based Vodafone, a global cellular-phone giant (which owns 45 percent of Verizon Wireless in the U.S.) attempted to justify its actions in a press release: "It has been clear to us that there were no legal or practical options open to Vodafone … but to comply with the demands of the authorities."
Narus, a U.S. subsidiary of Boeing Corp., sold Egypt equipment to allow "deep packet inspection," according to Tim Karr of the media policy group Free Press. Karr said the Narus technology "allows the Egyptian telecommunications companies … to look at texting via cell phones, and to identify the sort of dissident voices that are out there. … It also gives them the technology to geographically locate them and track them down."
Mubarak has pledged not to run for re-election come September. But the people of Egypt demand he leave now. How has he lasted 30 years? Maybe that's best explained by a warning from a U.S. Army general 50 years ago, President Dwight D. Eisenhower. He said, "We must guard against the acquisition of unwarranted influence, whether sought or unsought, by the military-industrial complex."
That deadly complex is not only a danger to democracy at home, but when shoring up despots abroad.
---