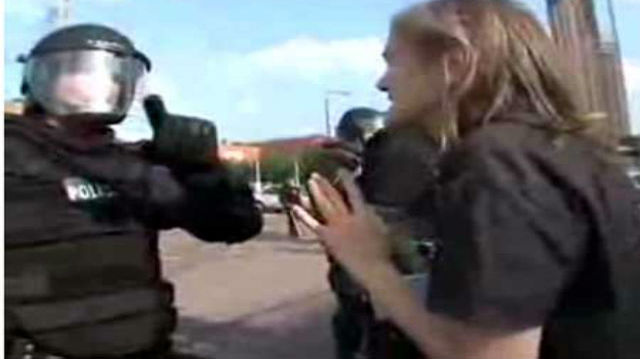 An article about protesters coming to Tampa, Florida, for the 2012 Republican National Convention features Democracy Now! host Amy Goodman talking about her arrest at the 2008 RNC in St. Paul, Minnesota.
Goodman and two producers were unlawfully arrested and subjected to excessive force while reporting on public protest and political dissent surrounding the convention. They were among more than 40 other journalists arrested that week. She later filed a lawsuit challenging the policies and conduct of law enforcement which resulted in a landmark settlement that includes compensation of $100,000 for the three Democracy Now! journalists and an agreement by the St. Paul Police Department to implement a training program aimed at educating officers regarding the First Amendment rights of the press and public with respect to police operations — including police handling of media coverage of mass demonstrations — and to pursue implementation of the training program in Minneapolis and statewide.
The story published Wednesday in the Tampa Bay Times recalls the incident:
Problems started as Goodman, host of a politically progressive syndicated radio and TV show, approached police, asking for details on why they detained two of her co-workers.
According to Goodman, as she walked up to the line of police officers and requested to see their commanding officer, she was pushed through the line and arrested for — among other things — crossing the police line.
"It was so out of control and ridiculous," Goodman said recently, noting that she and the staffers were clearly identified as journalists.
A YouTube video showing her arrest now has over 1 million views and sparked a huge controversy at the time. The city of St. Paul later declined to prosecute working journalists arrested during the convention, including Goodman and her staffers, according to the Minneapolis Star Tribune.
Now the Tribune reports the same type of arrests could happen again. Police told the Times, "journalists are like any member of the public. If police need to clear an area they deem dangerous, reporters and photographers will have to leave, too." The paper notes this "strategy irks some journalists, who believe they have the right to be where news is happening.
Click here to watch the original Democracy Now! video report of the Sept. 2, 2008 arrests
For more information on the case, visit CCR's legal case page.
---