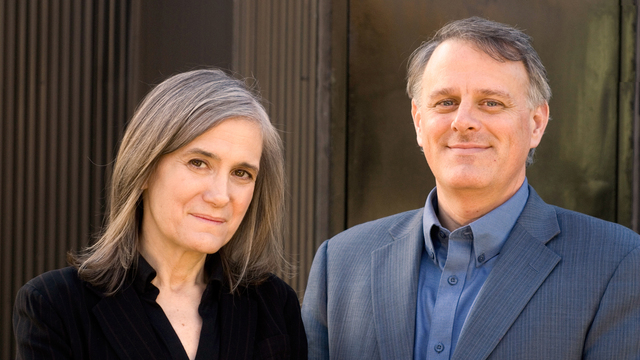 Media Options
By Amy Goodman and Denis Moynihan
Former Guatemalan President Efraín Ríos Montt was hauled off to prison last Friday. It was a historic moment, the first time in history that a former leader of a country was tried for genocide in a national court. More than three decades after he seized power in a coup in Guatemala, unleashing a U.S.-backed campaign of slaughter against his own people, the 86-year-old stood trial, charged with genocide and crimes against humanity. He was given an 80-year prison sentence. The case was inspired and pursued by three brave Guatemalan women: the judge, the attorney general and the Nobel Peace Prize laureate.
"My brother Patrocinio was burnt to death in the Ixil region. We never found his remains," Rigoberta Menchu told me after Rios Montt's verdict was announced. She detailed the systematic slaughter of her family: "As for my mother, we never found her remains, either. … If her remains weren't eaten by wild animals after having been tortured brutally and humiliated, then her remains are probably in a mass grave close to the Ixil region. … My father was also burned alive in the embassy of Spain [in Guatemala City] on January 30th, 1980."
Rigoberta Menchu was awarded the Nobel Peace Prize in 1992, "in recognition of her work for social justice and ethno-cultural reconciliation based on respect for the rights of indigenous peoples." She continued telling me about her family's destruction: "In 1983, my brother Victor Menchu was also shot dead. His wife had her throat slit, and he was fleeing with his three children. Victor was jailed in the little town, but his three children were kept in a military bunker. My two nieces died of hunger in this military base, and my brother Victor was shot. We still have not found his remains."
According to the official Commission on Historical Clarification, which undertook a comprehensive investigation of Guatemala's three-decade genocide, at least 200,000 people were killed. Menchu brought one of the original lawsuits against the perpetrators of the genocide, which resulted in the trial that ended with Rios Montt's conviction.
Claudia Paz y Paz Bailey was appointed as Guatemala's first female attorney general in December 2010, and has earned wide acclaim for her pursuit of perpetrators of crimes against humanity. The judge in the case is another woman, Yassmin Barrios. In a country where, historically, people who challenge those in power are often killed, Paz y Paz and Barrios demonstrated tremendous courage.
Journalist Allan Nairn, who has covered Guatemala, among other conflict zones, since the early 1980s, observed the trial. In mid-April, the trial was ordered shut down by another Guatemalan court, presumably under the influence of President Otto Perez Molina. From Guatemala City, Nairn reported then: "The judge, Yassmin Barrios, and the attorney general, Claudia Paz y Paz, both say they're going to defy this order to kill the case, which is extraordinary." They continued the trial, and eventually Ríos Montt was found guilty. Nairn said, after the verdict: "Judge Barrios … ran the trial. She was the one who had to deliver the verdict. As she left the courthouse every night, you could see her wearing a bulletproof vest. The judges and prosecutors involved in the case received death threats. In one case, a threat against a prosecutor, the person delivering the threat put a pistol on the table and said, 'I know where your children are.' It takes a lot of courage to push a case like this."
Menchu said: "This verdict is historic. It's monumental. The verdict against Rios Montt is historic. We waited for 33 years for justice to prevail. It's clear that there is no peace without justice." It is all the more so because it occurred in a national court in Guatemala. She noted that the International Criminal Court, as currently empowered, could not have taken the case, saying: "It's not retroactive. It doesn't address those cases that were committed before the court was created. So the statute of limitations on the International Criminal Court should be lifted."
Nairn was supposed to testify at the trial. One interview he conducted in 1982 has attracted widespread attention. On camera, he spoke with "Major Tito," who said entire families of indigenous villagers worked with the guerrillas. Tito's troops told Nairn that they routinely killed such civilian villagers. "Tito," it turns out, is none other than the current president of Guatemala, Otto Perez Molina. Nairn sees the guilty verdict against Rios Montt as an opening to potential prosecution of Perez Molina and others: "There would be hundreds of U.S. officials who were complicit in this and should be subpoenaed, called before a grand jury and subjected to indictment — including [President Reagan's Assistant Secretary of State for Human Rights] Elliott Abrams. And the U.S. should be ready to extradite them to Guatemala to face punishment, if the Guatemalan authorities are able to proceed with this. And General Perez Molina is one who should be included."
Regardless of where the case goes from here, Guatemala has set an example for the world, away from violence and impunity. Or as Nairn puts it, "Guatemala's Mayans have reached a higher level of
Amy Goodman is the host of "Democracy Now!," a daily international TV/radio news hour airing on more than 1,000 stations in North America. She is the co-author of "The Silenced Majority," a New York Times best-seller.
© 2013 Amy Goodman
---