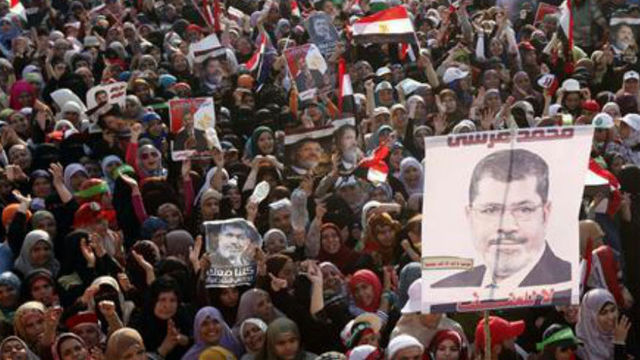 Media Options
"Whatever happens it will be pivotal to Egypt's future," reports Sharif Abdel Kouddous as he calls in his latest update from Cairo, in which he recaps what has taken place since the ouster of President Mohamed Morsi.
Click here to listen to Sharif's audio report.
SHARIF ABDEL KOUDDOUS: In Egypt, the ouster of President Mohamed Morsi on Wednesday has been followed by continued chaos throughout the country. The security apparatus has initiated a crackdown and appear to be looking to reassert themselves into positions of authority by riding the wave of popular anger against the ousted president and his group, the Muslim Brotherhood. Morsi himself has been held incommunicado since Wednesday, and a number of leading Muslim Brotherhood figures have also been arrested, including Khairat el-Shater, arguably the group's most powerful member, as well as other senior members. Arrest warrants for 200 Brotherhood figures have also been issued.
It resulted in a media crackdown. Four pro-Morsi TV channels have been closed down. Some of their workers have been arrested, mostly on the claims that they were inciting violence against protesters. And these include the Muslim Brotherhood's main TV channel, Misr 25, and the local affiliates of Al Jazeera.
Meanwhile, the Muslim Brotherhood has continued a mass sit-in in Nasr City, a neighborhood in Cairo, calling for Morsi to be reinstated as president. On Friday afternoon, a few hundred of them marched to the headquarters of the Republican Guard, where many Muslim Brotherhood members believe Morsi is being held. Army troops and police were stationed out front behind barbed wire. I was at the scene when this happened. Some protesters got too close to the barbed wire and refused to heed warnings from police and troops. Troops began to open fire with tear gas. They used shotguns and live ammunition. At least three people were killed. And this prompted more, thousands more, Morsi supporters to descend on the area, so the situation calmed down after that.
That evening, Friday evening, Morsi supporters in Cairo decided to march to downtown, near Tahrir Square, the very heart of the anti-Morsi protests, which was a very provocative move in what is a very volatile situation in Egypt. As expected, very fierce clashes ensued among pro- and anti-Morsi demonstrators. People used rocks and fireworks against each other, but also automatic weapons and shotguns. This lasted for hours and paralyzed parts of Cairo. The police, who were on a bridge where the main fighting was, stood by and did nothing. The army only deployed after the clashes were largely over. And so the notion that the army or police are providing any kind of security and order is completely false.
It was an extremely violent day. At least 35 people were killed across the country, including up to 14 in Alexandria alone. More than a thousand people were injured. There's video circulating on YouTube of the clashes, and one particular video from Alexandria shows Morsi supporters throwing what look like teenagers off the roof and then beating them on the ground. A Coptic Christian priest was also killed in northern Sinai, when assailants pulled him out of a car and shot him. And this afternoon, competing protests and rallies have been called for from both sides, and the potential for more violence is very high.
In political developments, the interim president, Adly Mansour, who was the head of the Supreme Constitutional Court, was sworn in on Thursday and has called for all political parties to take part in the new transition. The Brotherhood has staunchly rejected those offers and said the reinstatement of Morsi is a precondition for any talks. Mansour has also dissolved the Shura Council, which was acting as the legislative body for the country. Meanwhile, the Mubarak-appointed public prosecutor, Abdel Meguid Mahmoud, who was reinstated after Morsi's ouster and who—among his first moves was to issue all those arrest warrants against Brotherhood members, has resigned. There's reports that the interim president will issue a constitutional declaration today which will lay out the transition process, and local newspapers are reporting the plan is to amend the constitution, and then that will be followed by parliamentary and presidential elections, all of which should take place within one or two years.
Meanwhile, there was confusion last night as the state-run news agency reported that opposition leader Mohamed ElBaradei, the Nobel Peace laureate and former head of the IAEA, was appointed prime minister of the interim government, which was supported by certain sections of the opposition movement. However, hours later, very late at night, the interim president's spokesperson denied those claims, and reports emerged that the ultra-conservative Salafi Nour Party, which supported the ouster of Morsi, threatened to withdraw from the political process and the new transition process if Baradei was tapped to be prime minister. So, it remains to be seen who will take that position, which is a very important role in the upcoming transition.
But, overall, the country is really on a knife's edge right now. It's very difficult to predict what the coming days will bring. But what's clear is that whatever happens, it will be pivotal to Egypt's future. For Democracy Now!, I'm Sharif Abdel Kouddous reporting from Cairo.
---