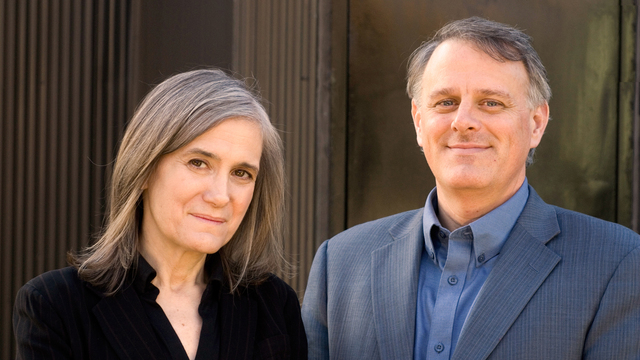 Media Options
By Amy Goodman with Denis Moynihan
THE HAGUE, Netherlands—One hundred years ago, more than 1,000 women gathered here in The Hague during World War I, demanding peace. Britain denied passports to more than 120 women, forbidding them from making the trip to suppress their peaceful dissent. Now, a century later, in these very violent times, nearly 1,000 women have gathered here again, this time from Africa, Asia and Latin America, as well as Europe and North America, saying "No" to wars from Iraq to Afghanistan to Yemen to Syria, not to mention the wars in our streets at home. They were marking the 100th anniversary of the founding of WILPF, the Women's International League for Peace and Freedom. Dr. Aletta Jacobs, a Dutch suffragist who co-founded the group a century ago, said the purpose of the original gathering in 1915 was to empower women "to protest against war and to suggest steps which may lead to warfare being an impossibility."
Among the women here were four Nobel Peace Prize winners. Shirin Ebadi was awarded the prize in 2003 for advocating for human rights for Iranian women, children and political prisoners. She was the first Muslim woman, and the first Iranian, to receive a Nobel. Nevertheless, she has lived in exile since 2009, and has only seen her husband once since then. "Had books been thrown at people, at the Taliban, instead of bombs, and had schools been built in Afghanistan," Ebadi said in her keynote address to the WILPF conference this week, "3,000 schools could have been built in memory of the 3,000 people who died on 9/11—at this time, we wouldn't have had ISIS. Let's not forget that the roots of the ISIS rest in the Taliban." She was joined by her sister laureates Leymah Gbowee, who helped achieve a negotiated peace during the civil wars in Liberia; Mairead Maguire, who won the peace prize in 1976 at the age of 32 for advancing an end to the conflict in her native Northern Ireland; and Jody Williams, a Vermonter who led the global campaign to ban land mines, and who now is organizing to ban "killer robots," weapons that kill automatically, without the active participation of a human controller.
These four world-renowned Nobel laureates were joined by nearly a thousand deeply committed peace activists from around the globe. Madeleine Rees, the secretary-general of WILPF, recalled the history of the first gathering in 1915, and how it was organized: "It wouldn't have happened, but for the suffrage movement," she told me, "because you don't just start a mass movement. You actually have to have an organizational structure to make that happen. That had started with the suffragette movement. … Every single one of those women who went to The Hague … were demanding the right to vote. They saw, quite rightly, that the absence of women in making decisions in government meant a greater likelihood of war."
Click here to read the rest of this column at Truthdig.org.
Subscribe to Amy Goodman's podcast on SoundCloud and Stitcher Radio.
---