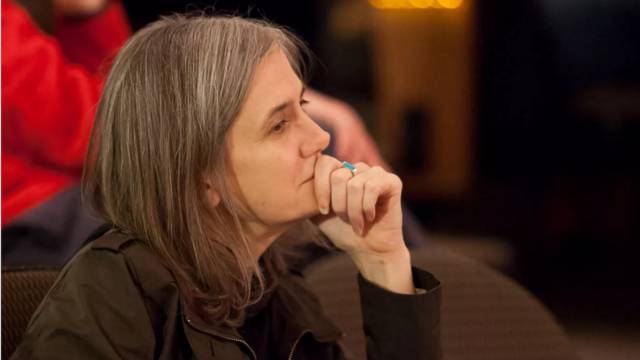 On October 15, 2016, The Nation's senior editor Lizzy Ratner published an article stating that the charges brought against Amy Goodman in North Dakota v. Amy Goodman are a clear attack on journalism and freedom of the press.
The charge in State of North Dakota v. Amy Goodman stems from Democracy Now!'s coverage of the protests against the Dakota Access pipeline. On Saturday, September 3, Democracy Now! filmed security guards working for the pipeline company attacking protesters, unleashing dogs and using pepper spray. The report went viral online, was viewed more than 14 million times on Facebook and was rebroadcast on many outlets, including CBS, NBC, NPR, CNN, MSNBC and the Huffington Post.
The Nation's Lizzy Ratner writes:
Goodman's report created a rare crack in the consensus of silence. And, as Rolling Stone's Matt Taibbi writes, the outrage it generated may well have influenced the Obama administration's decision to halt work on the pipeline several days later. This was journalism that mattered.
Yet, on September 8, Goodman received the news that Morton County, North Dakota, had issued a warrant for her arrest. The charge: riot, a misdemeanor punishable by jail time and a fine.
When asked to explain the grounds for arresting a working journalist, Erickson told the Grand Forks Herald that he did not, in fact, consider Goodman a journalist. "She's a protester, basically," Erickson told the newspaper. "Everything she reported on was from the position of justifying the protest actions." And in The Bismarck Tribune he later added, "I think she put together a piece to influence the world on her agenda, basically. That's fine, but it doesn't immunize her from the laws of her state."
It's worth pausing here for a moment to contemplate the full and chilling absurdity of this statement: According to Erickson, a woman who appeared at a protest carrying a microphone emblazoned with the name Democracy Now! and trailing a video crew; who can be heard in the resulting video report identifying herself to a security guard as a reporter; and who then broadcast the video on the daily news program she has hosted for 20 years is not actually a journalist.
---