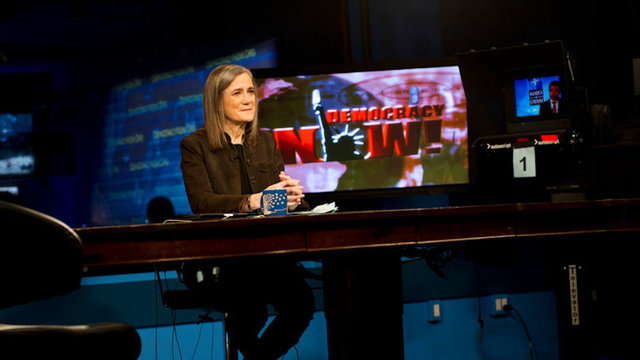 In a report by The New York Times on the charges filed against Amy Goodman in North Dakota, the prosecutor says he could seek other charges.
The charge in State of North Dakota v. Amy Goodman stems from Democracy Now!'s coverage of the protests against the Dakota Access pipeline. On Saturday, September 3, Democracy Now! filmed security guards working for the pipeline company attacking protesters, unleashing dogs and using pepper spray. The video showed dogs with blood dripping from their mouths attacking protesters. The report went viral online, was viewed more than 14 million times on Facebook and was rebroadcast on many outlets, including CBS, NBC, NPR, CNN, MSNBC and the Huffington Post.
"…Ladd Erickson, a state prosecutor who is assisting the Morton County state's attorney's office in the case, said other charges were possible.
"I believe they want to keep the investigation open and see if there is any evidence in the unedited and unpublished videos that we could better detail in an affidavit for the judge," he said via email. "The Democracy Now video that many people have seen doesn't have much evidence value in it."
Read the full story on The New York Times here.
---