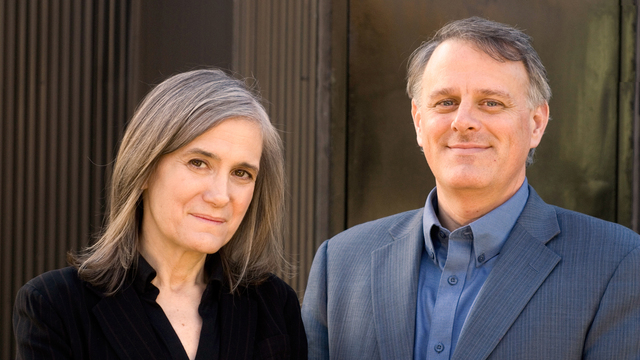 Media Options
By Amy Goodman & Denis Moynihan
A prophet of peace has passed. Daniel Berrigan, a Catholic Jesuit priest, a protester, a poet, a dedicated uncle and brother, died last weekend at the age of 94. His near-century on Earth was marked by compassion and love for humanity, and an unflinching commitment to justice and peace. He spent years in prison for his courageous, peaceful actions against war, living and practising the gospel that he preached. He launched movements, inspired millions, wrote beautifully and, with a wry smile, shared his love of life with family, friends and those with whom he prayed and fought for peace.
Dan's brother Philip Berrigan and several others peacefully raided a draft board in 1967 and poured their own blood on the records to signify the blood being spilt in the war. A year later, on May 17, 1968, just weeks after the assassination of Martin Luther King Jr., they and seven others famously removed draft records from the Catonsville, Maryland draft board, and set fire to them with homemade napalm, singing a hymn around the pyre until they were arrested.
"Our apologies, good friends, for the fracture of good order, the burning of paper instead of children, the angering of the orderlies in the front parlour of the charnel house," Dan Berrigan wrote in the statement released by the group before the action, as they knew they would be arrested. "We could not, so help us God, do otherwise."
The actions of the Catonsville Nine, as the group would come to be known, ratcheted up the intensity of anti-war actions everywhere. Some individuals had burned their draft cards before then, but after the Catonsville action, it became an iconic and increasingly common tactic to demonstrate actual and symbolic opposition to the war. "We have chosen to be powerless criminals in a time of criminal power. We have chosen to be branded as peace criminals by war criminals," he said.
Daniel Berrigan was convicted and, before turning himself in to serve his prison sentence, went underground. Despite being placed on the FBI's Most Wanted list, Berrigan popped up around the country, giving anti-war speeches. He spoke at a large rally at Cornell University, where he was the campus chaplain. Afterward, as the FBI and police closed in on him, Berrigan hid inside one of the Bread & Puppet political theatre troupe's giant puppets. Thus disguised, he exited Cornell's Barton Hall, eluding arrest. Authorities finally caught up to him on Block Island, off the coast of Rhode Island, and arrested him. A famous photo captured the moment, as a smiling Father Berrigan is shown being led, handcuffed, by two joyless FBI men who were on the island posing as bird-watchers.
"Given the fact that the American machine is not working well, either in its inner gears, or in its meshing with the world, good men must take action," he wrote in his memoir, No Bars to Manhood. "Some of them … must be willing to go to jail."
In 1980, Berrigan, again with his brother Phil and others, broke into a General Electric missile plant in King of Prussia, Pennsylvania. They hammered on missile nose cones, damaging them beyond repair, and poured their blood on the damaged parts. Their action that day launched the Plowshares Movement, which has grown into a global movement. Plowshares actions are inspired by a line from the Old Testament, Isaiah 2:4:
"They will hammer their swords into plowshares and their spears into pruning hooks. Nation will no longer fight against nation, nor train for war anymore."
Dan Berrigan's fight for peace challenged the U.S. government, the Pentagon and his own Catholic Church's hierarchy. For that last sin, he was banished by the church from the United States. His exile included trips to Latin America and South Africa, which, far from curing him of his commitment to fight injustice, only strengthened it.
We last saw Berrigan, who we and so many others affectionately called "Father Dan," two years ago in the retirement home for elderly Jesuits, at Fordham University in the Bronx. At 93, he was frail, but his eyes twinkled when we gave him his favorite food: ice cream. His devotion to ice cream and social justice earned him his own flavor of Ben & Jerry's, as well as a lifetime supply of their ice cream for him and for the Catholic Worker movement that he so loved.
Daniel J. Berrigan lived his life true to his calling, literally practicing what he preached. Rest in peace, Dan Berrigan, just as you lived.
---