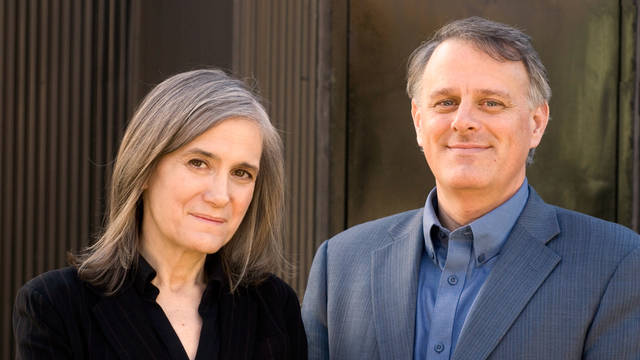 Media Options
By Amy Goodman & Denis Moynihan
As President Donald Trump's nomination of Brett Kavanaugh to the U.S. Supreme Court seemed to be reaching a controversial conclusion last week, a remarkable encounter took place on live television. Two women confronted a senator and changed the course of history. Arizona Republican Sen. Jeff Flake had just put out a statement that he intended to vote for Kavanaugh, who stands accused of multiple counts of sexual assault. Ana Maria Archila and Maria Gallagher, who were in a Senate office building as part of a massive mobilization opposed to Kavanaugh's nomination, noticed Flake rushing to a "Senators only" elevator. As he got in, they held the elevator door, challenging Flake, explaining that they were survivors of sexual assault. Shortly after, Flake cast his "yes" vote in the Senate Judiciary Committee, but conditioned his support, saying, "It would be proper to delay the floor vote for one week for an FBI investigation."
When the history of this moment is written, it cannot be about a single man changing his mind, but of the power of movements and of women finding their voices.
During the elevator encounter, Archila told Flake: "Last Monday … I told the story of my sexual assault. I told it because I recognized in Dr. Ford's story that she is telling the truth. What you are doing is allowing someone who actually violated a woman to sit on the Supreme Court. This is not tolerable." Archila continued: "Senator Flake, do you think that Brett Kavanaugh is telling the truth? … You are allowing someone who is unwilling to take responsibility for his own actions to sit in the highest court of the country."
Maria Gallagher, whom Archila had only met that morning, spoke next: "I was sexually assaulted and nobody believed me. I didn't tell anyone, and you're telling all women that they don't matter, that they should just stay quiet because if they tell you what happened to them you are going to ignore them. That's what happened to me, and that's what you are telling all women in America."
Flake was polite but quiet, averting his eyes. Gallagher said: "Look at me when I'm talking to you. You are telling me that my assault doesn't matter, that what happened to me doesn't matter, and that you're going to let people who do these things into power. That's what you're telling me when you vote for him. Don't look away from me."
Archila, the co-executive director of the social justice organization Center for Popular Democracy, speaking on the "Democracy Now!" news hour, explained why they rushed to confront Flake: "I'm an organizer, and I know that we have to fight the fight up until the very last minute, that that's how we exercise power together. … We knew that we just had a few minutes, we used those minutes in the best way we could, asking him to be there in that moment and feel the pain and the rage that women and survivors across the country are feeling right now."
Even before the allegations of attempted rape, the movement to stop Brett Kavanaugh's confirmation to the U.S. Supreme Court was deep and intersectional. Hundreds of women were arrested while protesting his first hearing, concerned that he will be the swing vote on the Supreme Court, overturning Roe v. Wade.
Once the allegations against Kavanaugh surfaced, opposition grew dramatically. Over 1,200 alumnae from Christine Blasey Ford's all-girls high school, Holton-Arms, signed a letter, writing: "Dr. Blasey Ford's experience is all too consistent with stories we heard and lived while attending Holton. Many of us are survivors ourselves." Over 3,000 women, current students and graduates of Yale, where Kavanaugh attended college and law school, have signed a letter in support of Deborah Ramirez. She is the second woman who accused Kavanaugh of sexual misconduct. She said during their freshman year at Yale, he thrust his penis in her face at a drunken dorm party.
Then the men stepped forward: Over 100 alumni from Kavanaugh's high school, Georgetown Prep, which he attended when he allegedly attempted to rape Christine Blasey Ford, signed a petition urging anyone with knowledge of Kavanaugh's behavior to come forward, "even if speaking out comes at some personal cost." The Jesuits, the Catholic order of priests that runs Georgetown Prep, also called for Kavanaugh's Supreme Court nomination to be with-drawn in their magazine America.
Kavanaugh's divisive Supreme Court nomination has shaken this country to the core, with the midterm elections just weeks away. As Ana Maria Archila said on "Democracy Now!": "All of us share this idea that democracy is not a spectator sport — we breathe life into it every time we engage. It belongs to us."
---