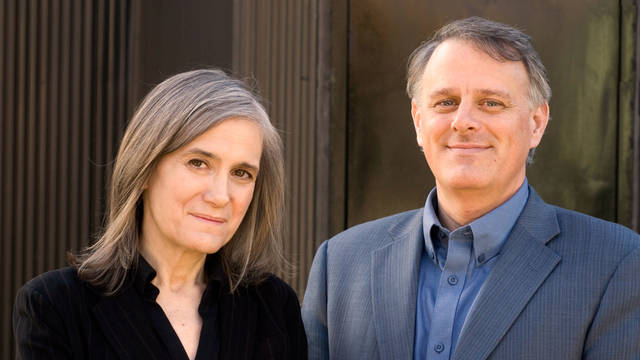 Media Options
By Amy Goodman and Denis Moynihan
The mounting allegations of sexual assault against Judge Brett Kavanaugh, President Donald Trump's Supreme Court nominee, demand a thorough FBI investigation, not a rush to judgment. To date, three women have made serious allegations about abusive and potentially criminal behavior by Kavanaugh.
The Washington Post broke the story about the first woman, Christine Blasey Ford, reporting: "Kavanaugh pinned her to a bed on her back and groped her over her clothes, grinding his body against hers and clumsily attempting to pull off her one-piece bathing suit and the clothing she wore over it. When she tried to scream, she said, he put his hand over her mouth. 'I thought he might inadvertently kill me,' said Ford."
This week, Deborah Ramirez described the abuse she suffered at a dormitory room at Yale University, where fellow student Brett Kavanaugh exposed himself to her while she was drunk at a party. "I remember a penis being in front of my face," she told The New Yorker magazine, and that she next saw Kavanaugh pulling up his pants.
Julie Swetnick came forward next, saying that she was drugged and gang raped at a party where Brett Kavanaugh was present. She stated in an affidavit, "I also witnessed efforts by Mark Judge, Brett Kavanaugh and others to cause girls to become inebriated and disoriented so they could then be 'gang raped' in a side room or bedroom by a 'train' of numerous boys."
"In America, we have fairness," Kavanaugh said on his unprecedented Fox News interview this week. When asked if there should be an FBI investigation into these allegations, he skirted the issue. Of course he did, because that would delay any Senate hearing, and would involve more people testifying, eliminating his "he said, she said" defense. What, in Brett Kavanaugh's mind, amounts to fairness?
We need look no further than a case that Kavanaugh recently ruled on, regarding a 17-year-old woman referred to as "Jane Doe" who fled abuse in her home country only to discover she was pregnant while in U.S. immigration custody. She decided to terminate the pregnancy, which would have been routine during the Obama administration. But the Trump administration tried to stop her. Kavanaugh supported the effort.
The federal agency to which unaccompanied immigrant minors are entrusted, the Office of Refugee Resettlement, is run by Trump appointee Scott Lloyd. Lloyd had no experience with refugees. An anti-abortion zealot, he has described himself as the architect of late-term abortion restrictions. In the George W. Bush administration, he co-wrote a rule that allowed religious medical providers to deny patients contraception and abortions.
As head of Trump's ORR, Lloyd personally intervened to discourage young women under ORR control from having abortions, even attempting to force a rape victim who was impregnated by her rapist to carry the pregnancy to term against her will. In that case, Lloyd wrote that assisting the victim would lead to the "ultimate destruction of another human being."
ORR forced Jane Doe to go to a religious, anti-abortion "crisis pregnancy center," where women are fed disinformation about abortion and are pressured to carry their fetus to term. She got legal representation from the American Civil Liberties Union and eventually got access to the procedure. "If not for court intervention," the ACLU wrote, "Ms. Doe would have been forced to carry her pregnancy to term and give birth against her will."
The case was argued "en banc," before nine judges on the powerful U.S. Court of Appeals for the District of Columbia. Judge Merrick Garland, who was denied a hearing by the Senate Republicans when he was nominated to the Supreme Court by President Barack Obama, was the chief judge on the case. The court found in favor of Jane Doe by a 6-to-3 majority. Brett Kavanaugh wrote the dissent in which he said allowing Jane Doe access to a safe, legal, constitutionally protected abortion was tantamount to granting "a right to immediate abortion on demand."
This is a historic week in the United States. President Trump is pushing for the confirmation of a Supreme Court justice who has been repeatedly accused of sexual misconduct. "I'm in favor of law enforcement," Trump declared at his news conference Wednesday, only his second solo news conference since he's taken office. Then why doesn't he authorize the FBI to investigate the allegations against Kavanaugh? Could it be that over a dozen other women have accused the president himself of sexual assault or misconduct?
From women's control over their own reproductive rights, to sexual assault and abuse, we'll know we have made progress when women's bodies are no longer a battleground, when women share power equally, and abusive men are held to account.
---