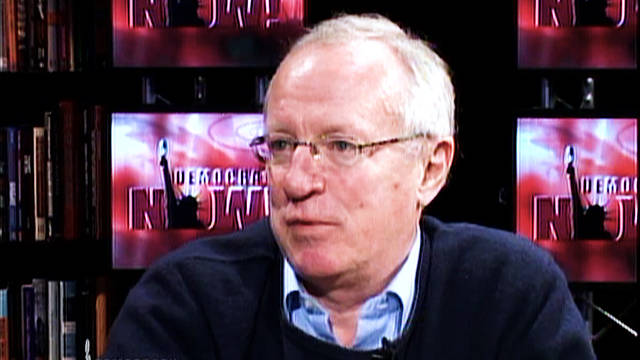 The veteran Middle East reporter and author Robert Fisk has died in Dublin at the age of 74 after a suspected stroke. Fisk spent decades writing for the British newspaper The Independent, where he covered the Iranian revolution; civil wars in Algeria, the Balkans, Lebanon and Syria; U.S. sanctions against Iraq and the U.S.-led invasion in 2003.
Fisk wrote extensively about the Soviet and U.S. invasions of Afghanistan, and interviewed Osama bin Laden three times in the 1990s — one of the few Western journalists to do so.
He appeared on Democracy Now! numerous times. In 2007, he came to our New York City studio to talk about his reporting on Iraq, Osama Bin Laden and U.S. foreign policy in the Middle East.

In 2005, Amy Goodman interviewed Robert Fisk at an event sponsored by the Lannan Foundation. He was in a studio in Toronto, Canada, and was brought in by satellite into a packed Lensic Theater on a huge screen. The full interview can be heard here. Part of the interview aired on Democracy Now!:

---