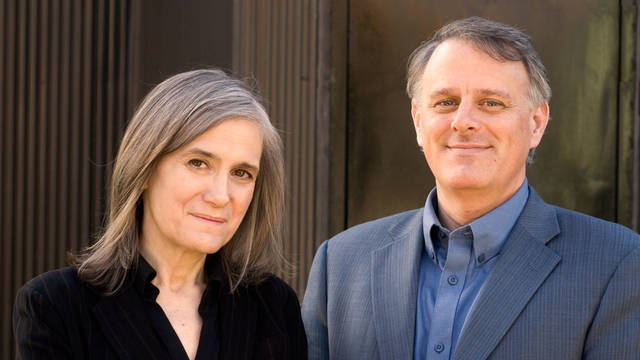 Media Options
By Amy Goodman & Denis Moynihan
On a freezing cold day, February 15th, 2003, Harry Belafonte, the legendary singer, actor and activist strode onto a stage outside the United Nations in New York City. Rallies against the imminent U.S. invasion of Iraq were taking place around the globe that day, in what is believed to be the largest mass protest in human history. Belafonte then did what he had been doing for over half a century – he spoke truth to power:
"We stand for peace. We stand for the truth of what is at the heart of the American people."
Harry Belafonte died this week at the age of 96. Throughout his life, he fought for justice, using his celebrity to support causes from civil rights to anti-colonialist and anti-war movements and Black Lives Matter.
Belafonte continued in that 2003 speech, delivered to several hundred thousand anti-war marchers in New York:
"We were misled by those who created the falseness of the Bay of Tonkin, which falsely led us into a war with Vietnam, a war that we could not and did not win. We lied to the American people about Grenada…about Nicaragua, El Salvador, Cuba and many places in the world. We stand here today to let those people know that America is a vast and diverse country, and we are part of the greater truth of what makes our nation. Dr. King once said that if mankind does not put an end to war, war will put an end to mankind."
Harry Belafonte was one of Martin Luther King, Jr.'s closest advisors and confidants. He first met King in 1956, during the Montgomery bus boycott. Their initial meeting, slated for 20 minutes, lasted four hours.
"At the end of that meeting, I knew that I would be in his service and focus on the cause of the desegregation movement, the right to vote, and all that he stood for," Belafonte said at the Sundance Film Festival in 2011, on the Democracy Now! news hour. "Although we understood how perilous the journey would be, we were not quite prepared for all that we had to confront. I think that it was the most important time in my life."
Thus began a historic friendship that shaped the struggle for desegregation and racial equality. Belafonte knew King like few others. He was loyal to him until the end, when many had abandoned King as his agenda broadened to include fierce opposition to the Vietnam war.
In his memoir, My Song, Belafonte recounts a conversation with King one week before his assassination in Memphis on April 4th, 1968. King was organizing The Poor People's Campaign, to link and overcome the three evils he saw in our society: racism, militarism, and materialism. As King described the campaign's strategy, he was challenged by Andrew Young, an advisor who would later become the Mayor of Atlanta and the U.S. Ambassador to the United Nations. Belafonte recounted King's reply:
"'The trouble,' Martin went on, 'is that we live in a failed system. Capitalism does not permit an even flow of economic resources. With this system, a small privileged few are rich beyond conscience and almost all others are doomed to be poor at some level…That's the way the system works. And since we know that the system will not change the rules, we're going to have to change the system.'"
Dr. King frequently spoke out against capitalism, but this private moment shared by Belafonte shows the depth of his critique. "At heart, Martin was a socialist and a revolutionary thinker," Belafonte wrote. One week later, King was dead, shot while standing on the balcony of the Lorraine Motel.
Harry Belafonte never relented. He intensified his fight against South African apartheid and the ravages of U.S. imperialism abroad. He challenged those in power regardless of political party, from George W. Bush to Barack Obama, from Donald Trump to Joe Biden.
In 2006, as President George W. Bush's disastrous war in Iraq was still raging, Belafonte traveled to Venezuela and spoke at a mass rally, standing alongside President Hugo Chavez:
"No matter what the greatest tyrant in the world, the greatest terrorist in the world, George W. Bush, says, we're here to tell you: Not hundreds, not thousands, but millions of the American people — millions — support your revolution, support your ideas, and, yes, expressing our solidarity with you."
Not long after, Belafonte was disinvited from speaking at the funeral of his dear friend, Coretta Scott King, as President Bush was going to attend.
Belafonte often told the story of his mentor, the singer and activist Paul Robeson, who told him, "Get them to sing your song and they will want to know you." As Harry Belafonte is laid to rest, his message still sings out: we cannot rest.
---