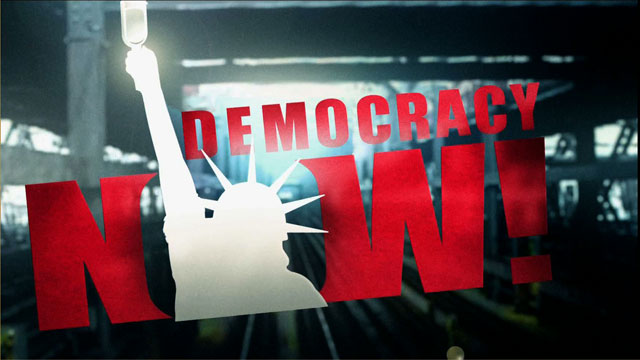 Media Options
Robin Urevich reports on Nader's nomination. Nader argues that he is not a spoiler candidate, but that the system itself is spoiled, and says that democracy demands the building of a strong Green Party. Urevich speaks with a number of delegates who support Nader's candidacy, including Ronnie Dugger and Winona LaDuke. Some concerns about Nader are also discussed, particularly his avoidance of issues of racism and his failure to disclose his tax returns. Nader responds by saying race issues distract from the real issue — power — and that the right to privacy trumps traditional tax return disclosures by candidates.
---
Transcript
This is a rush transcript. Copy may not be in its final form.
AMY GOODMAN: You're listening to Democracy Now! Last night in Los Angeles, consumer advocate Ralph Nader accepted the Green Party nomination for president, pledging to help lead a citizen fight to restore democracy to our political system. Pacifica's Robin Urevich was at the Green Party convention and has this report.
ROBIN UREVICH: Ralph Nader told his supporters that he's not a spoiler in this year's presidential race. The system, he says, is already spoiled.

RALPH NADER: We're sick and tired and weary of being told every four years we have to choose between the bad and the worst, because every four years they both get worse, because we don't look kindly on two parties who are about to sign into law a increased child poverty legislation where they literally throw out the baby with the bathwater — so-called welfare reform.
ROBIN UREVICH: The problem with American politics is corporate domination of both parties. The solution, Nader says, is democracy. He says that's the same remedy Americans used to do away with slavery, win the vote for women and establish labor unions. And he told the Greens if they practice democracy by building their party, they'll do away with what he calls the "two-party duopoly."

RALPH NADER: They are Dem-Reps or Rep-Dems, depending on your choice. They are George Ronald Clintons.
ROBIN UREVICH: From this point on, Nader will be actively campaigning by speaking and taking advantage of free media. But he won't raise money for the campaign. That, he says, is up to state organizations. Most of the 300 or so Green Party faithful at the conference long ago rejected the notion that a vote for a third-party candidate might tip the election in favor of the Republicans. Not so for writer and activist Ronnie Dugger, one of the few national figures to come out in support of Nader.

RONNIE DUGGER: Angrily, sadly and with trepidation, I have finally been driven to the decision that I will never vote for a sold-out Democrat for president again. There is risk and danger in being for Nader. And there is more risk and danger in being for Clinton. The logic of voting for the lesser of two evils assumes that we are talking about two separate evils. But on nearly every important issue, and on the one overriding issue of our time, the usurpation of our self-governance by the corporate oligarchy, the Democratic and Republican parties are now the same evil.

WINONA LADUKE: I am, by my nature, not someone who is inclined to participate in electoral politics.
ROBIN UREVICH: Native American environmental organizer Winona LaDuke addressed the convention via videotape. Her decision to support Nader, she says, wasn't an easy one, either.

WINONA LADUKE: That is because the Native community, for example, was not given the right to vote until 1924. And in a system that is based on one man, one vote, it is ironic that we were never given the right to vote until after we were a distinct minority. The reality is, is that the situation is getting worse and worse for all kinds of people in this country. I believe that it is time for people to stand and make a change. It is people to say — it is time for people to say, "We don't want a larger piece of the pie. We want a different pie."

D.C. DELEGATE: On behalf of all of the D.C. Green Party, I pledge our electors, our three electoral votes, to Ralph Nader for president. Thank you.
ROBIN UREVICH: As is traditional in U.S. political conventions, delegates from some 20 states rose to the podium to pledge their electoral votes to Nader. He's currently qualified as a candidate in 12 states, but Greens say he'll probably end up on about 30 state ballots November 5th.

MAINE DELEGATE: I am extremely happy to be able to say that we in Maine, and I on behalf of the people in Maine, pledge four electoral votes for Ralph Nader for president.
ROBIN UREVICH: But other similarities between the Green gathering and '90s political conventions were hard to detect. There were no schmaltzy videos, no testimonials by children or spouses. There was a lot of heated open debate over issues that are still unresolved, like a national party structure, the selection of a vice-presidential candidate, and inclusion of women and people of color. California Green activist Kwazi Nkrumah says he's concerned about Nader's failure to lead the fight against racism.

KWAZI NKRUMAH: I'm more concerned with what seems to me kind of a reluctance on his part to take on some of the most critical issues that are confronting the nation. And, of course, always and everywhere, the most contentious issue in this country has always been — and it's difficult — has been racism. You know, we're going through a tremendous period here that is possibly going to define and redefine the nature of our society for years on that front. And I'm not sure that Nader has taken strong, out-front positions on that. And racism, as a way of life, as a cultural issue, as a psychologic motivator, so many things, and in terms of polical economy, I mean, is a factor which in our society can no be ignored than it could have been in South Africa.
ROBIN UREVICH: Although the Green Party platform mentions women's and immigrants' rights and affirmative action, Nader says he won't address those issues.

RALPH NADER: I've made the decision that, number one, I don't want to blur the focus on the tools of democracy, which affect those issues. If people who are concerned about those issues were more accessible to the media and powerful, etc., they would be able to shape in the marketplace of ideas their preferences and their sense of justice. So I don't want to blur it, because the minute you take a position on 20, 30 issues — and there are at least that you could take a position on — then you blur the focus on the essential issue of power.
ROBIN UREVICH: And Nader has also been criticized for not making his tax returns public, as is customary among presidential candidates.

RALPH NADER: Customary, but flagellating and foolish, because the critical issue of privacy in our country as a barrier to corporate intrusion and manipulation, and government intrusion and manipulation, means that whether it's credit information, medical data, income tax data, that is a matter between the individual and the U.S. Treasury.
ROBIN UREVICH: A victory for the Nader campaign would be a chance to participate in the presidential debates. Part of the criteria for inclusion is ballot status in states with enough electoral votes to give the candidate a theoretical chance to win the election. As the Green gathering was drawing to a close, campaign strategists were scrambling for volunteer organizers willing to immediately head for Kentucky and Alabama, the states they figure could put them over the top. For Pacifica, I'm Robin Urevich in Los Angeles.