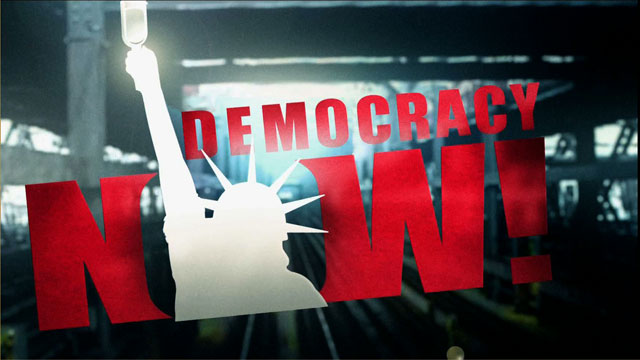 This is viewer supported news. Please do your part today.
Donate
BERNSTEIN: EACH WEEK ON DEMOCRACY NOW, WE'VE BROUGHT YOU UPDATES ON A CONTROVERSY THAT HAS DRAWN THE OUTRAGE OF THE AFRICAN AMERICAN COMMUNITY AND SEIZED THE IMAGINATION OF MANY POLITICAL ACTIVISTS IN THE U.S. LAST MONTH THE SAN JOSE MERCURY NEWS PUBLISHED A SERIES OF REPORTS BY INVESTIGATIVE JOURNALIST GARY WEBB CALLED "THE DARK ALLIANCE." THE SERIES TRACED HOW PROFITS FROM THE SALE OF CHEAP CRACK-COCAINE IN THE BLACK COMMUNITY OF LOS ANGELES WERE FUNNELED TO THE NICARAGUAN CONTRAS. PACIFICA'S DENNIS BERNSTEIN HAS BEEN FOLLOWING THIS STORY SINCE IT ORIGINALLY EMERGED IN THE 1980S. WE THOUGHT IT WOULD BE IMPORTANT TO GO BACK IN TIME AND DISCUSS SOME OF THE ORIGINS OF THE C-I-A CONTRA DRUG OPERATION.
Segment Subjects (keywords for the segment): cocaine trafficking into Los Angeles' black community with the help of the CIA, Steven Carr, contras, drugs, guns, operation, shipment, Fort Lauderdale, Ilepongo, El Salvador, fork lifted, 20 foot cannon, surveillance, plane, Boland amendment, 1985, Miami, Florida, broad daylight, San Jose, Costa Rica, John Hull, security, Iran Contra, secret landing strips, Nicaragua, violations, John Kerry subcommittee, investigation, San Jose Mercury News, government, California, FBI, senator, cartel, covert, intelligence, Oliver North, narcotics, William Weld, Honduras, Congressional Black Caucus, Lee Hamilton, Janet Reno, Selerino Castillo,III, grand jury, DEA.
GUEST -
- Dennis Bernstein, Pacifica correspondent
---