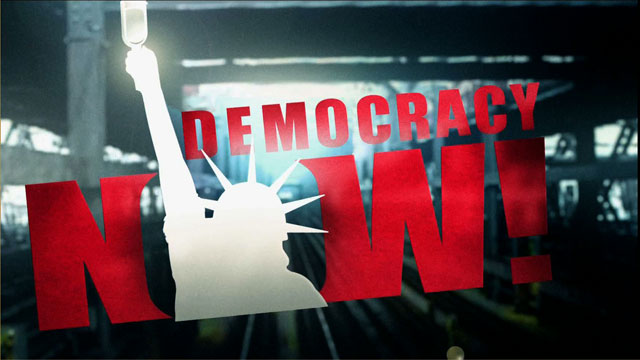 This is viewer supported news. Please do your part today.
Donate
TOMORROW IS THE SECOND ANNIVERSARY OF THE BOMBING OF THE ALFRED MURRAH FEDEDRAL BUILDING IN OKLAHOMA CITY WHICH KILLED 168 PEOPLE. TODAY IS THE FIRST ANNIVERSARY OF THE QANA MASSACRE, WHEN THE ISRAELI MILITARY BOMBED THE UN COMPOUND IN SOUTHERN LEBANON, KILLING AT LEAST ONE HUNDRED CIVILIANS. BEFORE WE TURN TO A JOURNALIST WHO WAS AT QANA DURING THE BOMBING, WE HEAR A COMMENTARY COMPARING THE ANNIVERSARIES FROM SAM HUSSEINI, MEDIA DIRECTOR OF THE AMERIAN ARAB ANTI DISCRIMINATION COMMITTEE
Guest:
ROBERT FISKE, THE MIDDLE EAST CORRESPONDENT FOR THE BRITISH NEWSPAPER THE INDEPENDENT WHO HAS LIVED IN LEBANON FOR MORE THAN TWENTY YEARS AND WAS VOTED THE BEST FOREIGN CORRESPONDENT BY EDITORS THROUGHOUT BRITAIN. HE WAS
IN QANA ONE YEAR AGO TODAY.
---