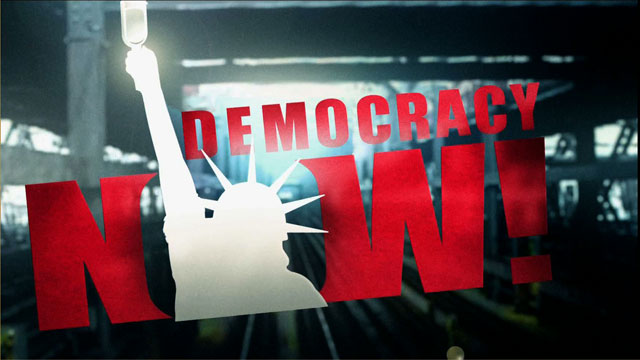 Media Options
George Goodman, Amy's father, died on October 27 at 70 years old. Goodman too hosted a news roundtable, as part of a senior education program. A physician, husband and father, he inspired many including his daughter to social participation. Goodman favored Yip Harburg poetry. Below is one of Harburg's poems read by Amy Goodman plus a poem selected by her.
Untitled
Author Unknown
Do not stand at my grave and weep.
I am not there.
I do not sleep.
I am a thousand winds that blow.
I am the diamond glints on snow.
I am the sunlight on ripened grain.
I am the gentle autumn rain.
When you awaken in the morning s hush,
I am the swift uplifting rush,
of quiet birds in circling flight.
I am the soft star that shines at night.
Do not stand at my grave and cry.
I am not there.
I did not die.
Time You Old Gypsy Man
by Yip Harburg
Time you old gypsy man
Thief on the wing
Drugged me with rhapsodies
Tricked me with Spring
Fiddled me off my feet
Danced me on air
Sprinkled my daydreams with golddust
Then silvered my hair
Silvered my hair you rogue
Crinkled my eyes
Whistled the bird of youth
Out of my skies
Time you old vagabond
Riddle me this
What did you do with forever and ever
That sealed every kiss?
Then you packed up your tambourines
Stilled your guitars
Slipped off into the night
Turned off the stars
Took away song and spring
Robbed me of rhyme
Fled in your carnival caravan
But you old gypsy man-
Thanks for a glorious time.
The withdrawal of song and spring and rhyme in the final stanza clearly means nothing less than the taking away of life itself.
---