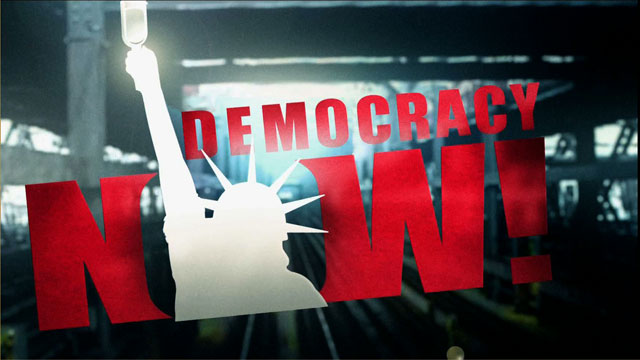 Media Options
Last month's hunger strike by prisoners on Pennsylvania's death row once again dramatically highlighted the tight grip that prison administrators have on information coming out of the nation's growing prison system. Despite repeated efforts, media were not permitted to talk to the death row prisoners on hunger strike and instead had to rely on second hand accounts of what was going on.
Like in many other states, Pennsylvania authorities have banned media visits to prisoners. They have also barred anybody from using an audio or video recorder in visits with prisoners. Moreover, print journalists are not even permitted to bring in a pencil and paper to take notes.
In Pennsylvania, the regulation has been dubbed the Mumia rule — after the widespread view that the regulations were designed specifically to gag journalist and death row inmate Mumia Abu Jamal.
Today, Democracy Now kicks off a new series in support of free speech. All Things Censored is the name of the series and once a month we will bring well known people — actors, writers, political activists — reading commentaries and articles from Mumia Abu Jamal. Although state officials can prevent Mumia from being recorded, they can't stop him from writing.
Tape:
Ruby Davis and Ossie Davis, reading commentaries completed this year from Mumia Abu-Jamal.
Guest:
Noelle Hanrahan, the director of the Prison Radio Project, which produces pieces by and for prisoners. She also writes extensively on prison issues and censorship. It is based in San Francisco, California.
.
.
.
---