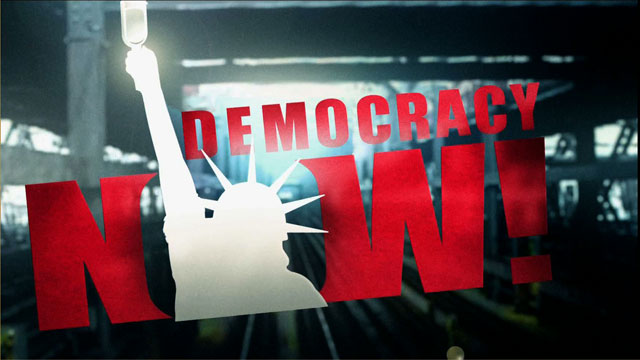 Media Options
The five anti-nuclear activists calling themselves "The Gods of Metal Plowshares" were charged yesterday in federal court in Maryland on two charges of destruction of government property. On Sunday, at Andrews Air Force Base, they hammered on a B-52 bomber and poured their own blood on the plane. The activists have been released from jail, pending a grand jury investigation. They have a court date in federal court in Maryland on June 5th. If convicted, the activists face up to 30 years in prison.
As we reported yesterday, Democracy Now! producer Jeremy Scahill and host Amy Goodman were at the Air Show and we recorded the Plowshares demonstration. Shortly after the demonstration, the two were arrested by the military and held under armed guard incommunicado for 6 hours before being released. The FBI confiscated the tapes and the military has banned both them from returning to Andrews Air Force Base or any of its satellites. Please call the FBI and demand the return of our tapes. Call (301) 572 5400.
Guests:
Sister Carol Gilbert, a Catholic nun and a member of the Jonah House community in Baltimore. Call (410) 233-6238.
Father Larry Morlan, a Catholic priest from Illinois.
Father Frank Cordaro, a Catholic priest from Iowa.
Related links:
.
.
.
---