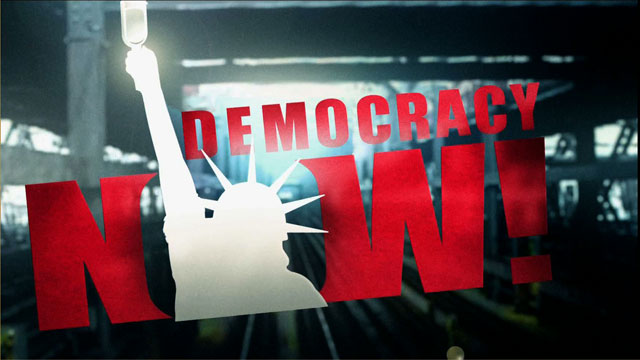 Media Options
Yesterday, Pennsylvania Governor Tom Ridge signed a death warrant for journalist and former Black Panther Mumia Abu Jamal, less than two weeks after the U.S. Supreme Court rejected his request for a new trial.
Ridge ordered that Abu Jamal be executed by lethal injection this December 2nd. It is the second death warrant Ridge has signed for Jamal, who has spent the last 18 years on death row, convicted of murder in the 1981 shooting of Philadelphia police officer Daniel Faulkner. Jamal's case has become a worldwide cause for opponents of capital punishment. There is a growing movement of people who say he did not get a fair trial.
Abu Jamal's lawyers said that they plan to file an appeal tomorrow, which would vacate the death warrant within a few days. This will also initiate Abu Jamal's appeals process in the federal courts, after he exhausted his state appeals last month. Meanwhile, officials at SCI Greene, where Abu Jamal is imprisoned, moved him to what is known as "phase two"–he was removed from his cell and placed in a stripped cell in a separate part of the prison, where is being held under suicide watch. Two other death row prisoners at SCI Greene that had death warrants signed were also placed in "phase two" yesterday.
Little attention has been paid to the actual trial of Mumia Abu Jamal, former Black Panther and the former head of the Philadelphia chapter of the National Association of Black Journalists. What actually happened on the night of December 9th 1981? What hard evidence implicates Mumia Abu Jamal in the murder of police officer Daniel Faulkner? And why did Mumia receive the death penalty?
Today, we're going to hear extended excerpts from a video documentary entitled Mumia Abu-Jamal: A Case for Reasonable Doubt? The original documentary aired on HBO. This specially adapted version by Noelle Hanrahan and the Prison Radio Project based in San Francisco features exclusive interviews with the prosecutor, ballistic and forensic experts, plus an interview with an eyewitness of the events at 13th and Locust in Philadelphia on the night of December 9th, 1981.
Guest:
Steve Wiser, spiritual advisor to Mumia Abu Jamal. He was with Mumia at SCI Greene yesterday shortly after the death warrant was signed.
Tape:
"Mumia Abu Jamal: A Case for Reasonable Doubt?" The original video is distributed by Fox Lorber and produced by Ottmore in association with HBO and Channel 4 in Great Britain. This specially adapted audio version was produced by Noelle Hanrahan and the Prison Radio Project based in San Francisco.
---