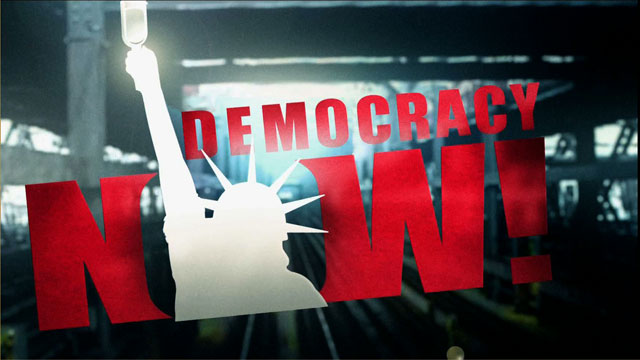 Media Options
President Clinton meets today with newly elected Indonesian President Abdurrahman Wahid, who has announced that he will pardon the country's former dictator Suharto after putting him on trial for corruption. [includes rush transcript]
The meeting comes on the eight anniversary of the Santa Cruz massacre in East Timor, which for 25 years was occupied by Indonesia. In that massacre, Indonesian soldiers armed with U.S.-supplied M16 rifles fired on an unarmed crowd of peaceful demonstrators, killing over 250 people and injuring many more. Amy Goodman and journalist Allan Nairn were there and survived the massacre. Today we bring listeners an excerpt of the documentary they produced.
Tape:
Excerpts from the Audio Documentary "Massacre: The Story Of East Timor," produced by Amy Goodman and Allan Nairn.
---
Transcript
This is a rush transcript. Copy may not be in its final form.
AMY GOODMAN: In this last segment of today's program, we're going to East Timor. President Clinton is meeting today with the newly elected Indonesian president, Abdurrahman Wahid, also known as Gus Dur. The meeting is being talked about as one to repair relations between the two countries after the Indonesian military's almost annihilation of East Timor. As they speak, in Congress right now there are two bills that are being considered: Jesse Helms, Republican of North Carolina, Russell Feingold, Democrat of Wisconsin's bill in the Senate that would cut off U.S. military aid to the Indonesian military—still, even as the Indonesian military has pulled out of Timor, it remains a deadly threat to the people of Indonesia itself—and a bill in the Congress which has been introduced by Rhode Island Democrat Patrick Kennedy. This also as U.N. officials in the last week have just been prevented from going into a refugee camp in West Timor, where still tens of thousands of East Timorese are being held.
We thought we'd go back, though, on this day, November 12th, eight years ago, to East Timor to one of the more notorious massacres that took place there. Regular listeners have heard this documentary, but today I thought I'd play an excerpt of it. It is called Massacre: The Story of East Timor, and I produced it with journalist Allan Nairn.
JOSÉ RAMOS-HORTA: I lost one sister and two brothers.
EAST TIMORESE WOMAN: It was 10 days before I was to give birth. The army was shooting people, and they would die at our feet, but you couldn't stop to help them.
JOSÉ RAMOS-HORTA: I know families that were totally wiped out.
EAST TIMORESE MAN: Two American newsmen badly beaten: Mr. Allan Nairn and Miss Amy Goodman.
AMY GOODMAN: The Indonesian army converged in two places.
ALLAN NAIRN: Hundreds and hundreds of troops coming straight at the Timorese.
AMY GOODMAN: When they came, they opened fire on the people.
PRESIDENT GEORGE H.W. BUSH: We pride ourselves, and I think properly so, in standing up for human rights.
RICHARD BOUCHER: Military assistance programs expose the trainees to democratic ideas and humanitarian standards.
PRESIDENT BILL CLINTON: I'm very concerned about what's happened in East Timor. We have ignored it so far in ways that I think are unconscionable.
AMY GOODMAN: Massacre: The Story of East Timor. I'm Amy Goodman.
JAMES BAKER: Big countries with powerful military machines should not be permitted to invade, occupy and brutalize their peaceful neighbors.
AMY GOODMAN: With these words, former Secretary of State James Baker explained why the United States was going to war against Iraq. Yet, 16 years earlier, another big country, Indonesia, invaded a much smaller one, East Timor, with the support of the United States. What followed was one of the greatest genocides of the 20th century. It is estimated that up to one-third of the Timorese population has been killed through a policy of army massacre and enforced starvation. Many of those who are left have been imprisoned and tortured by a military armed and trained by the United States.
Journalist Allan Nairn and I returned to East Timor in order to be present for a historic event. A special delegation from the United Nations and Portugal was due to visit East Timor. The Timorese hoped the visit would finally lead to U.N. action and enforcement of the Security Council resolutions calling on Indonesia to withdraw from East Timor.
ALLAN NAIRN: We were told in place after place that the army had been holding neighborhood and village meetings to warn the Timorese that if they tried to speak to the U.N. Portuguese delegation, they and their families would be killed. And Bishop Belo, the bishop of East Timor, told us that the threat was: "We will kill your family to the seventh generation."
AMY GOODMAN: But despite the threats and a dramatic increase in disappearances, torture and deaths, Timorese had prepared to speak out. They had met in secret, making banners and petitions for the delegation. When the army tried to hunt them down, many had gone into hiding and sought refuge inside churches. But under pressure from the United States, the visit of the delegation had been called off. Three days later, with the world's spotlight removed, the army stormed the Motael, Dili's main Catholic church, and killed a young man named Sebastião Gomes, who had taken refuge there.
And then came the morning of November 12, the two-week commemoration of Sebastião's funeral. A memorial mass and procession were planned to lay flowers on Sebastião's grave. After the mass was held at the Motael, people, young and old, came out into the street, and in a land where public speech and assembly had been forbidden over a decade, they started chanting. The Timorese then held up banners drawn on bed sheets. They had been prepared for the delegation that never came. The banners called on Indonesia to leave East Timor and said things like "Why the Indonesian army shoot our church?" The Timorese were facing a gauntlet of troops that stretched the length of Dili. It was the boldest act of public protest occupied Timor had ever seen.
ALLAN NAIRN: More and more Timorese joined the procession. They came from huts and schools and offices along the way. And there was this building feeling of exhilaration, as well as fear, among the Timorese. And when they reached the cemetery, the crowd had swelled to maybe 5,000 people. Some went inside to lay flowers on Sebastião's grave. Most of the crowd was still outside. And then suddenly, someone looked up, and we saw that marching up along the same route that the Timorese had come came a long column of Indonesian troops, dressed in brown, holding M16s in front of them, marching in a very slow, deliberate fashion, hundreds and hundreds of troops, coming straight at the Timorese.
AMY GOODMAN: Allan suggested we walk to the front of the crowd between the soldiers and the Timorese, because although we knew that the army had committed many massacres, we hoped that we, as a foreign journalists, could serve as a shield for the Timorese. Standing with headphones on and microphone and camera out in full view, we went and stood in the middle of the road, looking straight at the approaching troops. Behind us, the crowd was hushed as some Timorese tried to turn away, but they were hemmed in by cemetery walls.
ALLAN NAIRN: The soldiers marched straight up to us. They never broke their stride. We were enveloped by the troops, and when they got a few yards past us, within a dozen yards of the Timorese, they raised their rifles to their shoulders all at once, and they opened fire. The Timorese, in an instant, were down, just torn apart by the bullets. The street was covered with bodies, covered with blood. And the soldiers just kept on coming. They poured in, one rank after another. They leaped over the bodies of those who were down. They were aiming and shooting people in the back. I could see their limbs being torn, their bodies exploding. There was blood spurting out into the air. The pop of the bullets, everywhere. And it was very organized, very systematic. The soldiers did not stop. They just kept on shooting until no one was left standing.
AMY GOODMAN: A group of soldiers grabbed my microphone and threw me to the ground, kicking and punching me. At that point, Allan threw himself on top of me, protecting me from further injury. The soldiers then used their rifle butts like baseball bats, beating Allan until they fractured his skull. As we sat on the ground, Allan covered in blood, a group of soldiers lined up and pointed their M16s at our heads. They had stripped us of all of our equipment. We just kept shouting, "We're from America!" In the end, they decided not to execute us.
ALLAN NAIRN: The soldiers beat us, but we actually had received privileged treatment. We were still alive. They kept on firing into the Timorese. We were able to get onto a passing civilian truck, went into hiding, but the Timorese, who had been with us there on the cemetery road, most of them were dead.
AMY GOODMAN: An excerpt of Massacre: The Story of East Timor, November 12th, 1991, eight years ago, a day that no Timorese will ever forget. When the final tally was in, more than 270 Timorese had died on this day.