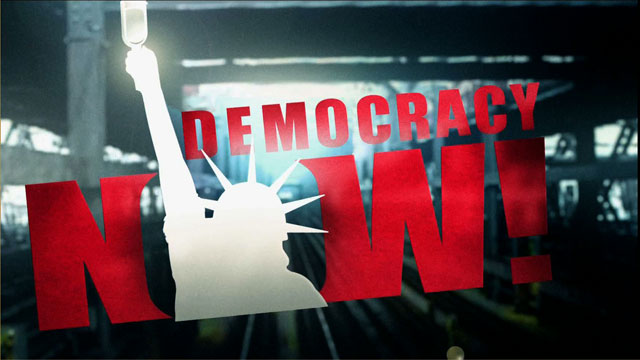 Media Options
Democracy Now! is reporting today from the University of North Carolina at Chapel Hill. Here are some of the stories that are making the news locally:
This morning at 2:21 am, Duwad Abdullah Muhammad, formerly known as David Junior Brown, was executed by lethal injection at Central Prison in Raleigh. Brown, an African American, had been convicted of repeatedly stabbing a young mother and her 9-year-old daughter to death nearly 20 years ago. He was convicted by an all-white jury, and even state and federal courts found that his trial was fraught with prosecutorial misconduct. However, in denying clemency for Muhammad, Gov. Jim Hunt said evidence of his guilt was overwhelming.
Also, last week, a lawsuit challenging the state's plans for distributing billions of dollars in tobacco company money to farmers and a nonprofit foundation was filed in Wake County Superior Court this week.
The complaint against Attorney General Mike Easley, on behalf of several state residents and employees, contends that he improperly negotiated the $1.9 billion agreement with the tobacco companies that benefits tobacco farmers and allotment holders.
That private fund should have been handled as a class action, where the courts would have determined who would share it, said Raleigh lawyer Eugene Boyce.
Meanwhile, a coalition of environmental groups has mobilized against the proposed expansion of a waste site at the Harris Nuclear Plant in Wake County, operated by Carolina Power and Light. Environmental activists note that the expansion would make the site the largest nuclear storage facility in the U.S., while the utility company tries to ignore serious questions about accident risks.
Guests:
Chris Fitzsimon, executive director of the Common Sense Foundation, a progressive public policy organization that trains grassroots organizations in Raleigh.
Jim Warren, executive director, North Carolina Waste Awareness and Reduction Network in Durham
---