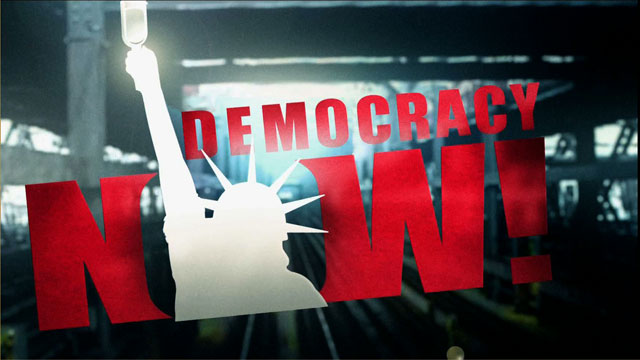 Media Options
Rebels from Colombia's guerrilla group National Liberation Army (ELN) turned over the body yesterday of a French engineer kidnapped in November who apparently died of a heart attack last week while he was being held. Claude Steinmentz was working under contract for oil giant BP-Amoco, and may have died on the same day that three American activists were killed in Northeastern Colombia. Venezuela has said that the bodies of the Americans, Ingrid Washinawatok, Laheena Gay and Terence Freitas, will be flown back to the U.S. today after a few days' delay. Their bodies were found in Venezuela last Friday close to the border with Colombia.
The killing of the three Americans has underscored the dangers that human rights defenders face in Colombia, where they are under constant threat of death from right-wing paramilitary groups allied with power structures and with the Colombian military. They must also contend with guerrilla groups that have vast and complicated interests in Colombia's rich lands.
The three Americans were taken from U'wa traditional territory, a community that has challenged Occidental Oil's plans to conduct drilling on their land, and were held for a week before being shot to death. The situation faced by the U'Wa is not unique in Colombia; many other communities are being threatened by large multinationals with logging, mining, fishing and other interests. Paramilitary groups have allied themselves with some of these companies and with Colombia's large landowners in their quest to control and protect as much valuable land as they can.
Guests:
Senator Piedad de Cordoba, Senator from Antioquia and president of the Colombia's congressional Human Rights Commission. She is also an advocate for the Afro-Colombian community.
Daniel Garcia Pena, guest scholar at the Wilson Center in Washington, DC and former High Commissioner for Peace in Colombia from 1995-1998. During his time as High Commissioner, he acted as government envoy in the peace negotiations with the guerrillas. He also worked on addressing the issue of paramilitary violence, and helped to form the National Peace Council in Colombia.
Gloria Florez, President of the Association for Alternative Social Policy (MINGA). She is one of four Colombian human rights activists who received the Robert F. Kennedy Human Rights Award in November 1998.
Related links:
---