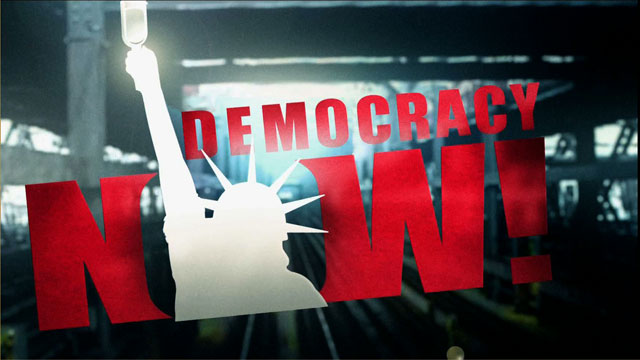 Media Options
We now move from violence at home to violence abroad, for a look at how the U.S. media is covering the NATO bombings of Yugoslavia. On April 7, CNN's Bill Schneider offered this analysis of the anti-war sentiment in the U.S.: "What's missing from the Kosovo story is anti-war protest, at least on the left." Schneider continued by saying that there was "no action out there on the streets or on campuses–no marches, no demonstrations, no teach-ins."
As the media watchdog FAIR ("Fairness and Accuracy in Reporting") puts it, Schneider's statement is true, if we rely on the corporate media for signs of dissent from the left. But in fact, there is plenty of dissent from the U.S.-NATO policies in Yugoslavia on campuses, in the streets and from leading progressive writers and thinkers. These are the voices that Democracy Now! has been bringing to listeners since before the bombs began to drop on Yugoslavia. Today, a look at how the corporate media cover the war: its featured interviews with retired U.S. military officers, NATO spokespeople and White House officials, and its Pentagon-laced use of language such as "sorties" (for air raids) and "collateral damage" (for civilian casualties).
Guest:
Norman Solomon, writer of a nationally syndicated column "Media Beat" and author of the book ??The Habits of Highly Deceptive Media: Decoding Spin and Lies in Mainstream News.
---