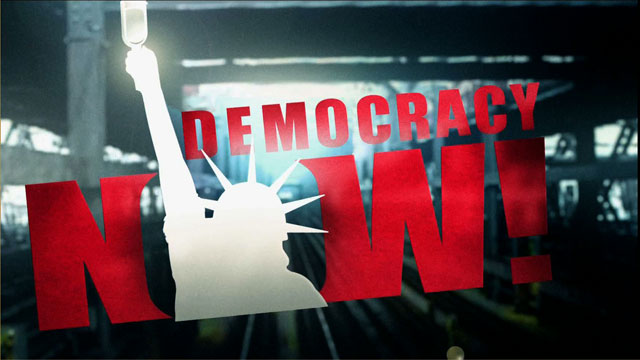 Media Options
As NATO warplanes bomb Yugoslavia for the 38th day, the Serbian Environment Minister said yesterday that large quantities of chlorine and other noxious gases have been released into the air because of the bombing of a refinery and a petrochemical plant just a few miles from Belgrade. NATO has also bombed fertilizer and chemical plants, which are spewing toxic fumes into the atmosphere.
While the U.S. and NATO continue to accuse Serb President Slobodan Milosevic of producing chemical and biological weapons, the Western alliance is refusing to acknowledge the environmental devastation that the air campaign is having in the Balkans. Many environmental organizations have referred to the air campaign as chemical and biological warfare because of the toxic effect of the bombings and because of the use of depleted uranium, but this story has been heavily censored by the U.S. media.
Yesterday at the Project Censored Awards ceremony, Edward Goldsmith, who for 30 years has been the publisher of The Ecologist in London, presented an award for one of the top-ten censored stories of 1998–a story about genetic engineered food. Last September, The Ecologist produced a special issue called "The Monsanto Files: Can we Survive Genetic Engineering?" exposing the genetic engineering giant's checkered history and environmental record. Afraid of a potential lawsuit by Monsanto, the printing company destroyed all 15,000 copies just hours before it was due to be released.
The current issue of The Ecologist looks at global warming, which it considers to be the most serious issue facing humankind.
Guest:
Teddy Goldsmith, Publisher of The Ecologist magazine in London and winner of the Right Livelihood Award, often referred to as the alternative Nobel award. He is considered one of the fathers of the global environmental movement.
Related link:
---