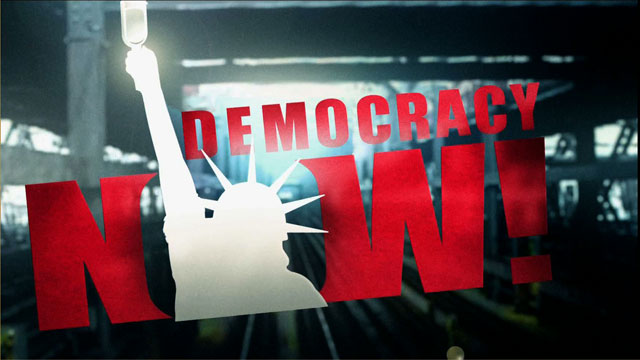 Media Options
Defying a campaign of terror and intimidation waged by Indonesian-armed and -supported death squads, an overwhelming majority of voters in East Timor came out to the polls today to cast their votes in Timor's historic referendum on self-determination. They rented horses, traveled for days and braved threats from the militias in order to get to the nearest voting station and cast their votes. In the referendum, the Timorese are voting on whether to regain their independence from Indonesia after almost twenty-four years of brutal occupation or to become an autonomous region within Indonesia. [includes rush transcript]
The United Nations estimated early today that about 79 percent of registered voters participated in the UN-sponsored referendum, although some observers say that the figure could be as high as 90 percent. The turnout was high even in the areas that have been hardest hit by pro-Indonesia paramilitary violence, where the police and military have openly allowed, and in some cases encouraged, militia violence.
Thousands of villagers came out of their hideouts in the mountains, where the militias had driven them. In an effort to derail a vote for independence from Indonesia, the militiamen, who were recruited and backed by the Indonesian military, have killed scores of pro-independence activists, burned homes and threatened the lives of thousands of peasants.
The results of the vote may not be known for a week. Under an agreement reached among Indonesia, Portugal and the United Nations, UN Secretary-General Kofi Annan will be the final arbiter of the outcome of the election and can factor into the calculation the effects that the pro-Indonesia militias may have had on the outcome of the vote.
Guest:
Allan Nairn, journalist and human rights activist.
---
Transcript
This is a rush transcript. Copy may not be in its final form.
AMY GOODMAN: It took nearly a quarter of a century to arrive, but when voting day finally came today, hundreds of thousands of East Timorese went to the polls. They rented horses from the mountains. They have been displaced because of violence, but traveled for days to get to a place where they could cast their vote for the future of their country. The vote actually just finished up in East Timor, because the small territory 300 miles above Australia is about a day ahead of the United States.

We're joined right now by Allan Nairn, who is a journalist and activist who managed to get into East Timor in Indonesia, has been in Indonesia for the last four months, despite the fact that he's on the blacklist and is in East Timor right now in the capital Dili.

Welcome to Democracy Now!, Allan.

ALLAN NAIRN: Thanks. Good to be with you.

AMY GOODMAN: Well, can you describe what this day has been like in East Timor?

ALLAN NAIRN: Well, this is — I think this is the beginning of the end of the occupations, and you really got that sense. Turnout was huge. People poured into the polling stations very early. The ones I visited — I went by about half a dozen of the polling places — people were very quiet, serious, but through the day the mood seemed to pick up. People started smiling, laughing. You know, I think they realized how big this was, and I think that's really the key thing, because the militias, the army militias, have been threatening people with death if they vote for independence. And Timorese are used to fake elections. The Indonesian regime has them every few years. And when you live under this kind of occupation where people are killed routinely, people learn that to survive you have to — you have to do things that you don't mean. You have to lie if they come to the door and ask where your brother is hiding, or if you're under interrogation, you don't tell the truth. So it wouldn't be that much of a stretch for people to vote against independence if they thought that's what was necessary to survive. But if they thought that this was a real chance for independence, that this vote could put an end to the nightmare, then that would open the door for them to really vote their feelings. And I got the sense, talking to a lot of people, that they were doing that.

You know, the UN has been running a publicity campaign, saying, "Don't worry. This will be a secret vote. The army will not know how you voted." I think a lot of people do not believe that. I think a lot of people do believe that the army will somehow learn how they voted. But I think a lot of people have also made the decision, "Well, so be it." Even if the army finds out, they're going to go out and vote for independence anyway, because they do see that there's a chance to end it and get the Indonesian army out and end the occupation. So it's a very dramatic time. You know, whole families were coming out. There seemed to be a shortage of middle-aged men at the polls, you know, because so many have been killed. You saw a lot of women with children but no husbands. It's amazing.

You know, in Timorese history, everybody knows December 7th, 1975. That was the day of the invasion. Everybody knows November 12th. That was the '91 massacre that we survived and that really marked the beginning of the political turnaround because of international pressure and activism and the persistence of the Timorese that led to today. And now, I think August 30th will go down as one of those landmark days. I mean, after — tonight, after the vote, I mean, I just ran into people, and they were ecstatic. I said to one guy, "Well, you know, be careful tonight," because militias are often out in his neighborhood. He said, "Well, it doesn't matter. I already voted." He's recorded — he's on record for independence. He didn't care what happens now.

AMY GOODMAN: We're talking to journalist and activist Allan Nairn, who is in Dili, East Timor on this historic day of the UN referendum, where hundreds of thousands of East Timorese have come out to vote, a decision between what Indonesian military calls autonomy and total independence. If the East Timorese vote down the autonomy referendum, Indonesia says they will grant the territory independence.

What about the militias? They promised a bloodbath if there is a vote for independence, and they've escalated the violence in the last few days. What happened today, Allan?


ALLAN NAIRN: From what I've seen in Dili and the outlying areas and what people have said from the countryside, they didn't do many attacks today compared to the other days. In Maliana, they apparently attacked and wounded a couple of UNAMET people. In Liquica, the scene of a horrible church massacre earlier this year where they went in and hacked to death dozens of people with machetes, today they set up a militia roadblock. But by and large, they didn't attack much.

The decision on what happens from here with militias is really up to General Wiranto. He is the army commander of Indonesia. He is the most powerful man in the country, and he is the one who controls the militias. And I don't think Wiranto and the army high command has exactly decided what their next move is, but I think it's very possible that they will stage some more attacks in the coming week.

AMY GOODMAN: Allan, this weekend it was reported that President Clinton sent Habibie, the ruler of Indonesia, a letter threatening international aid cutoff, because basically the US determines whether they get IMF funding and other kinds of economic aid, not to mention military aid. A number of activists say, well, it's about time President Clinton threatened something like this if Indonesia doesn't stop the violence in East Timor. What was your reaction to this letter?

ALLAN NAIRN: Skepticism, disgust. It took a tremendous amount of effort from activists to get that letter out of Clinton. The East Timor Action Network and others have been working for months to get him to produce such a statement, and now he produces it on the eve of the election, after the militia victims are already dead. They didn't actually release the text of the letter. And just from the spin articles that I saw based on the letter, it looked as if it was loosely worded, and he was not actually saying, "Well, if there are more deaths, we will cut off the international financial institution — you know, World Bank, IMF — money going into Indonesia." I doubt Clinton would, in fact, do that.

And to this day, Clinton, like Tony Blair of Britain, and the other Western powers, they continue shipping new guns and ammunition into Indonesia. They continue training the ABRI troops, the very troops that are managing the militias in Timor and, at this moment, are managing an even more intensive slaughter in Aceh within Indonesia itself. So, you know, they're wagging their finger at Wiranto, but they're not cutting off the weapons flows. The US weapons and training has been cut back substantially, because of activist pressure and because of bipartisan pressure from Congress, but some of it still continues, and Clinton could stop that today if he wanted to, but he hasn't.

AMY GOODMAN: There are some changes. I have to say, there is not a heck of lot a of coverage of what's happening in East Timor today. As I was watching the networks and CNN, it was hard to know how significant today was. I actually just talked to the ABC foreign editor, and he seemed very interested in East Timor. At the end, I said, "Well, what are you going to do on Monday, today, the day of the referendum?" He said, "Oh, actually, we decided not to do anything."

But I wanted to read you just a paragraph from the New York Times today, "With More Broken Promises of Peace, East Timor Votes" by Seth Mydans. And he says, "Though the anti-independence militias have clearly had the upper hand in terror, the pro-independence forces, with 24 years of experience in both war and propaganda, have seized the role of well-intentioned victims." What's your response to that?

ALLAN NAIRN: He said that?

AMY GOODMAN: Yes. That's in today's article.

ALLAN NAIRN: Well, you know, I guess you could say, you're shot, your family is shot, they kill a third of your population, and they gun you down in front in the cemetery, and they drag you into the intel torture house, and they put — as one Western military person described it to me two days ago as he was pointing to one of the local torture houses, he said, "That's where they apply the electrodes to the scrotum." If those things are done to you, I guess you can try to — how did he put it? Assume the role of well-intentioned victims?

AMY GOODMAN: That's right.

ALLAN NAIRN: That's grotesque. That man should be ashamed of himself. He should — that's not very professional. You know, the corporate press claims that they try to follow a standard of objectivity and balance [inaudible]. You're talking about a third of the population wiped out. You're talking about a situation where an accurate description gives you — you know, it's not a 50-50 situation; it's a 99-1 situation. That's just the reality. It doesn't take propaganda to conjure that. That's the way it is. Mr. Mydans can go start digging up the skeletons if he doesn't believe it.

AMY GOODMAN: Well, actually, there is some change in tone in these New York Times articles, and the biggest is at the top with the dateline. For years, we've all been fighting with the New York Times to change that dateline that they've maintained right up through 1999: Dili, Indonesia. But since you've been in Indonesia, you may not have gotten a chance to see this, and now in East Timor, the dateline in the New York Times is "Dili, East Timor."

ALLAN NAIRN: Well, at least the Times has granted them independence. I hope the ballot will do that, too.

AMY GOODMAN: Well, Allan, as we wrap up, what does this vote mean? Can you talk about the timetable now? The vote has been cast. The UN has now closed the ballot boxes, bringing them all to Dili, the capital. What happens next?

ALLAN NAIRN: Well, in about a week, the UN will announce the results. If the results are pro-independence, Habibie, the president of Indonesia, has said that he will recommend to the MPR, which is the National Constituent Assembly, that they then agree to independence for Timor. That decision, though, wouldn't be made for another couple of months. And also, Habibie is only the president of Indonesia; he's not the ruler. Wiranto, the army commander, is still by far the most powerful figure. But I think that with so much international focus now, if there is a pro-independence vote, Indonesia will have to agree and grant — and cut Timor loose. But as the military people have told me in recent days, they may keep — stay behind intel people to run Contra-like attacks against the Timorese.

Later this week, sometime in the next few days, I'm going to be holding a press conference and public event here in Dili, which will bring out new information about the US, the Indonesian military and the militias, covert activities that haven't been disclosed. I'll be releasing a lot of documents. That event was supposed to have taken place this past Sunday, but a number of the East Timorese who were working on organizing it, youth groups and human rights and activist groups who were going to try to turn out a large crowd of Timorese to witness this, they went into hiding after the militia rampage of last Thursday. So we're going to try to do it instead sometime in the middle of this week, if the army doesn't raid it and shut it down beforehand.

AMY GOODMAN: Well, Allan, be careful, and I want to thank you very much for being with us on this historic day, August 30th, 1999, the day the East Timorese went to the polls and voted on the future of their country. Thanks for being with us.

ALLAN NAIRN: Thanks.