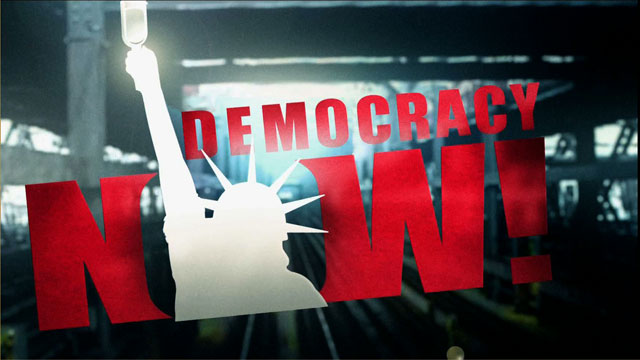 Media Options
Allan Nairn, a reporter for The Nation magazine who has long covered Indonesia's human rights abuses in East Timor, was detained by security forces in Dili. Nairn was detained earlier today while inspecting the damage inflicted on Dili by Indonesian troops and their militia auxiliaries following a UN-supervised referendum on independence on August 30. [includes rush transcript–partial]
While being taken under armed escort from a military base to a police compound, Nairn telephoned Essential Information, a Washington-based nonprofit group founded by consumer advocate Ralph Nader. A member of the group, John Richard, said Nairn identified Indonesian army officers who questioned him, including Maj. Gen. Kiki Syahnakri, chief of the security operation in the province.
Nairn has reported extensively on the Indonesian army's brutal special forces unit known as Kopassus, which has been blamed by UN and other international observers for orchestrating much of the violence unleashed in East Timor over the past two weeks.
Rampaging militiamen were believed to have set fire to the abandoned UN compound in East Timor today, hours after 110 UN staff and 1,300 refugees left for safety in Australia, a UN official said.
Meanwhile, if the United Nations approves an international force of peacekeepers, Australia could lead troops into East Timor by the weekend. Thousands of troops are on alert in Darwin and could be in the Indonesian province within hours of UN approval. Defense Minister John Moore says peacekeepers could be in East Timor as early as Saturday. But that might be too late, according to a spokesman for the East Timor independence movement, who says killings and chaos in the capital of Dili continue.
The UN evacuated its Dili mission earlier today, and within hours anti-independence militiamen reportedly set it on fire. There is also violence in West Timor, according to the Atlanta-based Carter Center, which monitors international crises.
Guests:
Allan Nairn, from Dili, East Timor.
Charlie Scheiner, international coordinator of the International Federation for East Timor Observer Project.
Jill Sternberg, one of the observers.
John Roussa, an observer.
Pam Sexton, an observer.
---
Transcript
This is a rush transcript. Copy may not be in its final form.
AMY GOODMAN:
If the United Nations approves an international force of peacekeepers, Australia could lead troops into East Timor by the weekend. Thousands of Australian troops are on alert in Darwin and could be in the Indonesian —
Here I am reading from AP, and they're once again calling it the "Indonesian province." Again, the United Nations has never approved the annexation of East Timor by Indonesia, so I'll start that again, and speak without the bias of AP, Reuters and the New York Times, often annexing East Timor.


Thousands of Australian troops are on alert in Darwin and could be in East Timor within hours of UN approval. Defense Minister John Moore says peacekeepers could be there as early as Saturday. But that might be too late, says a spokesperson for the East Timor independence movement, who says killings and chaos in the capital of Dili continue.


To the echo of sporadic gunfire in the distance, the United Nations closed its besieged compound in East Timor yesterday, flying out 110 staffers and 1,300 Timorese refugees who had become hostage to marauding militia and Indonesian troops. A dozen UN personnel, led by a Bangladeshi brigadier general, stayed behind, holed up in the Australian consulate, which they think is safer, with higher walls. They are to prepare the way for an intervention by international peacekeepers. Indonesian foreign minister Ali Alatas was in New York yesterday negotiating with UN officials on the makeup of the force.


All sorts of news from people inside Timor. Speaking from the area, David Jimenez, a spokesperson for East Timor's independence movement, told Portuguese radio that killings in Dili are continuing. Referring to the arrival of peacekeepers, he said, "Three or four more days will be too late. We can't defend ourselves. We are unarmed." The Atlanta-based Carter Center, which monitors international political crises, said militiamen backed by the Indonesian military continue to terrorize and murder refugees in camps set up in West Timor.


Well, every day on Democracy Now! we have tried to bring you live reports from Dili from one of the last reporters there, Allan Nairn. Allan put out a report this past week in The Nation magazine documenting US support for the Indonesian military and militias, saying that this past April, after one of the worst massacres in months in Liquica, two days later, the head of the Pacific Command, Admiral Dennis Blair, met with General Wiranto, the head of the Indonesian armed forces. The word out was that he was going to tell him to shut the militias down. But in fact what Allan was able to prove, with secret cables and memos, confidential, was that what he told Wiranto was that he would probably be getting more military training — it would be resumed — and he could hope for even more, and also invited him to Hawaii, which is CINCPAC headquarters.


Well, Dennis Blair, the admiral, head of the Pacific Command, supposedly told Wiranto this week that the game was up, that US military relations would be broken with Indonesia. And President Clinton also announced that weapons sales would be cut off.


Allan Nairn has been reporting from the streets of Dili, East Timor, and continues to do that, even as he has been detained by the Indonesian military. He has been in their custody for almost a day now. And Allan Nairn, just before we went to air, spoke with us. He talked to me and Bernard White on our local show on Pacifica Radio's WBAI about the situation in East Timor, as well as his own.


AMY GOODMAN: Can you tell us what's happening right now and how you got taken by the military?



ALLAN NAIRN:

Well, this morning I was out on the street and was picked up by soldiers and brought to Koram. And for the rest of the day here I've been going back and forth between Koram and Polda, the main [inaudible] space.

You could see out on the streets of Dili today that the Aitarak are still riding openly through the streets, the Aitarak and military, not much normal civilian traffic. Down by the waterfront area and in front of the governor's office, I mean, governor's building, it looks like a massive open-air refugee camp, many hundreds, perhaps thousands, of people sheltering there. I got to see the diocese for the first time. The diocese is completely burnt out, as are many, many buildings in that sector of town.



Here at the Koram main military base, there's a whole group of uniformed Aitarak in the back. So you have uniformed soldiers and uniformed Aitarak operating out of here, going out on their motorcycles and their vans to do their raids. And it was the same story at the Polda base.



AMY GOODMAN:

Allan, for listeners who aren't familiar, Allan, Aitarak, explain what it is.

ALLAN NAIRN:

Aitarak is the main Dili militia, which is ostensibly independent, but which is obviously an arm of the military. This is the base run by General Kiki Syahnakri, who briefly spoke to me this morning. He's the overall commander of Timor. He's head of the martial law authority, the authority for the restoration of peace and stability in Timor. And it's out of his base that the Aitarak are going out and doing their raids.


And another interesting thing, at the Polda police headquarters, although the Aitarak were there and working with the police, going out, the police intel people were busy, even as they were questioning me, burning documents, because as one of my interrogators said, well, you know, Timor is about to be free, it's about to become a free country, and he said that they were about to leave and would be packing up the base and moving to Kupang in Indonesia. And they had a bonfire going outside, where they were tossing in these red binders full of intel documents. So at least they are — that police intelligence unit is planning to evacuate very soon.

AMY GOODMAN:

I wonder, Allan, if that has anything to do with this growing call for a war crimes tribunal around what Indonesia has done in Timor. In fact, there's a piece in the New York Times today that says that even President B.J. Habibie has agreed to the creation of an international commission to investigate possible atrocities in East Timor, this according to the United Nations High Commissioner for Human Rights. Mary Robinson said he had accepted her proposal for Indonesian and foreign officials to join in a commission of inquiry, a commission of experts to look at the evidence of human rights violations.

ALLAN NAIRN:

Well, I expect that that — Habibie's agreement to that commission will be in the same sense that he agreed to an investigation of Suharto corruption. I think it's not going to happen, unless and until the power of the army is broken in Indonesia and you start to get a real democratic government. But that hasn't happened yet. But there is a grassroots democracy movement in Indonesia, and I think it's possible that this Timor crisis, which has really put the army on the spot internationally, exposed the civilian presidency of Indonesia as a sham, this could end up really damaging the army, if a democracy movement takes advantage of this and moves aggressively against the army in the coming weeks.

AMY GOODMAN:

Allan, we were just trying to call you and it was busy. Well, sometimes it's just impossible to get through, but I understand you just got a call from Jose Ramos-Horta, the Nobel Peace Prize winner of Timor.

ALLAN NAIRN:

Right, and actually he was calling from New York. He said — I asked him about his meeting with Clinton, I guess, the other day. And he said that Clinton gave support for a massive airlift of food into Timor. He said that Clinton told him that the Indonesian government won't be able to dictate the composition of the so-called peacekeeping force that will be coming in and that the force ought to come in immediately, that the US will pour money into the economic reconstruction of Timor.


Jose said that he asked — or he said to Clinton that the US military aid and relations cutoff for Indonesia has to be long-term, it has to be clear that it's a long-term cutoff, and that it should be in place until there is fundamental change in the Indonesian armed forces. And I asked him how Clinton responded to that, and he said, "Well, he took notes and reacted well." And from having heard accounts of how Clinton responds to proposals, I take that as a no, giving the impression of support but not really supporting.


But it's interesting that Ramos-Horta is finally getting that kind of access, after Clinton — after he won the Nobel Peace Prize, Clinton just brushed him off and refused to meet with him.


Speaking of the peace force, a little while ago one of the people they sent in to interrogate me here at the Koram was a Kopassus man. Those are the special forces that —- they specialize in torture and disappearances. And he was from Group 5, the most elite part of Kopassus, the anti— — so-called anti-terrorist force. They've been extensively trained by the Pentagon and US Intelligence. And I asked him what exactly he did in Timor, and he said, "Well, I guess you could say I'm from the Indonesian peacekeeping force in Timor." And he started to laugh, you know, uproariously.

BERNARD WHITE: Allan, could you just describe to us a little bit about how that interrogation went? Just what kind of questions did they ask you? And then, what was the tone?



ALLAN NAIRN:

Well, it actually hasn't gotten that deep yet, compared to others in the past. You know, they've just been asking basic things so far. You know, why are you here? What are you doing? What are you up to? Trying to figure out my exact movements and contacts and so on. But we'll see. They've told me there's a lot more to come. It hasn't really gotten rolling yet.

AMY GOODMAN:

Allan, what are they telling you about what's going to happen to you?

ALLAN NAIRN:

Well, it keeps changing. The latest they're saying now is that tomorrow, you know, local time — it's now evening here in Dili — that I'll be put on a military plane and flown to Kupang in West Timor, Indonesia, and then from there maybe to Bali, maybe to Jakarta, and then perhaps be put out of the country, although they've said that I may be questioned by various people along the way, various stops along the way.

AMY GOODMAN:

Allan, it has just been revealed that the UN last night actually did leave East Timor under cover of darkness with more than a thousand refugees. Can you talk about the significance of the — even the skeletal crew that was left actually leaving. I think it said something like a dozen United Nations staff remained in Timor, but they moved to the Australian mission or building there that has higher walls and more security.

ALLAN NAIRN:

Right, right. Well, it's good that they were able to get the internal refugees out, out of the UN compound. On the other hand, this is yet another cutback in the UN presence in Timor. It's down to almost nothing now. Some others are starting to come in. The International Red Cross is now being able to make flights, and they're going to be doing daily flights in to deliver some supplies and start to get their operations rolling again after their office was sacked and burnt by the military and the militias a number of days ago. It's very important in these next few days that as much of an international presence as possible be maintained on the streets of Dili and especially in the rural towns, because you can only imagine what's happening there. It's bad enough in Dili.

AMY GOODMAN:

Allan, you were taken back and forth from Koram to Polda, which is the police station. You actually had been brought to the police station before, last week, and described that. Can you tell us what happened there the first time? In fact, it was militia that first brought you there, once again underscoring the relationship between the militia and the Indonesian military.

ALLAN NAIRN:

Yeah, well, they sure looked like militia. They were plainclothes young men with — one with a Mauser rifle, the other with a .38. The one with the .38 was drunk. They called him the commander. Behind him was this little row of guys in black Aitarak T-shirts, with long hair and AK-47s slung over their shoulders. And, you know, it had all the looks of a militia operation, and they were very, very menacing. They came into a house that I was in, and, you know, there were some pretty rough moments there. It looked like we might be in real trouble, but managed to talk to them in a way that it confused them a bit and slowed them down.


And they ended up getting on the walkie-talkie and calling their commander. And then, like a minute or two later, the commander comes striding through the door, and he's in full police colonel's uniform with his hat and his epaulets. It's Colonel Sutanto, who I later learned from foreign officials who are very well informed about his activities, he's actually a military intel man who uses the police to run covert operations. And, you know, in this case, it was a particular militia crew that he was running. And one of the things I saw in being driven around today was that that particular neighborhood that I was picked up in by Sutanto's militiamen, much of it is burnt to a crisp now. I don't know whether the particular house I was in is gone. I didn't get close enough to see that. But a lot of the surrounding neighborhood is gone.
AMY GOODMAN:
Allan Nairn, speaking to us from Koram, which is the army command post for all of East Timor. He is being detained by the Indonesian military. When we come back, we'll ask him how it is that he can speak to us through this detention and also get his reaction to a New York Times piece today, "US-to-Jakarta Messenger: Chairman of the Joint Chiefs," talking about how Hugh Shelton, who was speaking with Wiranto, the armed forces chief, throughout the last weeks, ask him about his comments that he couldn't have done it if the US hadn't given aid. You're listening to Pacifica Radio's Democracy Now! We'll be back in a minute.
[break]


AMY GOODMAN:
You are listening to Pacifica Radio's Democracy Now! The Exception to the Rulers. I'm Amy Goodman, as we talk to American journalist Allan Nairn, detained by Indonesian military, not clear what will happen, though it does look like they're going to be shipping him out of East Timor in the next hours, perhaps at the end of the day.
AMY GOODMAN: Allan, you can't see this, but I'm looking at a piece in the New York Times today by Elizabeth Becker, "US-to-Jakarta Messenger: Chairman of the Joint Chiefs of Staff," and it's a very laudatory piece of the Chair of the Joint Chiefs of Staff, Henry Shelton. It says, "As the violence in East Timor worsened, the Americans relied on one person to deliver a tough message to the Indonesian Government," this according to senior administration officials. And it says, "As Washington shifted from resisting sanctions to making a serious threat to the Indonesian economy, General Shelton relayed the increasingly urgent messages that the Indonesian army had to end the killings and destruction in East Timor. That message was underlined by Adm. Dennis C. Blair, commander in chief of the Pacific command, who traveled to Jakarta."


Then it goes on to say, "Now the Pentagon is beginning preparations to provide logistical support, about 150 American troops to work on communications, supplies and intelligence, for a multinational mission for East Timor, and the Administration is arguing that the channel to the Indonesian military speaks to the value of the years of training given to Indonesia's future military leaders in the United States and the millions of dollars in military aid for Indonesia."


A senior administration official said, ''It was a big plus to have someone who could call the Indonesian military. They were the ones calling the shots. We had a unique asset, and I don't see how our military could have done it without their past history with these generals.'' And it goes on from there.


Your response, after exposing the US support for the Indonesian military and the militias? You told a different story about Admiral Dennis Blair, head of the Pacific Command.



ALLAN NAIRN:

He said that, "I don't see how we could have done it." How we could have done what? I mean, I guess he's saying, "I don't see how we could have trained all those Indonesian officers without having trained all those Indonesian officers." You know, all you have to do is think about the argument that's being made there. I mean, here they're saying, this is a force that is doing mass killing, and it's wonderful that we've given them all this assistance and training over the years, because they claim it gives them — it gives them leverage.


It's not — support is support. The Indonesian military sees that. And when Blair was sent in after the Liquica massacre in April with the mission of telling Wiranto to shut the militias down, he didn't do that. He in fact offered more support, and that led to a dramatic increase in the militia terror, really helped to bring the situation to where it is now.

AMY GOODMAN:

I also have to say, Allan, that there's no mention of Dennis Blair, the admiral, and the expose you did on him delivering a very different message. And this is a piece you did in The Nation this past week, no mention of it in the New York Times.


Well, last question, and that is, as we talk about the brutality of the Indonesian regime, how is it that you're talking to us on a cell phone from army headquarters as you are being detained by the Indonesian military?

ALLAN NAIRN:

Well, because I'm an American citizen, because I'm a journalist, because I'm kind of a notorious political case here. You know, there's a certain — they don't do the interrogation in the way they would do it if it were an Indonesian dissident or a Timorese. This morning — you know, it's done with kid gloves.


This morning, being questioned by the police intel man, on his desk he had a screwdriver and a knife, and they could have been there for innocent reasons, but there's something about the setting that made me think they weren't. And, in fact, one of his aides, one of the intel man's aides, as he started to question me, quickly removed the screwdriver and the knife from the desk. You know, they work — they take the Timorese and work them over very hard — electroshock, slicing with blades, all sorts of horrible things, which is routine. But I can get away with a lot more, because I'm a foreigner and especially because I'm an American.

AMY GOODMAN:

Well, Allan, I hope that you take care of yourself in these next hours, and we will continue to be in contact with you throughout the day. Please take care.

ALLAN NAIRN:

OK, thanks.
AMY GOODMAN:
Allan Nairn, reporting to us from the Koram army command headquarters. Koram is in charge of East Timor, and there it is that the general, who is in charge of martial law, has his offices.

Allan Nairn has continually defied the Indonesian military, having been banned from there in 1991 after surviving the Dili massacre, where more than 250 Timorese were killed. Allan and I went to East Timor in 1990, '91. In '91, as a result of that massacre, Allan had his skull fractured by the Indonesian soldiers, who beat him over the head with their US M-16s. We went back in 1994 to cover Clinton going to the APEC summit, later learned he was also meeting with his campaign contributors in Indonesia, like the Riadys. We were arrested then as we tried to get into Timor, but we did actually get in a few days later, slipped in, and learned from a resistance leader that the torture most commonly used at that time was forcing the Timorese to swallow their crucifixes and applying electroshock to their genitals. Allan returned in 1997, where he held a news conference exposing once again US military documents that showed that despite a congressional ban, that the Pentagon was training the elite Kopassus troops, the Red Berets, in sniper technique and other methods against the people of Indonesia and East Timor, and they were being trained by US Green Berets. He was deported for that, also threatened with six years in prison. And now Allan has slipped in again under the army ban and has been in Indonesia for the last four months and East Timor for the last few weeks, now being interrogated at army headquarters. And we will keep you posted.

You are listening to Pacifica Radio's Democracy Now!, as we continue to deal with East Timor, this is — the United Nations is preparing to send in a peacekeeping force that will probably be led by Australia. Ali Alatas, the Foreign Minister of Indonesia, in New York negotiating on this peacekeeping force with Kofi Annan, the Secretary-General.

But what we're going to talk about now is what happened in these weeks leading up to the referendum and the time afterwards, with the terrible violence that has taken place in Timor, not a surprise to many, certainly not to Timorese, though it is a surprise that they were willing to do it in front of Westerners. We're joined right now by Westerners from around the world who are part of a very unusual operation called IFET., and that is the International Federation for East Timor Observer Project, UN-accredited observers from around the world to go to all the villages and towns, or many of them, of East Timor to make sure that the referendum that would take place on August 30th would be free and fair.

We're joined in the studio right now by two people who have just returned, were forced out of East Timor by the militia violence, but were there for the referendum and observing that. Charlie Scheiner was the international coordinator of the IFET project, and we're joined by Jill Sternberg, who is with Peace Brigades International, sends peace teams all over the world, and was a part of the IFET project.