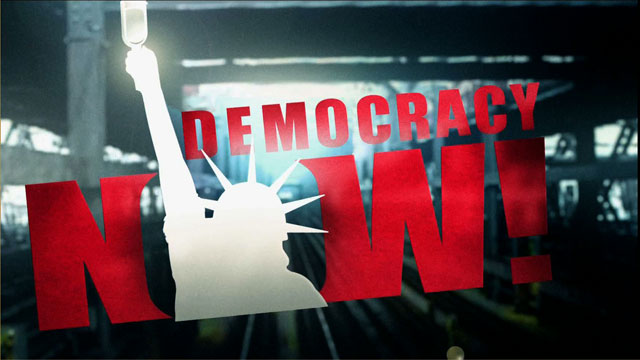 Media Options
We're ending today's show with commentary from noted journalist and death row political prisoner Mumia Abu-Jamal. This summer, Democracy Now! presented live phone-in interviews with Jamal. And on our August 12th program, his call to our show was cut off after only five minutes, when a prison guard yanked the phone out of the wall. In today's commentary, Mumia reflects on what happened that day. [includes rush transcript]
Tape:
Mumia Abu-Jamal, journalist and death row prisoner, speaking from Greene Correctional Center in Pennsylvania.
---
Transcript
This is a rush transcript. Copy may not be in its final form.
AMY GOODMAN: Now bringing the issue of human rights directly home, we turn to Mumia Abu-Jamal to end the program, death row prisoner who, at any day now, could have a death warrant once again signed against him. On August 12th, Mumia Abu-Jamal called in to Democracy Now!, and after a few minutes, a prison guard yanked the phone out of the wall. In today's commentary, Mumia Abu-Jamal reflects on what happened that day.

MUMIA ABU-JAMAL: On Thursday, August the 12th, 1999, I finally got through on a call I'd been trying to complete all week long to Amy Goodman, host of the acclaimed Pacifica news broadcast Democracy Now!, aired over WBAI FM in New York City and over the network nationally. I was frankly thrilled to get through. And as her topic was the buzz over the imminent release of sixteen Puerto Rican independentista political prisoners, it was a perfect opportunity to express solidarity for the brave and committed Puerto Rican freedom fighters who have suffered enormously in their long imprisonment at the hands of their cruel American colonizers. After speaking with relatives and loved ones of the independentistas, Amy calmly announced to her listeners that she had a guest on the line — me — who might offer a few opinions on the controversy. It went something like this:


Amy: On the line now from a state correctional institution in Pennsylvania, after considerable difficulty as our guest, Mumia Abu-Jamal, convicted in the murder of a Philadelphia police officer, Daniel Faulkner, in 1981, in a trial that many have condemned as riddled with constitutional and other errors. Mumia, welcome to Democracy Now!


Thank you, Amy. It's my pleasure to be with you and Democracy Now!


Amy: Now, Mumia, I'm sure you've heard about the controversy that we're discussing this morning, the imminent releases of sixteen Puerto Rican political prisoners under certain conditions. Have you heard?


Yeah. Well, I did see some mention of this on the TV, and these are my thoughts on the issue. Under the Constitution, one is allegedly allowed the right of association. For those brothers and sisters, freedom isn't really freedom, is it? First I want to say, ¡Libertad para los presos politicos puertorriqueños! Yes, free all Puerto Rican political prisoners. Yeah, we're with that! But under the US government's plan, they'll be granted a kind of half-freedom. They won't be allowed to associate with each other, so their freedom of association is dead.


Also, one of the other conditions that the government is placing upon them is the demand that they, quote, "renounce violence," unquote. Now, Amy, where have we heard this before? If we look at recent world history, we'll see that this was exactly the same thing that the racist government of South Africa demanded of Nelson Mandela and other imprisoned members of the African National Congress, or the ANC.


Well, at that moment, the phone line went dead, as a guard pulled the wire from the phone jack on the wall, disconnecting me. Another guard appeared at the cell door hollering at the top of his lungs, "This call is terminated!" But when I demanded to know why, he replied, "This order came down from the very top." I immediately called to the sergeant standing by and looking on, said, "Sergeant, where'd this order come?" He shrugged his shoulders and answered, "I don't know. We just got a phone call to cut you off."


The next day, the answer came in the form of a write-up, number A69958, where I was charged with a Class I misconduct: unauthorized use of the mail or telephone. In the write-up, the following institutional offenses are stated, and I quote: "On [August] the 12th, 1999, at 09:36 hours, Inmate Jamal made a telephone call to a news radio station named Pacifica Radio network's Democracy Now! Per administrative directive 009, news media relations, it states, 'News media requests for inmate interviews by telephone shall be approved at the [discretion of the facility manager]."


OPERATOR: This call is coming from a correctional facility.


MUMIA ABU-JAMAL: "Inmate Jamal did not request from the facility's manager permission to be interviewed by the news media. In addition, Inmate Jamal placed a news reporter on his phone list, knowing full well that the person was a reporter. This is verified by the attached documentation. Also, per administrative directive 6.5.8, all communications between capital case inmates and the news media shall be conducted in accordance with DOC and institutional policies on visitation and telephone privileges. It should be noted, inmate telephone calls are a privilege. As a result of Inmate Jamal not requesting permission from the facilities manager to be interviewed or speak with the news media, his telephone call was terminated after eleven minutes of speaking with the news media," unquote.


This write-up was signed by a lieutenant and a captain of the guard. In order to produce this write-up, ranking staff members had to ignore their own rules. For example, administrative directive 009.1, which states, quote, "News media are entitled to the same access to specific inmates as the general public. There shall be no special arrangements made for news media interviews with specific inmates. All communications between specific inmates and the news media shall be conducted in accordance with administrative directive 812 and administrative directive 818. If an inmate wants to talk with a news media representative over the telephone, it's his responsibility to place a collect call to the reporter under guidelines set forth in 818," unquote.


There are rules, and there are rules, it seems, especially when the state deals with me. Here, the DOC writes me up, using a rule that no longer exists! But since when have rules gotten in the way of corrupt bureaucracies, which follow the foul winds of their political masters? Clearly, we were not working with rules; we were working with the state's exercise of its political power to censor a captive, who they once again have acted to silence. But, like before, it ain't working. I thank Amy and her fervent, politically adept listeners at Democracy Now! for that great opportunity to show solidarity to the Puerto Rican independentistas. You keep on listening; I'll keep on rapping.


From death row, this is Mumia Abu-Jamal.