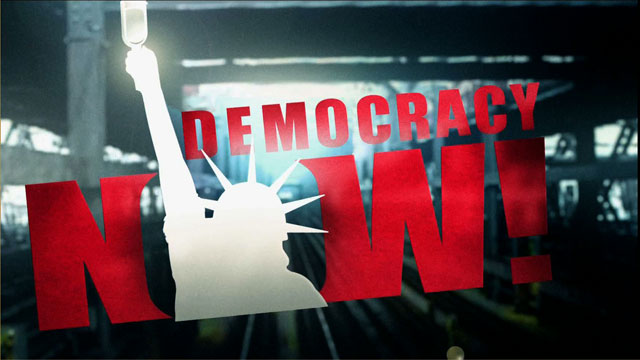 Tomorrow night will be a night of full moon. It is also the night that Texas plans to execute Larry Robison. Robison, who has been diagnosed as suffering from paranoid schizophrenia and chronic bipolar disorder, agreed to waive his right to appeal if he could be executed during the full moon. A Texas judge complied.
It would be the state's 202nd execution since the death penalty was reinstated, with Governor George W. Bush presiding over 114 of them. Two people have been executed this month in Texas; and five more are scheduled before the end of the month, including a juvenile offender this coming Tuesday. Next month, Texas is planning to execute a 62 year-old woman, Betty Lou Beets.
Regular listeners to Democracy Now! may remember Larry Robison's case. His mother, Lois Robison, spoke with us last August 17, the day that Larry Robison was to be executed, just before going to visit her son for what might have been the last time. Just hours before Robison was to be killed by lethal injection, the Texas Court of Criminal Appeals granted him a stay of execution and ordered an evaluation of his mental condition. That same court has since ruled him competent to be executed.
Robison was sentenced to death after he confessed to killing and mutilating five people in Tarrant County in August 1983. His victims included 34 year-old Georgia Ann Reed, her 11 year-old son, and her mother. Another victim, Ricky Lee Bryant, was decapitated and sexually mutilated, while another, Bruce Gardner, was stabbed and shot.
Robison's family says that he was psychotic at the time of the crimes, and that the state refused to give him proper treatment for his illness. He was released from several public hospitals just before he went on a killing spree.
Among those calling for clemency on behalf of Larry Robison are Pope John Paul II, several mental health organizations, as well as the European Parliament. His lawyer met this week with Texas Governor George Bush's staff to appeal for clemency.
Guests:
Dr. Henry Nasrallah, professor of Psychiatry and Neurology at the University of Mississippi in Jackson and chief of mental health services at the VA Hospital in Jackson. He examined Larry Robison.
Lois Robeson, mother of Larry Robison.
Melodee Smith,attorney for Larry Robison.
---