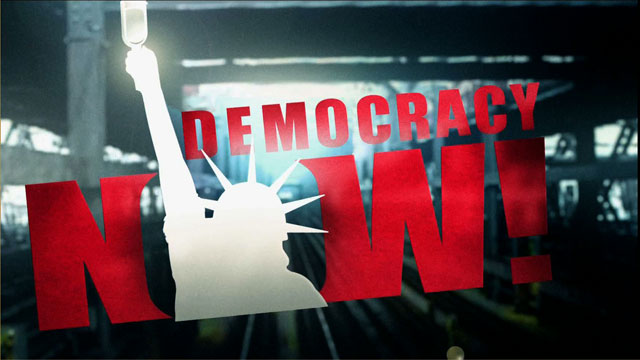 Media Options
Democracy Now! technical director Errol Maitland remains in the cardiac care unit at Kings County Hospital in Brooklyn. Maitland was beaten and arrested last Saturday at the funeral protest for Patrick Dorismond, the latest unarmed Black man shot to death by undercover officers.
Other participants in last week's protest have stepped forward, telling their stories of brutality by NYPD officers. Dachka Souffrant, a 23-year-old Haitian woman, was crushed by barricades as police charged into the crowd of mourners. Due to injuries to her hand, Souffrant's finger was amputated at a hospital. Yesterday, she went to Brooklyn's 67th Precinct to file a complaint against the police. She was placed in a lineup and subsequently charged with felonious assault on a police officer.
Meanwhile, students late for school or legitimately on the streets are being unfairly rounded up by overly aggressive anti-truancy cops, the New York Civil Liberties Union and a black police group charged yesterday.
The New York Civil Liberties Union and 100 Blacks in Law Enforcement Who Care warned that the growing use of police to fight truancy could lead to violent confrontations and police records for students, particularly in Black and Latino areas. The groups cited the case of Janell Boyd, 17, a Queens 11th-grader. The Springfield Gardens High School student, running late one day last month, said she had just stepped off a city bus near her school when an officer on truancy patrol approached. Boyd, whose mother is a Police Department detective, said the officer grabbed her student ID and put her into a police van. After she demanded an explanation, he took her to a stationhouse and charged her with disorderly conduct, she said.
This, as the NYPD comes under fire by New York City parents. A gun-wielding plainclothes cop who chased a drug suspect through a crowded Brooklyn schoolyard was taken off the streets yesterday. The officer, who Police Commissioner Howard Safir said was placed on desk duty yesterday, exhibited "poor judgment" by drawing his gun during the Monday afternoon chase through the playground at a Brooklyn elementary school.
Tape:
Excerpt of President Clinton Press Conference
Guests:
Michael Tarif Warren, lawyer for Errol Maitland and Dachka Souffrant. To demand the release of Dachka Souffrant, call the 67th Precinct in Brooklyn, New York at 718.287.3211. Call Patrick Dorismond Daughters Fund: 212.719.3434.
Graham Weatherspoon of 100 Blacks in Law Enforcement Who Care. Call: 100 Blacks in Law Enforcement Who Care: 718.455.9059.
Related link:
---