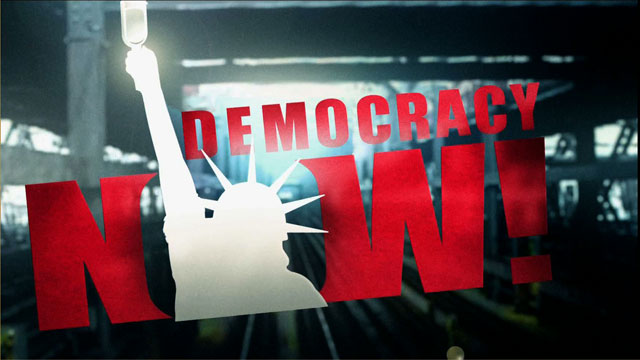 There is perhaps no image of the revolution more universal than the caption of Che Guevara, the legendary Argentine guerrilla fighter, taken in March of 1960— the trademark cap with the star of the revolution on his head, his eyes gazing into the distance. In fact, except for the famous shot of Marilyn Monroe standing over a subway grid, this particular photograph has been reproduced more than any other in history.
This image of Guevara can be found on T-shirts, hats, magazines, and on all sorts of consumer products around the world. In Cuba, it is perched over the Plaza de la Revolucion — the revolutionary square — and it is in hundreds of revolutionary wall paintings throughout Cuba's cities and countryside.
While Democracy Now! producer María Carrión was in Cuba last month, she had the chance to interview the man who took this photograph 40 years ago. He is Alberto Diaz Gutierrez, known throughout the world as Korda.
For the first 10 years after the triumph of the revolution, Korda was the inseparable photographer of Fidel Castro. His black and white shots documented Castro's triumphant entrance into Havana; they captured the weary militia fighters, both men and women, as they celebrated the ouster of the dictator Fulgencio Batista; and they provided intimate portraits of Fidel Castro and Che Guevara both at public gatherings and in their private moments, as they fished or played chess.
Korda's famous shot of Che Guevara has been reproduced around the world, and many people have profited from the selling of that image-except, until recently, for Korda himself. He never copyrighted the photograph, and when he gave a copy away to Italian publisher Giangiacomo Feltrinelli, he never imagined that Feltrinelli would become a millionaire by selling posters of that picture after Che's death. Korda received nothing from those sales.
On this hot Havana morning, Korda sits in his modest Havana apartment, where the walls are adorned with his work, including a blown-up print of his famous Che photograph. To the side of it hangs a picture of the Mona Lisa wearing Che's revolutionary cap. The living room is crammed with people: Korda's son and grandson are visiting, as well as an American film crew that is putting the finishing touches on a documentary about Korda's life.
Guest:
Alberto Diaz Gutierrez (Korda), renowned Cuban photographer. Speaking at his home in Havana, Cuba.
---