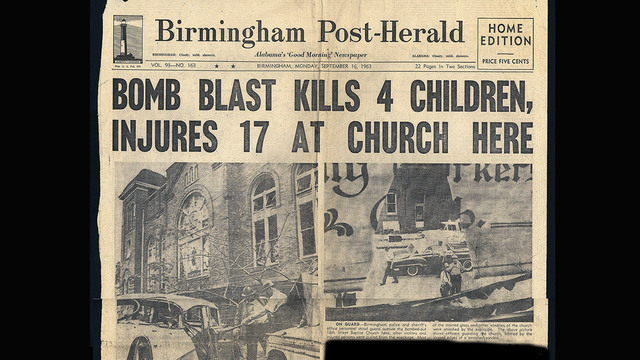 Media Options
This news from Birmingham, Alabama. Two longtime suspects in the 1963 bombing of a black church were jailed this week after a grand jury returned murder indictments against them.
Thomas Blanton, Jr. and Bobby Frank Cherry, onetime members of the Ku Klux Klan, surrendered to authorities in Alabama on Wednesday. They are the two living suspects in one of the most shocking racial crimes in U.S. history. Blanton, Cherry and two other men, also Klan members, were implicated in the original FBI investigation in 1965, but were not charged. Robert Edward Chambliss was finally given a life sentence in 1977 for his role in the crime and died in prison eight years later. And a fourth suspect, Herman Frank Cash, died without being brought to justice.
On September 15, 1963, members of the Sixteenth Street Baptist Church were gathered for Sunday services. The title of the sermon that day was "The Love that Forgives." Suddenly, a dynamite bomb exploded, demolishing a wall of the church. The blast killed four young girls-11 year old Denise McNair, and three 14 year olds: Carole Robertson, Cynthia Wesley and Addie May Collins. Twenty others were injured. The killings served to galvanize opposition to segregationist policies in the South.
And Birmingham had become a focal point in the struggle for civil rights. It was nicknamed "Bombingham" because of the many black churches and homes that were destroyed by the Klan and its sympathizers. And just months before the bombing of the Sixteenth Street Church, Birmingham police chief Eugene "Bull" Connor had unleashed fire hoses and police dogs on black civil rights marchers led by Dr. Martin Luther King.
Well, today we bring you excerpts of a documentary by Spike Lee called "Four Little Girls." It chronicles the 37-year old tragedy and the effect it had on the civil rights movement. We begin by hearing from relatives of Denise McNair, including her mother and father. We later hear from Carole Robertson's mother and sister, and Rev. Wyatt Tee Walker, chief of staff for Rev. Martin Luther King, Jr.
Tape:
Four Little Girls Documentary
---