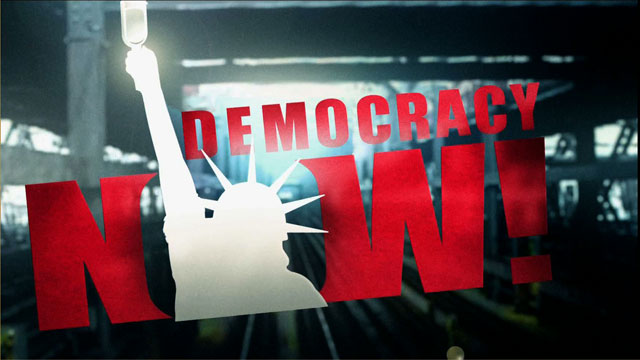 Media Options
Early this morning, Republican sources said that George Bush called former Secretary of Defense Dick Cheney and asked him to be his running mate. Cheney reportedly accepted. In the flurry of coverage of Cheney, you probably now know that he's low-key, quick to smile, blunt and that he has had 3 heart operations. In other words all style no substance. On Democracy Now!, we have a game, the first time someone hears a fact about Dick Cheney, we ring a bell. Let's put it this way, our ears have not been ringing. He was the Chief of Staff of former President Gerald Ford. Cheney served 11 years as a very conservative Congress member from Wyoming; he was then Secretary of Defense during the U.S.-led Persian Gulf War and one of the main people advocating an all-out ground war with Iraq. He is currently the CEO of Halliburton Company, an oil-servicing corporation. He pulls down a salary of more than $2 million. Today on the show, we are going to take a close look at Dick Cheney. We begin with his voting record.
Cheney voted against the Equal Rights Amendment for women in 1983. On Education, he consistently opposed funding of Head Start and voted against creating the Department of Education. He is opposed to abortion even in cases of rape and incest.
Cheney opposes gun control limits. He was one of just 21 members of Congress, in December of 1985, to vote against a ban on armor piercing bullets–called cop killer bullets. Three years later he was one of only four members of the House voting against a ban on plastic guns that could slip through airport security machines undetected. The National Rifle Association did not even oppose this ban. In 1988, Cheney voted to scrap a proposed national seven-day waiting period on handgun purchases. Dick Cheney consistently voted to raise military spending. He also supported aid to the Nicaraguan Contras, even after a moratorium on funding was passed. Cheney voted as a fiscal conservative too, supporting legislation to balance the national budget.
On the environment, Cheney opposed refunding the Clean Water Act. He voted to postpone sanctions slapped on air polluters that failed to meet pollution standards. And he voted against legislation to require oil, chemical and other industries from making public records of emissions known to cause cancer, birth defects, and other chronic diseases.
Guests:
Pratap Chatterjee, an independent journalist based in Berkeley, California. He has done extensive research on Halliburton Co. and its CEO Dick Cheney.
Bill Hartung, Senior Fellow at the World Policy Institute.
Michael Lelyveld, correspondent for the U.S.-funded Radio Free Europe and Radio Liberty. He has written extensively about the Caspian Sea and other oil issues.
Related Links:
---