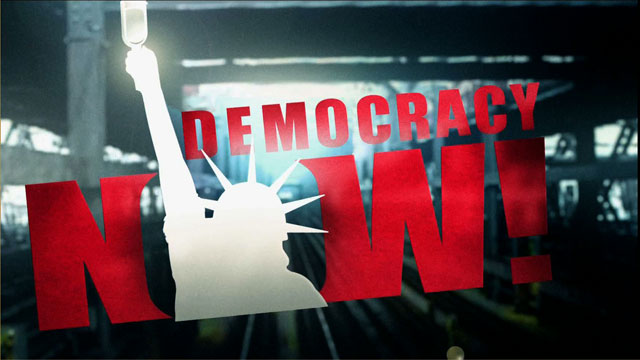 Media Options
Just a few hours ago, Australian Olympic sprinter Cathy Freeman, lit the cauldron that signifies the beginning the 2000 Olympic summer games in Sydney. Cathy Freeman is an Aboriginal athlete who became a household name after she wrapped herself in the Aboriginal flag rather than the Australian flag when she did her lap of honor at the 1994 Canadian Commonwealth games. A few months ago Freeman told a British newspaper that the Australian government was "insensitive" for refusing to apologize to the Stolen Generation of indigenous Australians. She also told of how her grandmother was a stolen child. Today, Cathy Freeman is Australia's best chance for a track gold medal.
Guest:
Kim Bullimore, an Aboriginal organizer with the Indigenous Student Network as well as the Democratic Socialist Party in Sydney.
One of America's defining moments was made at the 1968 Olympic games in Mexico. They were the highest and most controversial Olympics ever held. Staged at 7,349 feet above sea level where the thin air was a major concern to many competing countries, the Mexico City Olympics were buffeted by the Vietnam War, the Democratic Convention in Chicago, and the Soviet invasion of Czechoslovakia. The U.S. Civil Rights movement was grappling with the aftermath of the assassination of Martin Luther King.
Ten days before the Olympics were scheduled to open on Oct. 12, over 30 Mexico City University students were killed by army troops. Officials at the Olympic Games managed to quell any disruption until two black Americans, Tommie Smith and John Carlos, who finished first and third in the 200-meter run, bowed their heads and, at great personal risk to themselves, raised their fists in the Black Power salute during the national anthem as a protest against racism in the U.S.
They were immediately thrown off the team by the US Organizing Committee.
Guests:
John Carlos, Bronze Medallist 200m Sprint at the 1968 Mexico City Olympics.
Tommy Smith, Gold Medallist 200m Sprint at the 1968 Mexico City Olympics.
---