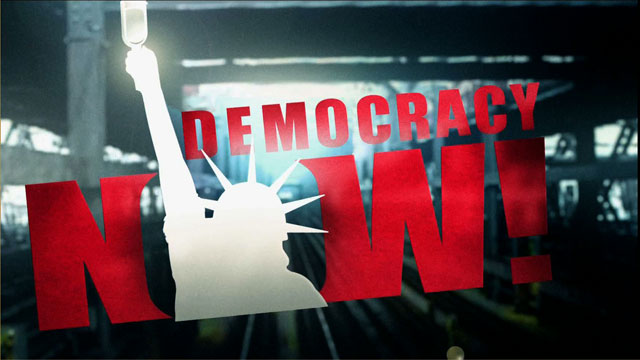 Media Options
About 100 U.S. antiwar activists demonstrated in Bogota yesterday against U.S. military assistance to Colombia.
The protest was staged by Witness for Peace, which opposes Plan Colombia, a $1.3 billion U.S.–backedcounterinsurgency and counternarcotics offensive. Under the plan, U.S.- supplied planes, protected by troops trainedby US Green Berets, are fumigating cocaine-producing crops.
Today, we bring you two people on the receiving end of Plan Colombia. Carlos Palacios lives in La Hormiga inPutumayo. Once a stronghold for the Revolutionary Armed Forces of Colombia (FARC), the area is now dominated byparamilitaries that began a campaign of massacres and assassinations in late 2000. Around the same time, the UnitedStates and Colombian security forces have launched an extensive aerial eradication program in the south, fumigating30,000 hectares of coca.
Regulo Madero is from Barrancabermeja, site of a fierce struggle between the paramilitaries and the guerrillas.There, civilians and human rights organizations have faced intensified attacks including massacres and selectivekillings. According to the U.S. State Department's Annual Country Human Rights Report, paramilitaries there killed983 civilians last year. The report noted that civil society leaders are under particular threat.
Guests:
Regulo Madero, President of CREDHOS, the Regional Corporation for the Defense of Human Rights, anon-governmental organization in Barrancabermeja. CREDHOS has suffered repeated attacks including disappearances andassassinations since its founding in 1987.
Carlos Palacios, a former priest displaced while serving at a Puerto Guzman parish in 1997, a localofficial in La Hormiga, and coordinator of the Community Leaders in Defense of Campesinos that advocates for victimsdisplaced by U.S. funded fumigation.
---