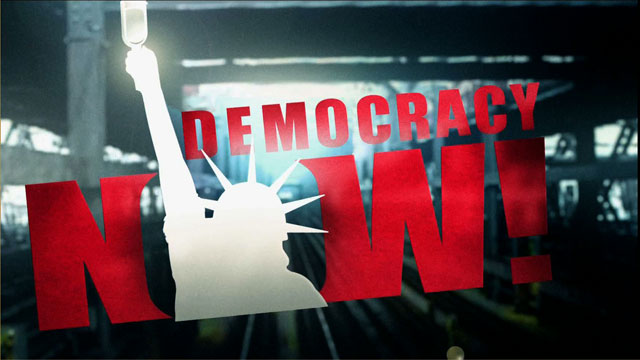 Media Options
Cuban photographer Alberto Korda, whose 1960 shot of Che Guevara became an icon for revolutionaries around the world,died Friday in France, aged 72.
The shot of Guevara staring defiantly from under his black beret at a 1960 funeral in Havana which Korda named 'TheHeroic Guerrilla'–was the defining moment of his career and the emblematic image of Cuba's revolution. Except forthe famous shot of Marilyn Monroe standing over a subway grid, this photograph has been reproduced more than anyother in history.
This image of Guevara can be found on posters, T-shirts, hats, and magazines, all over the world. In Cuba, it isperched over the Plaza de la Revolucion — the revolutionary square — and it is in hundreds of revolutionary wallpaintings throughout Cuba's cities and countryside.
While Democracy Now! producer Mara Carrin was in Cuba last month, she had the chance to interview the man who tookthis photograph 40 years ago. He is Alberto Diaz Gutierrez, known throughout the world as Korda.
For the first 10 years after the triumph of the revolution, Korda was the inseparable photographer of Fidel Castro.His black and white shots documented Castro's triumphant entrance into Havana; they captured the weary militiafighters, both men and women, as they celebrated the ouster of the dictator Fulgencio Batista; and they providedintimate portraits of Fidel Castro and Che Guevara both at public gatherings and in their private moments, as theyfished or played chess.
Tape:
Alberto Diaz Gutierrez (Korda), renowned Cuban photographer, talking about his life, his craft, hispolitics. He was interviewed by former Democracy Now! producer Maria Carrin at his home in Havana, Cuba.
---