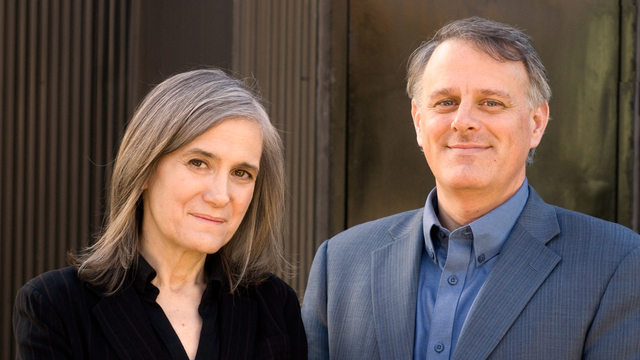 "I have, after a fashion, been celebrated for having celebrated the lives of the uncelebrated among us; for lending voice to the face in the crowd." That is the opening line of Studs Terkel's long-awaited memoir, "Touch and Go." I made a pilgrimage to Chicago to see Terkel, one of the 20th century's greatest journalists, interviewers and storytellers.
After writing a dozen books, winning the Pulitzer Prize, having a play produced on Broadway, winning the National Book Foundation Medal for Distinguished Contribution to American Letters, the George Polk Career Award and the presidential National Humanities Medal, and hosting a daily radio show on WFMT in Chicago for close to half a century, he has, at 95 years old, written his memoir. "I tape, therefore I am," he writes. "I tape, therefore they are. Who are they, these etceteras of history, hardly worth a footnote? Who are they of whom the bards have seldom sung?"
Though he won his Pulitzer for his oral history "The Good War," about World War II, he says there is a greater generation:
"It was in the '60s, there was the civil rights movement, it flourished, at least for a time, and the rise, resurgence, of feminism; the gays and lesbians coming out as free people. So that's the generation, I think the greatest."
While he is a man of the 20th century, he continues to write about the 21st century. In fact, he has just sued AT&T for collaborating with the government in eavesdropping.
Terkel says this is not new. He was wiretapped in the 1950s, during the McCarthy era. Of the government spies and their telecom allies, then and now, Terkel says:
"They are un-American. Thomas Paine, the most eloquent visionary of the American Revolution, speaks of this country in which a commoner can look at a king and say, 'Bugger off!' I've known this before, because my phone was tapped in the days when the keyword was 'Commie.' "
Terkel was blacklisted for his views, and lost his show, "Stud's Place." Then legendary African-American gospel singer Mahalia Jackson insisted that he be hired as the host of her show. CBS demanded Terkel sign a loyalty oath. When he refused, they threatened to fire him. She told them, "Look, if you fire Studs, find another Mahalia Jackson." CBS backed off. Studs recalled: "Do you know what happened? Nothing. You have to face them down."
Terkel is a fierce critic of the Bush administration, but also of the lack of historical context in American society, which has allowed this government to persist, to attack Iraq, to plan on attacking Iran:
"How could it be, at the end of World War II, we were the most honored, powerful nation in the world? 'Honored' is the key word. Today we are the most despised. How come? The American public itself has no memory of the past. Gore Vidal uses the phrase 'United States of Amnesia.' I say, United States of Alzheimer's. What do we know about it—why are we there in Iraq? They say, when you attack our policy, you are attacking the boys. On the contrary, they're defending those boys. Welcoming them back home with their families. The war is built upon an obscene lie. We know that now. This lack of history has been denied us."
One of the great listeners of the past century, Studs Terkel is now losing his ability to hear. He told me: "When Robert Browning wrote, 'Come and grow old with me, the best is yet to be,' he was lying through his teeth. But the one thing you can retain is the memory." His almost photographic memory is matched only by his continued intense interest in people's lives and the movements that make those lives better. He jokes: "My epitaph has already been formed: Curiosity did not kill this cat." He's already at work on his next book.
read more on Truthdig
---