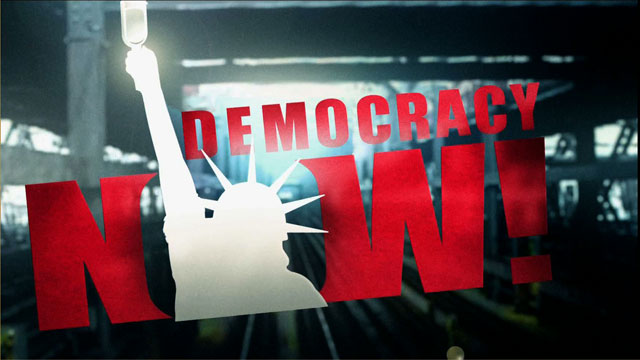 This story is from Foster Levy, a faculty member at East Tennessee State University in Johnson City, Tennessee.
Two faculty members approached the University Station Manager at WETS-FM. They had worked with the station on programming and fund raising in the past. The WETS-FM station manager liked the content but not the production style.
While the station manager was deciding whether DN! could fit in their programming schedule, the team approached WMMT/ 88.7 FM, a local member-supported non-NPR station. Volunteers run the programs at WMMT. WMMT ran Democracy Now! three times a week immediately, with rebroadcasts on Saturday and Sunday.
The team took 50 signatures to the WETS-FM station manager, who wanted more time to evaluate the possible program change and scheduling. The team followed up by writing letters to petitioners and told them to check out DN on WMMT, and pledge money to the station in support of airing Democracy Now!
The team met again with the WETS-FM station manager and asked him to just give Democracy Now! a trial run for 3 months. He said that he would like to try it, but only if I can get it on at a good time, not for example, at 2 AM. He ran it Monday through Friday from 6-7 pm. Activists immediately started volunteering at the station and helped out during the fundraising drive. During the hour that Democracy Now! aired, WETS-FM raised a very surprising amount of money, all of which goes to support the station. Since Democracy Now! is free to radio stations for the first year they air it, the station had many discretionary dollars on hand.
One caller pledged $7,000 as a matching fund and this amount was easily matched within two days.
Here is what WETS-FM Station Director, Wayne Winkler, has to say now about Democracy Now!:
"When a group of listeners petitioned our station to carry Democracy Now!, I had some reservations- we are in the "reddest" part of a "red" state. The support generated during our last three fundraisers has far exceeded my hopes. Hour for hour, Democracy Now! has been our most successful program in generating listener support, and made our most recent fundraiser the most successful in the station's history. More importantly, Democracy Now! has strengthened the bond between the station and its core audience. Many of our listeners tell us how important the program is to them in a media atmosphere dominated by right-wing commentators and corporate news." -Wayne Winkler, Station Director,
WETS
(TN)
---