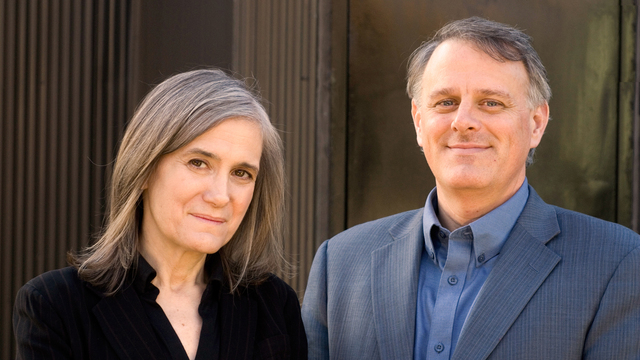 By Amy Goodman
"This way to better media," read the floor sign directing people through a skyway to the Minneapolis Convention Center. Thousands of people gathered there for the fourth National Conference for Media Reform, hosted by freepress.net. They came from all walks of life and all ages to address a central crisis in our society: our broken media system. I was one of the invited speakers.
Despite increasingly complex digital-media offerings and hundreds of channels, we see the diversity of media ownership shrinking, along with the diversity of voices that are broadcast. People are fighting back, organizing, creating alternatives and holding the corporate media giants accountable. The corporations are pushing back. With life and death, war and peace, at stake, hinging on an informed and engaged populace, the stakes have never been higher, the media never more important.
Prominent traditional journalists with decades of experience mingled with the emerging generation of new media producers. Journalist Bill Moyers, who has won more than 30 Emmys, authored four best-sellers and currently hosts the popular PBS weekly news program "Bill Moyers Journal," opened Saturday with a plenary address, saying:
"Our dominant media are ultimately accountable only to corporate boards whose mission is not life, liberty and the pursuit of happiness for the whole body of our republic, but the aggrandizement of corporate executives and shareholders." Rupert Murdoch's News Corp. is the poster child of media conglomerates. Murdoch's media empire spans the globe, with 35 TV stations in the U.S., the Fox News Channel (so-called) and many other cable channels, The Wall Street Journal, the New York Post, HarperCollins, 20th Century Fox movie studios and a slew of interrelated sports and entertainment properties.
Moyers' outspoken critique of the corporate media has provoked Murdoch's chief attack dog, Bill O'Reilly. Last week on his Fox show, O'Reilly said of the media reformers, "These people are crazy … real nuts!" Josh Silver, Free Press executive director, responded: "He's a mouthpiece for the largest media corporations. And that kind of omnipotent power that these large networks have, taking control of that and taking that power back from them is what this conference is about."
As Moyers finished signing his latest book, "O'Reilly Factor" producer Porter Berry and his camera crew pounced. Dan Rather was at the conference but eluded the Fox stakeout. Moyers turned the Fox ambush back on Berry:
Moyers: "Rupert Murdoch said the best thing that will come out of the Iraq war will be [oil] at $20 a barrel. Now, today, when I came here, I looked, and it was $130-something. When is Rupert going to explain why the war didn't give us $20-a-barrel oil?"
Making the link between media conglomerates and militarism, Moyers questioned Berry further about Murdoch:
Moyers: "Does Bill O'Reilly work for Rupert Murdoch?"
Berry: "He works for Fox News."
Moyers: "But who owns Fox News?"
Berry: "News Corp. …"
Moyers: "Rupert Murdoch is the boss."
Indymedia videographers crowded around the two, and the video clips soon found their way onto the Internet. O'Reilly ran a heavily edited clip of the exchange, with none of the above included, but had a "body-language expert" on his show, attempting to smear Moyers. The fact that Murdoch producers were at the conference trying to discredit prominent participants demonstrates the need for honest, strong, countervailing media outlets.
Sen. Byron Dorgan also addressed the conference. On Monday, he and Sens. John Kerry, Robert Menendez and Frank Lautenberg introduced a bill that would end Pentagon use of funds to spread propaganda and charged both the Pentagon inspector general and Congress' Government Accountability Office to investigate allegations that retired generals were used to push for war with Iraq.
Elected officials will not solve our media crisis alone. The grass-roots movement for media reform is growing, and with mass layoffs in newspaper and broadcast newsrooms, critical elections, burgeoning military budgets and multiple wars and occupations, and with emergent and accessible digital-media tools and networks increasingly available to most people, there is no better time to join it.
---