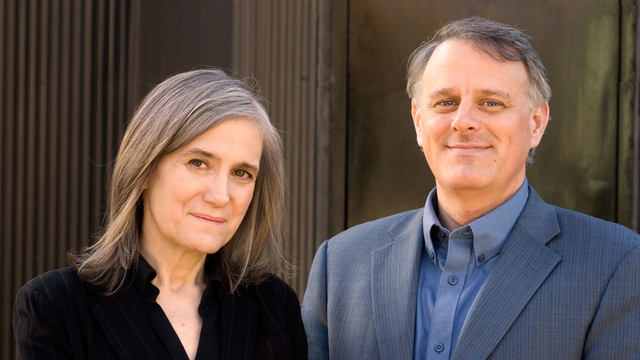 By Amy Goodman
The election season is heating up, with back-to-back conventions approaching—the Democrats in Denver followed by the Republicans in St. Paul, Minn. The conventions have become elaborate, expensive marketing events, where the party's "presumptive" nominee has a coronation with much fanfare, confetti and wall-to-wall media coverage. What people don't know is the extent to which major corporations fund the conventions, pouring tens of millions of dollars into a little-known loophole in the campaign-finance system.
Stephen Weissman of the nonpartisan Campaign Finance Institute explains the unconventional funding:
"It's totally prohibited to give unlimited contributions to political parties. It's totally prohibited for a corporation or a union to just go right into its treasury and give money to political parties. Yet, under an exemption that was created by the Federal Election Commission, which essentially is made up of representatives of the two major parties, all of this money can be given if it's given through a host committee under the pretense that it's merely to promote the convention city."
According to CFI's new report, "Analysis of Convention Donors," since the last presidential election, the corporations funding the conventions have spent more than $1.1 billion lobbying the federal government. Add to it the millions they pour into the conventions. Says Weissman: "In return for this money, the parties, through the host committees, offer access to top politicians, to the president, the future president, vice president, cabinet officials, senators, congressmen. They promise these companies who are giving that they will be able to not only get close to these people by hosting receptions, by access to VIP areas, but they'll actually have meetings with them."
Disclosure of what corporations are giving is not required until 60 days after each convention, which is essentially Election Day, so there is no time to challenge a candidate on particular corporate donors. Weissman reports that most of the corporations that are giving to the convention "host committees" also have serious business before the federal government. Take AT&T, for example. Glenn Greenwald of Salon.com recently pointed out that the Democratic conventioneers and registered media in attendance will receive a tote bag prominently emblazoned with the AT&T logo. It's a perfect metaphor for a much larger gift, the one Democrats and Republicans just gave AT&T and other telecoms: retroactive immunity for spying on U.S. citizens. While Sens. Russ Feingold and Chris Dodd fought the bill, Sen. Barack Obama, until recently a staunch opponent of telecom immunity, reversed his position and supported it, reneging on a pledge to filibuster. Perfect timing.
The conventions are also training grounds for the next generation of elected officials. Many state legislators attend the conventions as delegates, where they marinate in the ways of big-money politics. From the corporate parties to the hospitality suites, they learn that there is nothing to be gained by challenging the status quo.
Obama has sworn off special-interest and lobbying money for his campaign, and he made historic strides in using the Internet to marshal millions of small donors and amass a campaign war chest with $72 million in cash on hand at the end of June. Yet the Denver convention is looking more and more like business as usual. Weissman writes in his report, "Lavish conventions with million-dollar podiums, fancy skyboxes and Broadway production teams are not necessary to the democratic process."
What is necessary, Weissman says, is stripping soft money out of the convention process: "Congress should pass a law that says no more soft money for these conventions, no corporate treasury, union treasury, no unlimited individual money. Instead, the parties—let's discard this host-committee fiction—can go out there and ask people to help the convention, but with the same limits where they're asking people to help them normally."
"Deep Throat" is said to have told Bob Woodward during Watergate to "follow the money." It looks as if this summer you need only go to the Democratic and Republican national conventions. It's time to close this loophole.
---