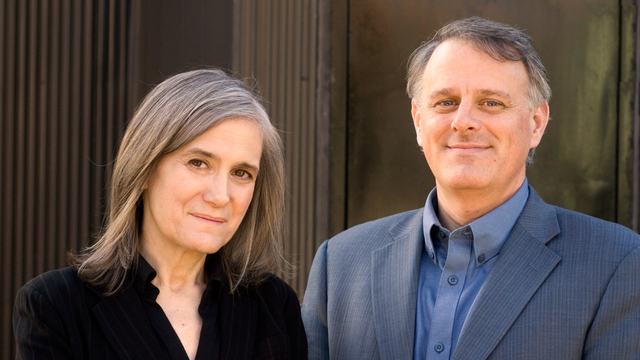 Media Options
By Amy Goodman with Denis Moynihan
President Barack Obama has just returned from his first trip as commander in chief to Afghanistan. The U.S.-led invasion and occupation of that country are now in their ninth year, amid increasing comparisons to Vietnam.
Daniel Ellsberg, whom Henry Kissinger once called "the most dangerous man in America," leaked the Pentagon Papers in 1971. Ellsberg, who was a top Pentagon analyst, photocopied this secret, 7,000-page history of the U.S. role in Vietnam and released it to the press, helping to end the Vietnam War.
"President Obama is taking every symbolic step he can to nominate this as Obama's war," Ellsberg told me recently. He cites the "Eikenberry memos," written by U.S. Ambassador to Afghanistan Karl Eikenberry, which were leaked, then printed last January by The New York Times.
Ellsberg said: "Eikenberry's cables read like a summary of the Pentagon Papers of Afghanistan. … Just change the place names from 'Saigon' to 'Kabul' … and they read almost exactly the same."
The Eikenberry memos recommend policies opposite those of Gens. David Petraeus and Stanley McChrystal, who advocated for the surge and a counterinsurgency campaign in Afghanistan. Eikenberry wrote that President Hamid Karzai is "not an adequate strategic partner," and that "sending additional forces will delay the day when Afghans will take over, and make it difficult, if not impossible, to bring our people home on a reasonable timetable." Petraeus and McChrystal prevailed. The military will launch a major campaign in June in Afghanistan's second-largest city, Kandahar. Meanwhile, with shocking candor, McChrystal said in a video conference this week, regarding the number of civilians killed by the U.S. military, "We have shot an amazing number of people, but to my knowledge, none has ever proven to be a threat." U.S. troop fatalities, meanwhile, are occurring now at twice the rate of one year ago.
Tavis Smiley has a PBS special this week on one of the most powerful, and overlooked, speeches given by the Rev. Martin Luther King Jr. The address was made on April 4, 1967, exactly one year to the day before King was assassinated. The civil rights leader titled his speech "Beyond Vietnam," and controversially called the U.S. government "the greatest purveyor of violence in the world today."
The press vilified King. Time magazine called the speech "demagogic slander that sounded like a script for Radio Hanoi." Smiley told me: "Most Americans, I think, know the 'I Have a Dream' speech. Some Americans know the 'Mountaintop' speech given the night before he was assassinated in Memphis. But most Americans do not know this 'Beyond Vietnam' speech." Smiley added, "If you replace the words Iraq for Vietnam, Afghanistan for Vietnam, Pakistan for Vietnam, this speech is so relevant today."
Like King, Obama is a recipient of the Nobel Peace Prize. In his acceptance speech, Obama mentioned King six times, yet defended his war in Afghanistan. Princeton University professor Cornel West, interviewed by Smiley, said of Obama's Nobel speech, "It upset me when I heard my dear brother Barack Obama criticize Martin on the global stage, saying that Martin Luther King Jr.'s insights were not useful for a commander in chief, because evil exists, as if Martin Luther King Jr. didn't know about evil."
In early March, Rep. Dennis Kucinich, D-Ohio, offered a resolution to end the war in Afghanistan, saying: "We now have about 1,000 U.S. troops who have perished in the conflict. We have many innocent civilians who have lost their lives. We have a corrupt central government in Afghanistan that is basically stealing U.S. tax dollars." The resolution was defeated by a vote of 356-65. A Washington Post poll of 1,000 people released this week found that President Obama enjoys a 53 percent approval rating on his handling of the war in Afghanistan.
The public is unlikely to oppose something that gets less and less coverage. While the press is focused on the salacious details of Republican National Committee spending on lavish trips, especially one outing to a Los Angeles strip club, the cost to the U.S. taxpayer for the war in Afghanistan is estimated now to be more than $260 billion. The cost in lives lost, in people maimed, is incalculable. The real obscenity is war. Ellsberg hopes that the Eikenberry memos will be just the first of many leaks, and that a new wave of Pentagon Papers will educate the public about the urgent need to end Obama's war.
Amy Goodman is the host of "Democracy Now!," an independent, daily global TV/radio news hour airing on more than 950 stations in the United States and around the world. She is the author of "Breaking the Sound Barrier," recently released in paperback and now a New York Times best-seller.
© 2011 Amy Goodman
---