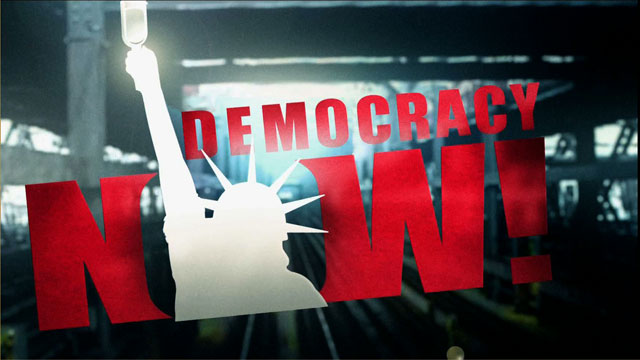 MEDIA ADVISORY
UPDATE 5:00 p.m. EDT: Click here to watch the video from the press conference.
Democracy Now!'s Amy Goodman Announces Major Settlement in Federal Lawsuit
Challenging Police and U.S. Secret Service Crackdown on Journalists at 2008 Republican National Convention
Today, Oct. 3rd, at 1 p.m. EDT Press Conference at Zuccotti Park in Lower Manhattan
Contact:
Emily Whitfield, CCR, (212) 614-6449 or 6480, press@ccrjustice.org,
David Lerner, Riptide Communications, (212) 260-5000
Brenda Murad, Democracy Now!, (347) 684-0403
New York, NY; Monday, October 3, 2011 – Today, Amy Goodman, the award-winning journalist and host of Democracy Now! news hour, will announce details of a six-figure settlement in a federal lawsuit brought by her and Democracy Now! producers Sharif Abdel Kouddous and Nicole Salazar against the cities of Minneapolis and St. Paul and the U.S. Secret Service, challenging the policies and conduct of law enforcement during the 2008 Republican National Convention held in Minneapolis-St. Paul, which resulted in the unlawful arrests of Democracy Now! journalists as they were trying to report on public protest and political dissent.
Goodman, who was represented by the Center for Constitutional Rights; Weil, Gotshal & Manges LLP; and Albert Goins of Minneapolis, will speak to reporters at Zuccotti Park in Lower Manhattan today at 1 p.m. EDT. Zuccotti Park is located in Lower Manhattan at the corner of Broadway and Liberty Street.
The settlement includes $100,000 in compensation paid by the St. Paul and Minneapolis police departments and the U.S. Secret Service. The settlement also includes an agreement by the St. Paul police department to implement a training program aimed at educating officers regarding the First Amendment rights of the press and public with respect to police operations, including proper procedures for dealing with the press covering demonstrations. The St. Paul Police Department will use its best efforts to get the Minneapolis Police Department to institute a similar program, and will also make the program available to law enforcement personnel statewide.
Speakers at the press conference include: Democracy Now! Host Amy Goodman; Democracy Now! Correspondent Sharif Abdel Kouddous; CCR Legal Director Baher Azmy; CCR Senior Staff Attorney Anjana Samant, and others.
For more information on the case, visit CCR's legal case page.
Announcement of the settlement was made today on Democracy Now! News Hour. Watch/listen
Watch the original Democracy Now! video report on the arrests on Sept. 2, 2008.
2008 Video of the Arrest of Democracy Now! Producer Nicole Salazar
Click here for a hi-res version, suitable for re-broadast.
2008 Video of the Arrest of Democracy Now! Host Amy Goodman
Click here for a hi-res version, suitable for re-broadast.
ABOUT CCR:
The Center for Constitutional Rights is dedicated to advancing and protecting the rights guaranteed by the United States Constitution and the Universal Declaration of Human Rights. Founded in 1966 by attorneys who represented civil rights movements in the South, CCR is a non-profit legal and educational organization committed to the creative use of law as a positive force for social change.
ABOUT DEMOCRACY NOW!:
An independent, global, daily public TV/radio/internet news hour, Democracy Now! is hosted by award-winning journalists Amy Goodman and Juan Gonzalez. Democracy Now! is broadcast in English and in Spanish on more than 950 public television and radio stations around the world. For more information, visit www.democracynow.org.
ABOUT AMY GOODMAN:
Amy Goodman is an award-winning investigative journalist, syndicated columnist, author and the host of Democracy Now! Goodman is the first journalist to receive the Right Livelihood Award, widely known as the "Alternative Nobel Prize" for "developing an innovative model of truly independent grassroots political journalism that brings to millions of people the alternative voices that are often excluded by the mainstream media." The Independent of London named Amy Goodman and Democracy Now! "an inspiration"; pulsemedia.org placed Goodman at the top of their 20 Top Global Media Figures. Goodman is the author of four New York Times bestsellers. Her latest book, Breaking the Sound Barrier, proves the power of independent journalism in the struggle for a better world.
###
---